American Idol: Top 6 Recap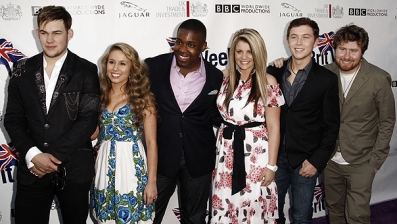 I strongly dislike theme weeks.  I understand the purpose, challenging the contestants, providing some sort of organization so you don't feel like your sitting at a karaoke bar where they can get up and sing just anything.  But oh Carole King… this week concerned me.  My expectations were extremely low so naturally last night turned out to be better than I thought it was going to be.  Thats always a good thing.
Alright so let's get at it.  Last night I loved Scotty, James, and of course Haley.  I almost feel bad for getting it in on Scotty last week about him not being versatile.  He killed his performance last night singing, "You've Got a Friend." So last week, I was wrong.  I mean the reality is he's going to be singing country music after Idol, so does it really matter if he's extremely versatile?  Overally versatility doesn't concern me, which is why I find theme weeks to not have such a great purpose.  Because everyone ultimately has their niche and if your good at it your going to sell records.  Your not going to sell an album because you can cover Elton John, Carole King and a little Mo-town.  Ah, I digress. Something about last nights performance just moved me.  I'm very happy we got to see that side of Scotty.
James, surprisingly, I liked last night.  Probably the first time and quite possibly the last you will hear those words from me.  He sang "Will You Love Me Tomorrow."  It was pretty much the performance I've been waiting for from him the entire season.  I get really overwhelmed with the constant over the top screaming and big productions week after week with him.  Last night he was more on my level.  However the judges praise really irritated me.  Thank you Randy for continually steering the viewers to vote for him.  I would be surprised if James doesn't make it to the finale.  Didn't Steven Tyler mention performing with him if he won?  I think people want to see that.
Haley's duet with Casey didn't really compare to their last performance of "Moanin."  But their style and voices complement each other really well so I thought it was enjoyable.  By far the best duet.  Last night Haley sang "Beautiful" for her solo. By now everyone knows that I'm wanting her to go all the way.  I'm so surprised by all the bloggers that dislike her.  Her range and control of her voice is just phenomenal.  I need her to stick around, otherwise I will have no desire to watch Idol anymore.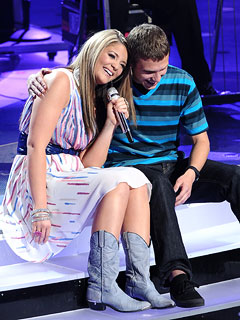 Ah, Lauren.  It's not that I wasn't impressed with her vocal performance.  I thought she sounded great.  I think it was the random boy on the stage that really bothered me.  It made the performance corny.  With that being said, last week I wrote about her needing to get confidence on stage otherwise she is going to be let go.  She was like a different girl on stage last night.  I thought she did great in that department.
So that leaves us with Jacob and Casey.  I'm so ready for Jacob to go home.  I'm sorry but he irritates me.  I will not even be close to being upset if he goes home.  And I have replayed Casey's performance of "Hi De Ho" so many times today.  I don't know why I just feel indifferent towards his performance.  It just didn't excite me in the least.  But then again I also didn't hate it.  I haven't read many other reviews from last night so I'm curious to what all of you are thinking.
So there you have it, Top 6 recap.  I have to miss the results show tonight because I have a concert and broadway show tonight.  Hopefully I will have some reviews up of those by this weekend.  On a completely other note… did anyone catch Hanson on Dancing With The Stars this week?  Great exposure for them!  Of course I really enjoyed it but I'm definitely curious to know how the general public is responding to their music… let me know if you seen it.
This entry was posted by Style Bust on April 28, 2011 at 8:49 am, and is filed under Trending Music. Follow any responses to this post through RSS 2.0.Both comments and pings are currently closed.