New Styles in Fashion
Everyone loves being in 'the know' on all things fashion, right? Read Style Bust's fashion posts to find out what we see happening in the fashion industry from multiple viewpoints. We have ten guest bloggers dedicated to bringing our readers that latest fashion news from different parts of the globe!
Let's face it girl, we all want to look sensual and wear clothes that absolutely catch the eye. There always seem to be people in your life that just know how to put things together and come off in a classic seductive way. But in our search for the eternally sexy, there are those that sometimes forget the rules and instead of attractively seductive, they give off the slut look. So how do you circumvent that fine line? It's easy with a few simple rules.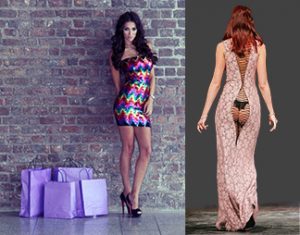 First rule is that terribly tight is not right. Really look at your shape and make sure that the outfit dress, top or skirt is body hugging, but not too much. The difference between slutty and sexy are very obvious in something that is just too tight.
The next rule of thumb is to choose the right color and cut. Follow the guidelines for your skin and hair tone for the best colors for you. Black may be a fall back color, but black is not always the best color for everyone. Just because it's a designer favorite, also doesn't mean that the cut of an outfit is good for your body shape. Too many cut outs or choppiness stops the eyes in too many places. Short and cut everything loses the effect. However, a gentle cut that accents the curves can be sexy, even if it's in a long look.
(more…)