Balancing Neons and Nudes
I've been a loyal supporter of Bobbi Brown Cosmetics for many reasons.  The make-up is subtle and simultaneously fun, there is a variety of beautiful, versatile colors, and the overall "Bobbi look" is natural and fresh.  Considering I wear little make-up and always strive for a more conservative and undone look, Bobbie always delivers.  This season, she is featuring her Neons and Nudes Collection, the perfect blend of subtlety and brightness for the winter season.  How simple yet genius, right?  We all know the fashion rule, "Bright here, neutral there," and we stick to it for obvious reasons.  The beauty of this new collection is balance: balancing brightness and neutrality for a glowing, natural look.  While the new collection offers a nude eye palette, an ink liner, a lip gloss in Citrus, Cosmic Pink, and Ultra Violet, an eye shadow in Blue Bell and Ultra Violet, a lipstick in Atomic Orange, Neon Pink, and Uber Beige, I am most impressed with the blush in Nude Pink and Nude Peach.  The colors are incredible and offer just the right amount of color for a radiant look–and they work with any skin tone.  They complement bright lips and neutral eyes, as well as bring the whole face together.  Whether you're looking for a less-is-more look in the day or a festive, flirty look in the evening, this collection is simply the one!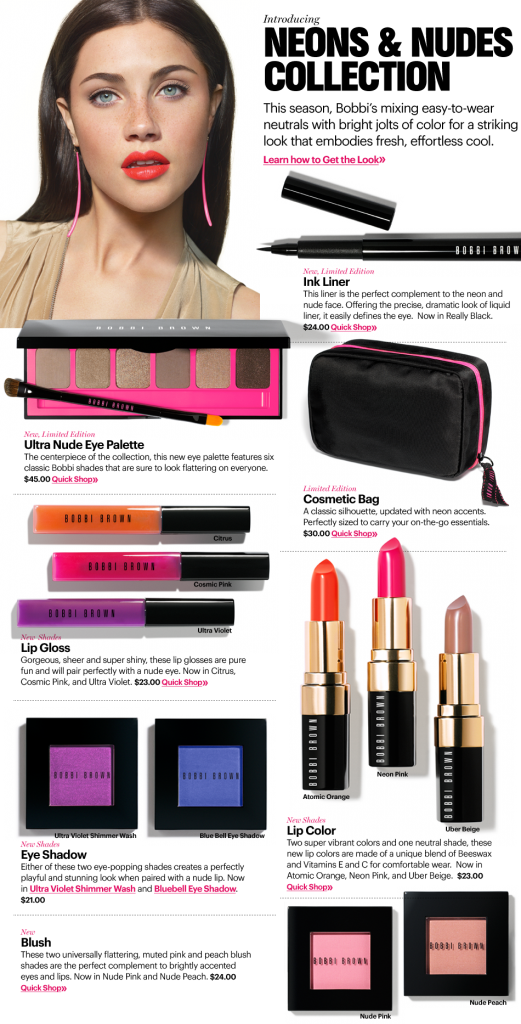 This entry was posted by Style Bust on January 13, 2012 at 4:20 pm, and is filed under Latest Beauty Products. Follow any responses to this post through RSS 2.0.Both comments and pings are currently closed.