False but oh so true!
Smoke & Mirrors often coined as deception or illusion.  "Okay-Okay, perhaps there is an artful illusion when we apply faux lashes. But no runway, red carpet, music video set or the downtown streets is complete without a good pair of lashes."
Today I want to highlight the genius lash brand: Smoke & Mirrors Beauty.
"The Smoke and Mirrors lash line is a custom selection of high quality, wearable lashes that brings a little of the red carpet glamour to every woman on any day."
Sure there are tons of lash brands in today's marketplace but we savvy beauties know, "not all are created equal." An obvious example when you feel the difference between this brand and other unmentionables. Right away you can tell when lifting them out of their case. The strip is flexible to contour to your eye shape, the hair is 100% human (feels like silk),  and the names will have you tickled.
Names like: Heart Lash | Miami Lash | Vegas Lash | Atlanta Lash | Nashville Lash | Chicago Lash | NYC Lash, all the major cosmopolitans are represented and being I'm a California gal, they had me at "Hollywood Lash".
One Artist tip: Use ample glue, allow the glue to get tacky, then press the outer end of the strip to your eyelid moving to the inner end. Do not apply the lashes to the inner edge of your eye; remember faux lashes are meant for a little bit of trickery.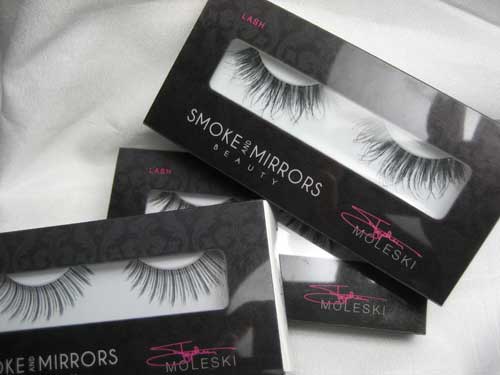 It girls love to have options and these lashes come in a variety of lengths, styles, and thicknesses – get into them….they may be false but their the truth!
This entry was posted by Style Bust on August 3, 2012 at 6:26 pm, and is filed under Latest Beauty Products. Follow any responses to this post through RSS 2.0.Both comments and pings are currently closed.