Gifts of White Ceramic & Porcelain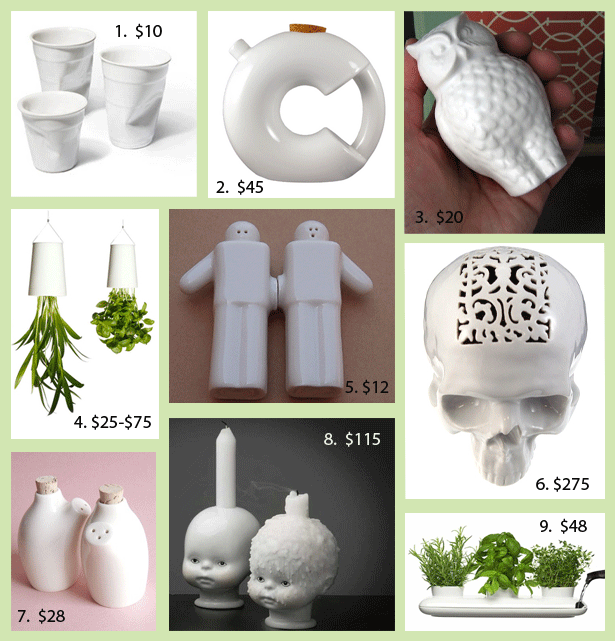 I strongly suggest giving gifts of ceramic and porcelain this year; the look is very classy. I also think picking pieces in white are both season appropriate and pair nicely with most peoples' home decor. Here are some of the best pieces out this season.
1. Rob Brandt's Ceramic Ceramic Cups, $10-$12. Netherlands ceramicist Rob Brandt introduced them in 1975, and three decades later the crinkle effect only underscores the ingenious statement they make on our disposable culture.
2. Vast Design's Circle Carafe, $45 originally $90. A sleek interpretation of the traditional Greek vessel used at ceremonies, because the shape symbolizes the union and the circle of life.
3. BROOKLYNrehab's Little Ceramic Owl, $20. Hand cast porcelain owl made from a vintage salt shaker mold. He sits proud and will make a lovely addition to a bookshelf for tablescape.
4. Patrick Morris & Boskke's Sky Planter. Flip your fern, herbs or other house plants on their heads with these planters available in mini $25 – medium $75. New Zealand designer Patrick Morris offers a new way of enjoying plants with his revolutionary process.
5. Kikkerland's Ceramic Salt & Pepper Men, $12. Adorable little shakers held together with magnet power! And yes, the grains shake out through their eye holes.
6. Studio Prics's Filigree Skull Money Box, $275. Ceramicost Daniel Pire? envisioned porcelain lace..or filigree, which he applied to enchanting effect on this skull moneybox. This money box must go under the hammer to access any savings inside, forcing the coin collector to come to terms with what exactly is most precious…
7. MichikoShimada's Vita Salt & Pepper Shakers, $28. Tres Chic! Porcelain with glossy clear glaze. Cork stopper.
8. Studio Qubus' Little Joseph Candle Holder, $115. Always loved those antique ceramic dolls heads that become detached from their bodies? Us too. Here, the baby head serves as the holder for a candle, and as the candle melts it becomes "hair" for the bald pate.
9. Sagaform's Tri Herb Pot, $48. Scandinavian in its simple, unadorned and practical design. Insert a bunch in the enlarged opening, and keep hydrated by pouring water into the corner hole.