Give your "makeup bag" a healthy check up!
Jumping right in…"beauty products do go bad, Yep —– they expire like dairy". At best, they stop performing; at worst, they can cause irritations or infections so hoarding is not the way to go ladies! Sure, if unopened and kept at room temperature you can add a couple of years but once they are unsealed, watch out…the clock begins to tick-tock!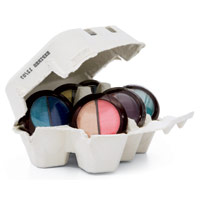 Let's break this down between the obvious and the not-so-obvious:
Obvious:
mascara – (3 MONTHS) thee number one item that dries up in a blink of eye so toss it from your cosmetic bag or makeup drawer if appears DRY or if you've kept track of its use ( trust me, this baby won't perform beyond 90 DAYS) the wand is suppose to be dark/wet not DRY & FRIED; a perfect culprit for clumpy lashes or worst STY's. Caution: never pump the wand — that only pushes air into the tube, causing it to dry out faster. Instead, slowly draw out and twist the brush to scrape the tube's interior and pick up product.
face makeup – (6 MONTHS) if you see separation or it has a rancid smell, guess what honey – time to toss! realllllllllllly, did you think it would last forever in constant contact with dirty sponges, dirty fingers and dirty brushes; actually its just sure bet for breeding bacterial growth. Good news! your purse compact won't die on you so early – their shelf life can extend up to 2yrs. (excluding the sponges).
lipshades – (2 YRS) both gloss or sticks are safe up to two-years, the guide for lips is that (if your lipstick doesn't glide on in a creamy fashion then get rid of it)! I mean lipstick can already look dry so why encourage the beast.
Unobvious:
lipliners – Pencils get constantly grinded away removing the old surface and sharpening for perfection – these babies last beyond 2 yrs. (Just be sure to regularly sanitize your sharpener with rubbing alcohol.)
Powder shadows are less prone to contamination because they lack water (if you're like most and you wet your brush to deepen the pigment toss after 6 months) truth be told these water techniques ultimately effect this product. A tale tale sign; when your shadows don't give you the same color pay-off – time to toss!
Blush – same guidelines for your powder compacts, 2 year rule.
Liquid eyeliners (3 MONTHS) ; again watch the wet Willy's!
Cream eye shadows – (6 MONTHS) point blank!
C'mon, summer is coming give your makeup bag a proper check-up and toss out what's probably already expired…
This entry was posted by Style Bust on June 6, 2011 at 1:28 pm, and is filed under Latest Beauty Products. Follow any responses to this post through RSS 2.0.Both comments and pings are currently closed.