Handbags and Wallets for Fall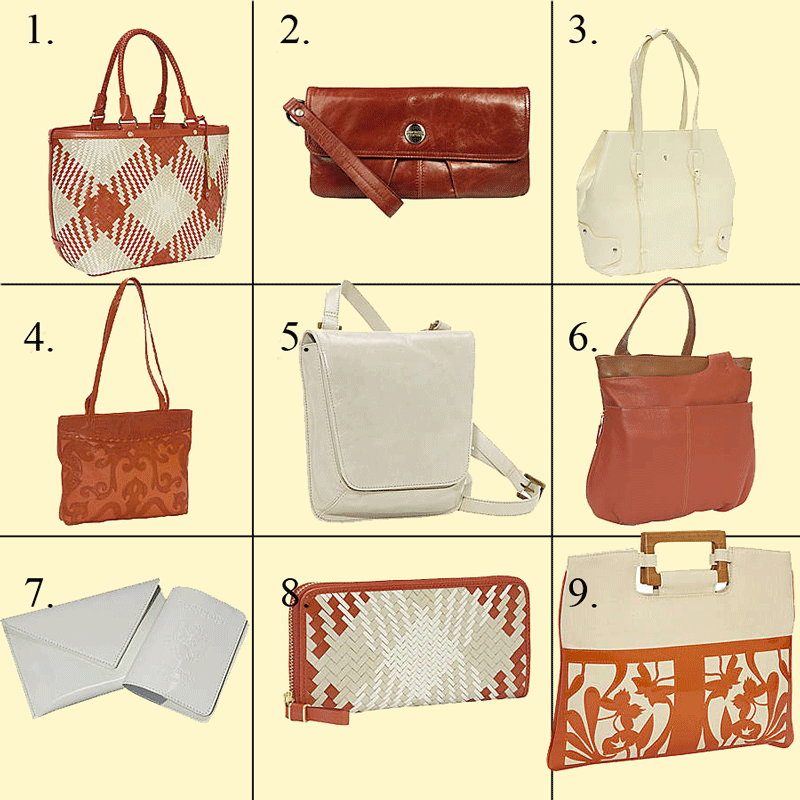 Retailers are calling great colors for fall: Arancio, Berry, Curry, Spicy Orange, Coconut, Cream, Ivory and Fog…let's be honest, the colors are Orange and Ivory. Here are a few favorites to consider purchasing for the Fall season.
Cole Haan Handbag Genevieve Plaid Small Tote in Spicy Orange Reg Price $525, Sale $299.99. The Genevieve Plaid Small Tote is also available in Black Plaid for those who prefer a basic pallette.
Kenneth Cole Reaction Button Up Flap Wristlet in Berry $65. This is a simple, calssic and timeless Wristlet/Clutch that will be useful during any season! The Button Up Flap Wristlet is also available in Black.
Helen Kaminski Leather Handbag Noas Ivory $875. The Noas is also available in Black, Chestnut, Mink and Sahara.
Leaders in Leather Cutout Zip Top Tote in Orange $195. The Cutout Zip Top Tote is also availavle in Turqouise.
Hobo International Dylan Handbag in Fog $158. The Dylan is also available in Black, Maple and Pear.
J. P. Ourse & Cie. Midtown Handbag in Curry & Tan $222. The Midtown is available in Berry Red, Black, Cream, Java, Kiwi, Olive and Tangerine.
Baekgaard Patent Envelope Case & Passport Cover in Coconut $56. Though most people may not find an envelop case and passport cover necessary, we love the idea. It'd make a great gift for your traveling buddy if nothing else. The peices are also available in Banana, Blue Rasberry, Melon & Passin Fruit.
Cole Haan Genevieve Plaid Travel Zip Wallet in Spicy Orange Reg Price $225, Sale $129.99 This wallet is one of our favorite pieces for fall, the colors along with th fact that this is woven leather make the Genevieve pretty hard to pass up. The Genevieve Travel Zip Wallet is also available in Black Plaid.
Noah Laser Butterfly Clutch in Arancio Reg Price$175, Sale $139. The Laser Butterfly Clutch is also available in Blue, Frappe and Verto.
This entry was posted by Style Bust on August 2, 2009 at 4:52 pm, and is filed under New Styles in Fashion. Follow any responses to this post through RSS 2.0.Both comments and pings are currently closed.