Hey, trendy young professional….what are YOU wearing to work??
Dressing in the workplace – what to wear, what to wear? This is a question a lot of young woman have about looking professionally stylish and not drab pant-suit boring every work day. I notice sometimes when I jazz up my outfits some of my older co-workers give the glare stare like I'm some clueless youngster who doesn't dress "appropriately" to work. But, what is "appropriate" anyway?  And, how can I be my artsy self but still look like a business woman amongst the naysayers? I do consider myself a trendy professional just trying to stay hip and feel good being who I am even in the sometimes stylishly challenged office environment.
What I've picked up in my career so far is that we always tend to dress like our superiors. If they dress casual in khakis then we do also. Sometimes we stay neutral so we fit in but what's the cost when we lose how we really want to present ourselves?  I'm not talking about wearing that satin mini you wore out last Saturday night although, that's a different look that probably makes you feel yourself. But, there's a time and a place and the office is definitely not a mini, five-inch heels kind of place. I'm talking about you being your professional, beautiful, unique self 40+ hours a week.   Young 20 and 30 somethings need to transition themselves into classy fashionistas who yes, can do the work but also look great doing it in any career field. How does a young professional trendy girl like yourself get ideas on how to own your own style at work?  Here's a few ideas that might help before stepping foot into a store. Get the ideas first, then go out and find something similar.
I visit Polyvore frequently to get ideas on what's trendy this season and what looks great in a variety of styles. Oh, and you can see where to purchase the item too, love that! But, it is a fun site to visit when you have a free moment during the day to gather some ideas and create your looks.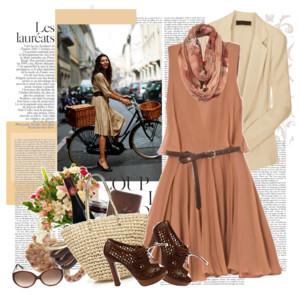 Anthropologie is my guilty pleasure store but I know when I'm going there, I'm finding unique pieces to add to my clothing collection. I agree that it's all a little pricey but, don't be afraid to allow yourself a splurge every once in awhile cuz, you deserve it girl!
Here's a few ideas I found would work perfectly in an office setting. You might not want to mix the orange with the green sweater but still great separates.
Comfortable, yet classic and trendy!
This entry was posted by Style Bust on July 7, 2010 at 1:50 pm, and is filed under New Styles in Fashion. Follow any responses to this post through RSS 2.0.Both comments and pings are currently closed.