Masque*ology -Brightening with Arbutin Product Review
I recently tried a sample of Masque*ology, a mask "Researched and Developed by Top Dermatologists in Korea." The one I used was Brightening with Arbutin which is formulated to diminish the appearance of dark spots.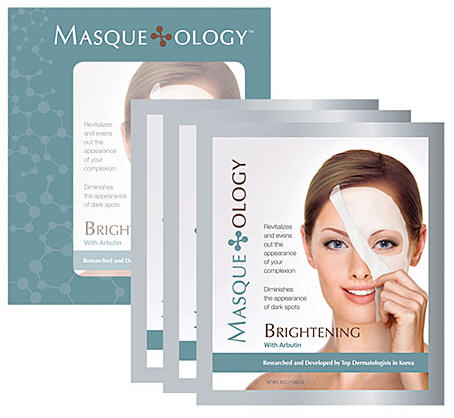 A rayon cellulose single use facial mask saturated with advanced multi-functioning ingredients that contours to your face leaving your complexion brighter and refreshed.

T

his mask contains ingredients to revitalize and even out the appearance of your complexion. It diminishes the appearance of dark spots and hyperpigmentation. Immersed with more than one ounce of ingredients, it is a luxurious, intense treatment that softens skin's overall texture and enhances the appearance of your complexion.
I opened the packet and extracted a very slimy thin sheet, carefully I unraveled it and put it on my face. The picture in the package looks pretty, this is what the mask actually looks like: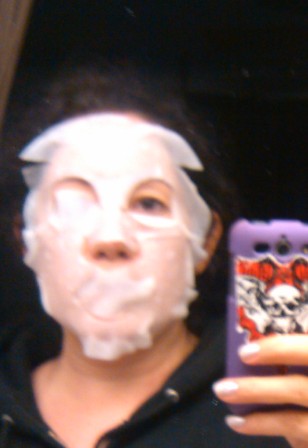 The mask does have opening for the eyes and mouth, but you can close those flaps if you want the ingredients to work in all your face. Once you put it on, you will lie down and rest for 20 minutes, then take it off. It was weird to put it on my face since its saturated by a gel-like substance and it's cold, I felt a very slight tingle after the first 10 minutes. The convenience of this mask is that once I take it off there is no need for rinsing, just throw away the mask, and massage the remaining product into face and neck. The end result is a softer, very refreshed and relaxed face.
The Brightening Mask is just one of the products Masque*ology offers, this is their complete line: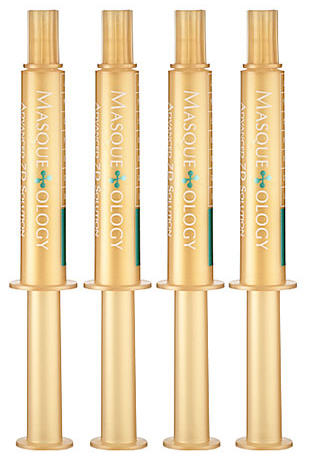 This entry was posted by Style Bust on January 9, 2013 at 1:18 pm, and is filed under Latest Beauty Products. Follow any responses to this post through RSS 2.0.Both comments and pings are currently closed.