Get vegan nails!
Tweet them; Instagram them; Like them on Facebook because with one paint stroke you will want to shout-out this brand!
They are called: Sheswai pronounced (she-sway)
This nail lacquer is concentrated with color and goes on smoothly in one coat – Bam! (hard to come across with many polishes out there).  If you are like me, when I'm painting my nails I'm looking for a few Oohs and Ahh's such as: hue factor, gloss and most of all DRY time.  Who wants to be a slave to their nails for hours on end, not me!  We all have had those moments when we think the nail job we did is perfectly flawless and we're ready to walk out the door….then you go to grab your keys only to find a smudged mark (hated it)!!
With Sheswai polish, this baby dries fairly quick and to a beautiful smooth finish without the babysitting of blowing your nails constantly like your twelve again;-).
This brand gets additional bonus points in my book for keeping the the formula formaldehyde, toluene and dps free!
The collection has a nice range but my favorite is WINESNOB.
For where to buy, click the link: http://www.sheswaibeauty.com/where-to-buy-2/
Price point: $16.
There are tons of nail polishes out in todays market, (some cost more some cost less) this polish should be your glam of choice.
Again, don't forget to shout out to your social community.  Trust me, it's worth the keyboard pecks and while typing I guarantee someone nearby will notice your nails!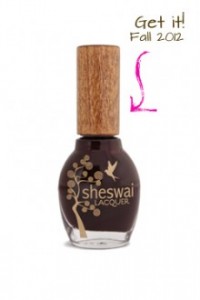 This entry was posted by Style Bust on January 16, 2013 at 1:33 pm, and is filed under Latest Beauty Products. Follow any responses to this post through RSS 2.0.Both comments and pings are currently closed.