Workin' on my fitness
If any of you know me, you know that I've become an avid runner over the past year.  But being the practical shopper that I am and someone who is  obsessed with fashion, it took me almost the entire year to 'buy into' fitness apparel.  I despised the look of those fancy tech shirts, the tightness of running pants, and the brightness of most workout gear and I definitely wasn't a fan of the price tags.
In the beginning (when I was oh-so-naive), you could find me running in my old leggings (that were practically see-thru), a cotton sports bra that was at least 5 years old, t-shirts that doubled as pajamas, and a pair of running shoes that were a size too small.  But thanks to longer distance running and entering multiple races – I've decided that if I want to look and feel legit, why not dress the part (and still look cool while doing so)!
Here are some of my favorites – runner tested and wallet approved.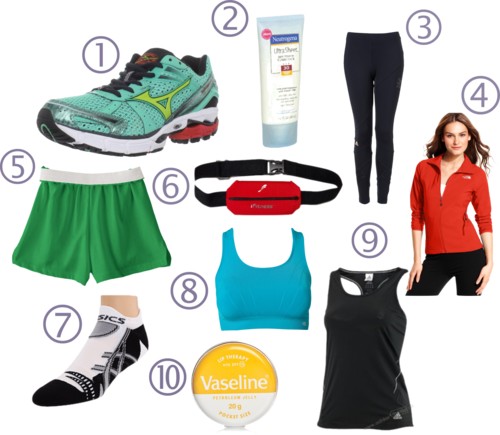 1.  It is very important to find yourself the perfect shoe.  I learned this the hard way.  I happen to LOVE Mizuno's (they are perfect for my long, flat feet).  But everyone is different – have your gait checked and your feet measured at your local running store.  Make sure to test drive your shoes – jog around the store before you commit.
2.  If you're spending any time outdoors, you need your sunscreen!  I like a very lightweight sunscreen – Neutrogena makes an ultra sheer sunscreen in SPF 15 all the way to SPF 100.
3.  A good pair of running leggings are a must for those colder days.  I love the look of most Adidas athletic gear – it's sleek and stylish – there's never anything complicated about it.
4.  Living in SF, a lightweight jacket is a necessity.  North Face isn't cheap, but they know what they're doing when it comes to outerwear.  The North Face Nimble jacket is perfect – thin enough to tie around your waist if you're too hot and sweaty, but keeps you warm on those cold mornings.
5.  I've tried wearing all sorts of shorts, from nylon to spandex.  But these Soffe shorts are my absolute favorite.  Lightweight cotton and the perfect length.  The best part is you can usually find these shorts for under $10 and they come in a variety of colors too.
6.  Need a place to store all of your crap (and important stuff too) while running.  The iFitness running belt is by far the sleekest one I've found.  It can be worn comfortably under any type of top, has easy access and doesn't ride-up on you while running.
7.  I didn't realize how great a good running sock was until my sister bought me a pair for Christmas.  The extra padding, arch support and the cut-away near the ankle, all make up a good running sock and they're all expensive (at least $15 per pair).  Asics makes a great sock with plenty of support to get you through those long workouts.
8.  When it comes to bras, I'm a gal that needs some support (thanks to my mother).  I've tried a couple different sports bras that cost between $30-$45 and they're not my favorites.  I prefer my trusty Champion sports bra, from Target.  They provide all the support I need, come in all sorts of colors and cost less than $20.
9.  My most recent purchase – a long, fitted tank top.  I wasn't sure that I would like something this tight, but it's very comfortable and adds a little extra support.  Adidas makes a great basic fitted tank – thin, breathable fabric and just the right length.
10.  I'm a chapstick addict.  But when I can't keep reapplying, I found that using small amount of Vaseline lip therapy (with an SPF) is all the protection you need for an afternoon in the sun.
Let me know if you have any recommendations when it comes to workout gear or accessories – I'm not planning on quitting anytime soon!