48 Hour Magazine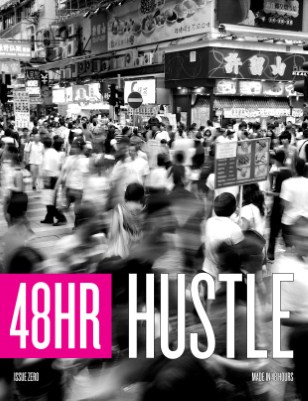 Anyone who's ever worked for a magazine knows that putting together an issue involves extensive interviews, fact checking, loads of red pen marks and photo retouching. One collective of writers and publishers decided to execute the ultimate experiment in editorial adrenaline by constructing a periodical in just 48 hours, called the 48 Hour Magainze.
A raucous experiment in using new tools to erase media's old limits
48Hour Magazine's Issue Zero kicked off on May 7th, when its editorial board unveiled the theme "Hustle", for which potential contributors had exactly 24 hours to create and submit their work. In just 24 more hours, content was edited, designed and printed into a polished paper magazine and companion website. It's certainly not in keeping with the slow trend, but the extraction of the aforementioned stress factors makes working on fast forward seem like not such a bad idea.
To read the magazine and find out more about it vist: 48 Hour Magainze.