Posts tagged
magazine
Has anyone in San Francisco been lucky enough to check out the premiere issue of INDUSTRIE Magazine? Slated to debut in late May, the actual release date and availability remain a mystery while the intrigue only increases.
Perhaps it's a bit far fetched to deem the first self-described "culture of fashion magazine" as groundbreaking, but there hasn't been any other publication like it and the list of notable contributors will certainly blow your mind. In an industry that's known for exclusivity, the intimate, behind-the-scenes insight is a complete role reversal, best evidenced by their cover choice.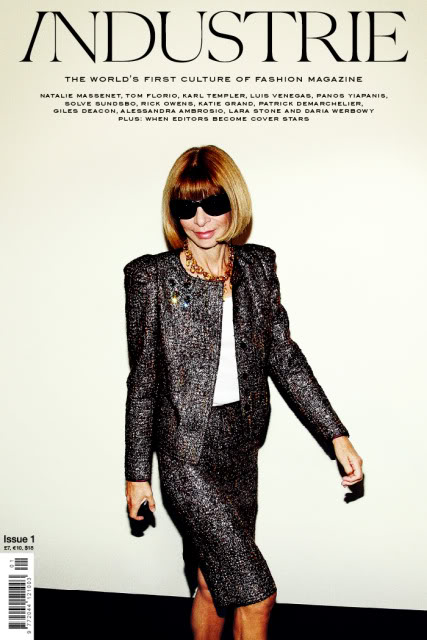 The paparazzi style shot of American Vogue editrix, Anna Wintour, is significant because it's attributed to Getty images, speaking to a major theme in the magazine: the rise of fashion editors and stylists as stars in their own rights. The first issue highlights taste-makers on the forefront of fashion such as Carine Roitfeld, Karl Templer and Panos Yiapanis. Many personalities, like photographer Patrick Demarchelier and stylist Katie Grand, not only contribute to the magazine but are profiled as well, setting the tone that this magazine will be for the industry, by the industry.
An inside glimpse reveals provocative editorial spreads featuring: Daria Werbowy and Lara Stone on the beach; a work out with designer Rick Owens; a highly stylized Alessandra Ambrosia as we've never imagined her before; an entire profile on every girl's favorite, signature red-soled Louboutins.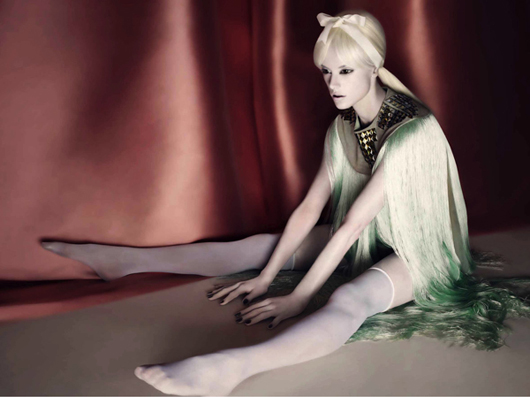 I am really surprised that Editors-in-Chief Erik Torstensson and Jens Grede are taking such a risk to launch at this time. The economy is in shambles, advertising budgets are shot, and the undeniable success of digital media is taking a massive toll on print publishing. But, considering the unique perspective, this spells success to me and I truly cannot wait to get my hands on the first issue.