A Glimpse Into My Work World
I have been asked what my home office work set up is like many times. What computers and devices I use, how geeky/cool I really I am, etc. So to close the year, I thought I'd fill you in! I run this blog, work a 9-5 (not from this office), have a consulting gig, run an Alumni chapter, and have side projects I work on at the same time. Having a good working environment for my home projects is really important. Here are the items I use every day to make it through my projects effectively.
Computing: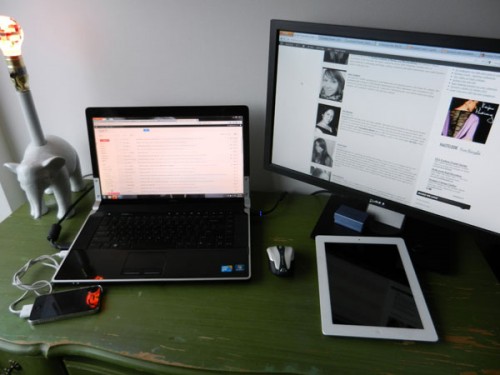 I use a Dell studio XPS laptop with a 17 inch screen, i7 with a backlit keyboard & Blu-Ray. It's a great little device (though noisy at times) and the speakers aren't bad! The battery lasts about 6 hours, works for me! Secondary devices include w Dell widescreen monitor, an iPhone 4 and an iPad 2 (just got this for Christmas from my in-laws). The computer set up is fantastic with the second monitor. Having an iPhone and iPad keep me connecting when I'm not at my desk. That said, I still need long breaks from the computer everyday to keep sane. Eating, Books, TV, the gym and meditation are among the top things I do while away from my computer.
The Office: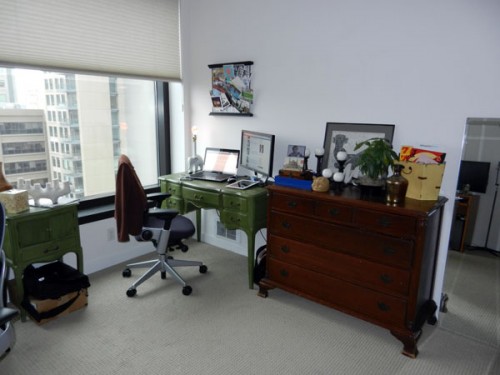 I share this office with my husband, Tyler, who has way cooler gadgets…but this post is about me, not him! I've been told that if you are in a happy environment you will work better. This space is great for me, I'm not sure it makes me particularly happy, but it doesn't upset me either, so I think I'm good!
The Chair: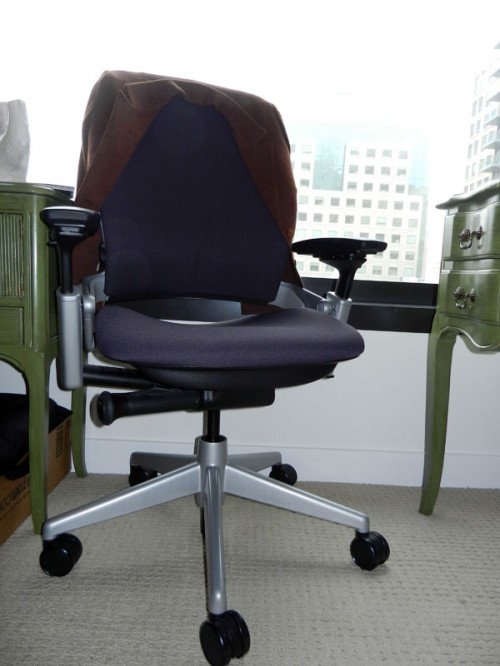 I recently upgraded from a Pottery Barn Teen chair (bought years ago from a sample sale while working for Pottery Barn) to an adult Steelcase office chair. I've had more back, neck and shoulder pain this year. So more than ever, I realize the benefits of sitting in a comfortable and supportive chair.
Office Inspiration: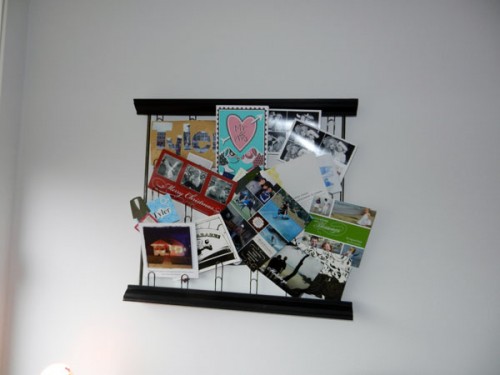 I keep cards and other inspirational art, magazine clippings, etc. on a wire frame right above my desk. It's nice to glance up from time to time and remember who and what inspires me.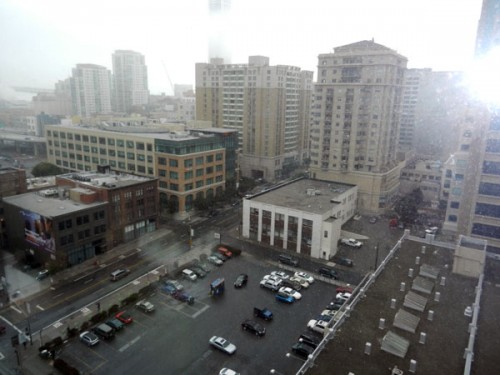 I also have a fantastic view of Soma (there's lots of fog in this photo). I can see into other offices and apartments. It's nice to see other people roaming about to remind me that I'm not alone!
This entry was posted by Style Bust on December 30, 2011 at 4:25 pm, and is filed under New Styles in Fashion. Follow any responses to this post through RSS 2.0.Both comments and pings are currently closed.