A little bit of luxury: Q & A with Christine Campbell of Crimson Mim
Here at StyleBust we love learning about new products, new trends and best of all a great boutique.  We recently heard about Crimson Mim, a women's boutique located in Silicon Valley, that carries designers that you typically wouldn't find in suburbia.
I had the pleasure to ask Christine Campbell, the owner of Crimson Mim a few questions about her inspirations and what it's like owning and operating her two Crimson Mim locations.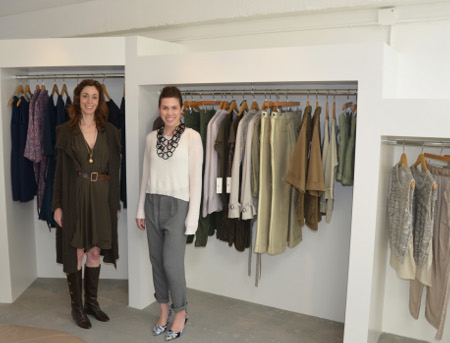 Christine Campbell and CeCe Telesco
StyleBust: How did the opening of your boutique, Crimson Mim come about?  What was your a-ha! moment?
Cristine Campbell: I was approaching 40 and feeling unfulfilled and ready to move on from my high tech career. I challenged myself to take the leap and change both my career and industry. During my time in Silicon Valley, I bemoaned the absence of shopping options outside of the "usual suspects." So with the confidence (or hubris) to go it alone and my entrepreneurial background,  I decided to enter the industry I'd always admired and pursued from afar – fashion.  I did my research and determined that opening an independent boutique was the best business decision.
I love the name of your boutique, where does the name come from?
Crimson Mim is named for my beloved grandmother Miriam, who was known as Mim, and my favorite color  – crimson. I wanted everything about the store to evoke something personal and meaningful, much like the emotional connection we strive to make with our customers.
You recently opened a second Crimson Mim in Palo Alto.  Congratulations! Are the two locations similar?  What can we expect when visiting each of the boutiques?
Thank you! While Crimson Mim in Palo Alto is similar in size (989-square-feet) to the store in Los Altos, the interior is quite different. In Palo Alto we're playing up the 50-year-old history of the space, remaining true to its heritage and architectural integrity. We kept the original concrete floors, which remind me of tree rings because you can see every 'footprint' of what was there before, along with wood inlays the previous owner installed. The ceilings feature exposed beams and a number of skylights which allow incredible natural light to stream through. The entire space is painted antique white to highlight the gorgeous colors and textures of our merchandise. Vintage furniture and zebra rugs complete the décor.
We focus on the same customer in both locations, but we view Palo Alto as the "big sister" if you will of Crimson Mim in Los Altos. The apparel is slightly more formal in Palo Alto and the merchandise is different in each location. Six plus years ago when we opened in Los Altos, we focused on emerging designers, such as 3.1 Phillip Lim, Loeffler Randall and Trina Turk, that have since become well-known, established brands. We hope to do the same in the Palo Alto location, with such up-and-coming lines as Whit, Caron Callahan and Harvey Faircloth.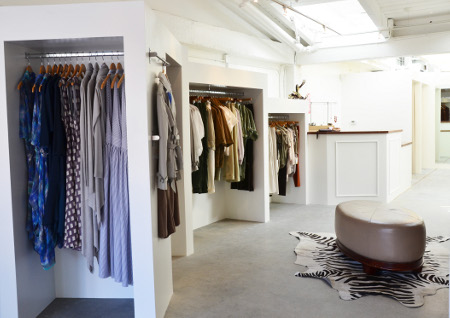 Who is the Crimson Mim customer?
Our customer is really varied – she is a student at Stanford (right across the street from us) or her mother, who might be an executive at a Silicon Valley technology company…. And we help our customers find items for work, travel, dinners out, special occasion and every day. Our customer is highly educated and well-traveled, and seeks out different and unique items. Cookie cutter / mass is not as appealing to this woman as fashion that is as unique and globally influenced as she is. At the same time, this is a professional woman who is searching for items to wear to work, so things have to be professional and wearable.
You seem like a very "hands-on" boutique owner.  What is a typical day (if there is one) like for you?
You're right! I'm very hands-on. In this industry and in this environment, it's so important to be involved on a daily basis. While no day is typical, I tracked what I did on Thursday, May 5th. On Thursdays I come in early to get accounting and financial work done before we open. I also did an hour long pr / marketing strategy call. Then, I was on the floor by myself all day in our Los Altos store, because it was the birthday of the sales associate who normally works with me on Thursdays and I gave her the day off. So, from 10am to 7pm, I helped customers on the floor – making suggestions and recommendations, putting outfits together, giving style advice and selling. In between customers I wrote and answered customer and vendor emails, worked on inventory management, took photos of our new arrivals (ALC and Graham & Spencer) for our Facebook page and discussed daily to do's with our manager of marketing and e-commerce.
A certain percentage of my time is spent on buying trips, but we're between seasons now, so the next time I'll travel to buy is in September at which time I'll be traveling to New York
How do you decide which designers to carry in your store?
I buy for our customer and look for items she is going to love, will work for her life, that represent great value, and are not widely available. She doesn't want to see herself coming and going. I ask myself: will this item work in her wardrobe (ie – timeless and classic with a twist)? Is the fit good? Are the fabrics, textures, shapes, rich, gorgeous, distinctive? Can our woman wear this item to work? Does the item represent great value (ie – will they be happily surprised by the price?)? Our customers tell us the items they buy from us are their favorites, the things they wear the most, that they receive the most compliments on – so we're always on the lookout for those special pieces to continue to make our customers happy. So, if a designer meets all of this criteria, and I love their line and I think we'll do well with them, and they have a good industry reputation, we'll consider them!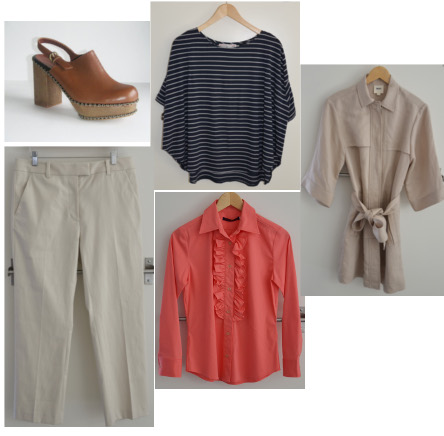 Rachel Comey clog, Shipley & Halmos striped top, Whit linen trench, 3.1 Phillip Lim cropped trousers, Harvey Faircloth coral blouse
What are some of your favorite trends for Spring/Summer 2011?  Can we find any of those trends in either Crimson Mim location?
A couple of our favorite trends for Spring/ Summer 2011 are color and long skirts and dresses:
There are so many gorgeous colors for spring, it's easy to update a wardrobe, by adding a coral blouse or a cobalt dress or a bright red skirt.  If the woman is fearful / concerned to add a colorful garment, we encourage her to go with a colorful shoe. We have orchid colored sandals from Loeffler Randall that are so surprisingly versatile – this pop of color adds excitement to ensembles in navy, white, grey, beige, nude, and any combination thereof.
The other trend I'm in love with is long skirts / dresses. This is a fresh way to update a wardrobe. The silhouette is interesting and draws your eye because this trend hasn't become ubiquitous in the Bay Area. It's a chic way to get dressed, it's as versatile as wearing a pair of jeans, it's a way to update the tops, cardis and jackets of your wardrobe, and it's a way to wear your newe, chunkier flatforms and clogs. We have long skirts and dresses from Rachel Comey, ALC, Harvey Faircloth and Velvet (for the more casual version….)
Do you have any favorite fashion designers or fashion icons?
I just saw the Balenciaga exhibit at the de Young Museum in San Francisco. This show blew my mind and is already inspiring me – I didn't know he invented silk gazar to create silhouettes that stood away from the body. I love clothing that has a distinctive silhouette and designers we carry such as Gary Graham, Rachel Comey and Whit all play with silhouette.
In terms of fashion icons, I love Loulou de la Falaise, Yves St. Laurent's muse. She is so chic and is a master of layering jewelry, fabrics and prints. Ines de la Fressange, another French fashion professional always ever-so-chic. She just walked for Karl Lagerfield's spring 2011 Chanel show, at the age of 53 – so inspiring!
For aspiring boutique owners out there, what advice can you give? Anything to be aware of?
My best advice for aspiring boutique owners is to double and triple check your assumptions and numbers before you commit to all of the financial and time obligations that owning a boutique requires. Also, be flexible, because once you open, some of your ideas will be tested and you'll have to change things based on what your customer wants!
A huge thank you to Christine for taking the time out of her hectic schedule to answer a few questions and give a very good reason to start shopping in the suburbs!
This entry was posted by Style Bust on May 17, 2011 at 6:00 am, and is filed under New Styles in Fashion. Follow any responses to this post through RSS 2.0.Both comments and pings are currently closed.