Accessory Bust: Gold Petal Pushers
Many fashion and accessories magazines have been featuring flower rings, bracelets and necklaces for Summer 2010, so I thought I'd give my two cents.
I personally believe that flower jewelry finished in silver, colored metals and obviously plastic look cheap, and well – trashy. That being said, I am a HUGE fan of gold flowers….gold flowers anywhere looks very classy. The look is very feminine, even for those tattoo touting tough ladies. Yet the look isn't juvenile or entirely innocent looking either, however if you are a total goody two shoe beware all flower jewelry states the obvious and in your case, you should refrain from wearing flowers at all costs.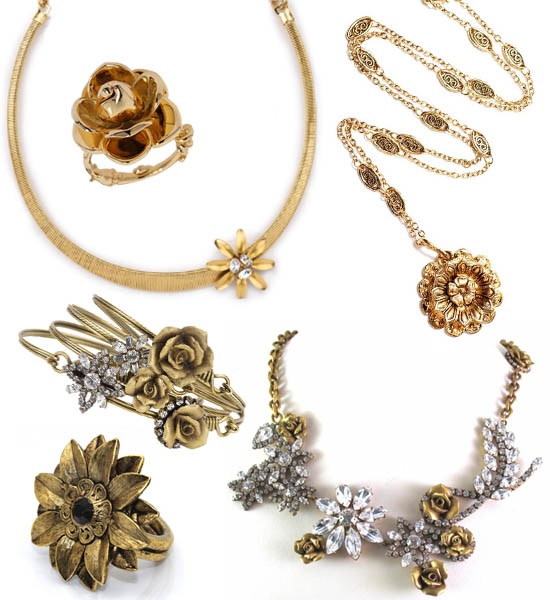 Here are my favorite flowered pieces to get you through the summer. And hey, because the pieces are gold; they'll totally fly for Fall 2010 as well…yeay!
Disney Couture, The Flower and the Lotus Flower Ring, $59.
Maximal Art by John Wind, Crystal Sparkling Daisy Snake Chain Collar, $89.
Allison Daniel, Shoe Flower Necklace, $68.
Elizabeth Cole Jewelry, Set of 5 Flower Hook Bracelets, $188.
Allison Daniel, Jadyn Ring Crisp Scroll Flower, $88.
Elizabeth Cole Jewelry, Bouquet Necklace with Swarovski Crystal Flowers and Gold Roses, $423.