Anti-Aging Serums
Anti-aging serums are a great way to help your skin look and feel better. Serums are meant to be used in combination with moisturizers, a serum is specifically designed to give you a concentrated dose of anti-aging ingredients.
Serums have a sort of oily or gel consistency, a little goes a long way, but you will need a moisturizer afterwards since your face might feel tight once the serum is absorbed in your skin.
The following are a few that I've tried and it is amazing how my skin feels after using them. In this case, I don't have a favorite since I loved them all, now the hard part will be to decide which one to use.
Ole Henriksen Truth Serum
A high-potency vitamin C complex that prevents and corrects signs of aging while promoting brightness.
This amazing ten-percent vitamin C skin booster and antiaging treatment firms and smoothes, delivering more radiant skin. The weightless, fast-absorbing, oil-free formula penetrates to deep layers of the skin, offering instant and long-term hydration, nourishment, and antioxidant protection against environmental aggressors.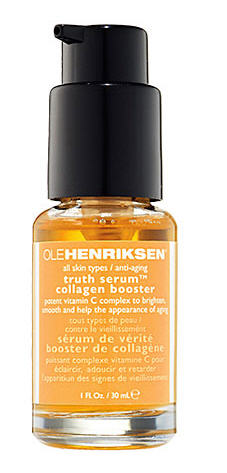 Origins Plantscription Anti-Aging Serum
A concentrated antiaging serum for visible anti-wrinkle results.
Although it's not a prescription, in just four weeks the natural plant ingredients in this serum noticeably reduce wrinkle length and depth without the irritation. It visibly helps repair the vertical fret lines between your eyes, the stubborn furrows across your forehead, and the deepening frownies that frame your mouth. Youthful bounce is revived. Skin is firmer, smoother, more lifted-looking. And with continued use, results improve.

Philosophy When Hope is Not Enough Replenishing Serum
A replenishing facial treatment infused with healthy omega-3, -6, and -9.
Philosophy's When Hope Is Not Enough Replenishing Serum nourishes your skin with essential fatty acids omega-3 and -6 and unsaturated omega-9 to help stimulate the skin's natural process of renewal and regeneration while maintaining its suppleness and elasticity.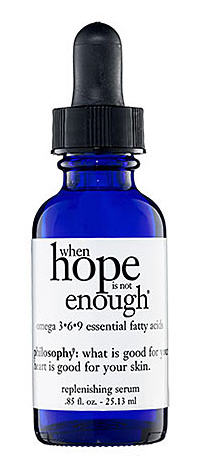 This entry was posted by Style Bust on April 19, 2012 at 12:44 am, and is filed under Latest Beauty Products. Follow any responses to this post through RSS 2.0.Both comments and pings are currently closed.