Cheek stains for tartelettes
One of my favorite items in my makeup case is tarte's cheek stains, strike that, actually that is my second favorite item. My favorite one is tarte's clean slate natural face primer but I'll tell you more about it next week.
I've been using tarte's blushing bride cheek stain and I'm very happy with the results, it may not make me literally feel like a blushing bride, but it does give the perfect amount of color to my cheeks. And I do like the name.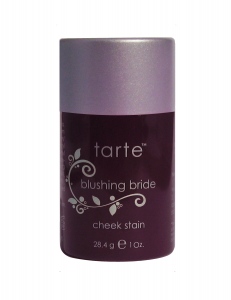 Tarte has a great collection of cheek stain colors for you to choose from in pink, orange, red and brown hues; perfect for any skin tone.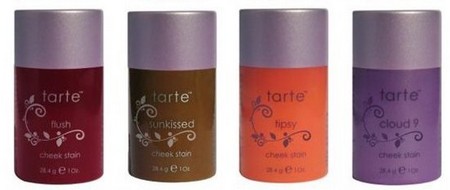 Cheek stains are free of alcohol so they won't dry out your skin and oil so they won't clog your pores. They are infused with the tarte t5 super fruit complex™ for a healthy dose of natural antioxidants.
I've always been used to use blush in powder form, so I was skeptical when I tried the cheek stain. The stain is in a solid lipstick-like form, when you open the cap you see a small amount of it in an oily form, you are supposed to wipe that off. Then you can apply it using a brush or sponge, I apply it directly on my skin and with my fingers smudge it. Because the color is so concentrated, you might think you're going to look like a clown; but the color blends perfectly and you end up with natural color on your cheeks. It also has a very subtle fragrance that I just love.
Tarte has a very big Hollywood following, with stars such as Julianne Moore, Katherine Heigl, Ellen Pompeo and many others. You can see more pictures of Stars wearing tarte on their website.
Tarte is a company that not only cares about helping you look even better, but also cares about the environment and is commited to quality. Also its really fun to use. You can find tarte cheek stains at Sephora and directly on tarte's site.
This entry was posted by Style Bust on September 30, 2010 at 12:01 am, and is filed under Latest Beauty Products. Follow any responses to this post through RSS 2.0.Both comments and pings are currently closed.