Ciate Sequined Manicure Kit Review
So far I'm a big fan of Ciate and their kits, the designs are very unique and in the vanguard of the nail art scene. Now they bring us Ciate Sequined Manicure Kit, a super flashy design.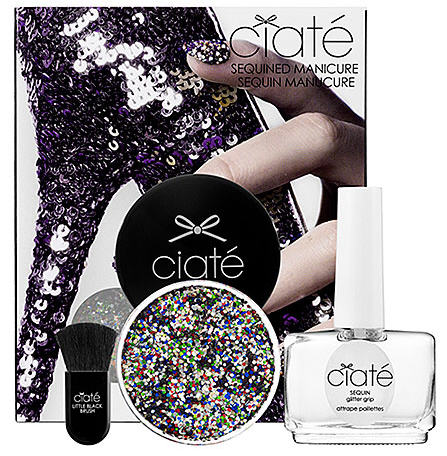 The concept is very simple. Use the Sequin Glitter Grip polish and dip your nail on the pot full of sequins and your nails will look like Disco Balls! This manicure is perfect for a night out, the nails truly shine and glitter. During the day they tend to be a little much.
What I did was add a silvery nail polish as a background color and on top of it used the Sequin Glitter Grip and the sequins. This way as the glitter snagged and fell off it wouldn't be too noticeable. I used this manicure for a concert, my hands were in and out pockets, using my camera, getting things from my purse, etc. Overall I think they held well for one night.
Both picture show my nails the morning after, I was in such a hurry the night before I forgot to take a photo of the manicure when it was fresh. But you can get an idea of how it looks.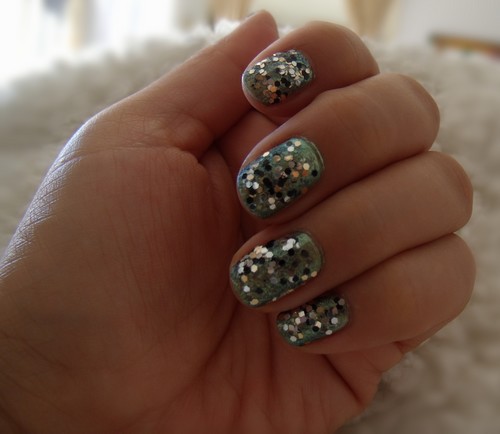 When it was time to take off the nail polish, I was worried it would be difficult like it is with most glitter nail polish, but it wasn't. The sequins came right off with regular nail polish removal and I then I added a polish more suitable for the work week.
This entry was posted by Style Bust on January 30, 2013 at 11:06 am, and is filed under Latest Beauty Products. Follow any responses to this post through RSS 2.0.Both comments and pings are currently closed.