Don't call it a bronzer!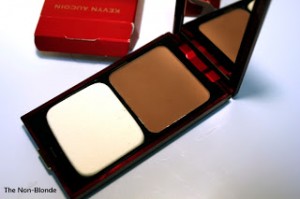 Want chiseled cheeks without making it obvious?  Then I highly recommend the Kevyn Aucoin Sculpting Powder.  Don't call it a bronzer because it's far more.  This contour palette shade ( in Medium) is universal; it's truly for the blonde and the non-blonde.  It's for the person that wants to un-blush yet sculpt stronger cheekbones, or minimize their chin or nose area.
Too often, other cosmetic brands swear their contour powder gives the perfect results but when it comes down to it, too much of a red undertone is revealed causing more attention to your nose or chin then you probably ever wanted.  "There you are, gazing into mirror wondering, what went wrong?"
KA beauty got it right, this powder is completely matte – no shimmer, no glitter, no gold, no organge (just the perfect hue) to sweep toward temples, contrasting to give the halo barely there nude on your skin!  Despite the pigment saturation, when applying to your nose/chin don't get nervous – this product glides on lightly so you can't overdue it unless you want to – plainly stated, it is downright full-proof!
Trust me, blending with the proper angled brush (not a sponge or the mini brush packed inside) will give even the layperson confidence to contour…. (Tanning Mom) you stay away!!
Price point: $42 us dollars (a must have makeup bag goodie)
This entry was posted by Style Bust on November 2, 2012 at 10:46 am, and is filed under Latest Beauty Products. Follow any responses to this post through RSS 2.0.Both comments and pings are currently closed.