Going Natural.
I used to be a self-proclaimed make-up hound. I would wake up as early as 5 am on school days in order to make sure that my face was perfect. Granted, this was necessary in high school because I had a terrible acne problem (one part due to hormones, the other part due to cheap chemicals in drug store make up that I clogged my pores with) and would rather die than be caught dead with a pimple showing. But it wasn't just foundation and cover-up I even sported fake eyelashes to chemistry class. To me, beauty and sex appeal was all in the full face makeup. Looking back, wearing all of this for more than 7 hours a day was not only uncomfortable but also completely ridiculous; I didn't need make up to make me beautiful.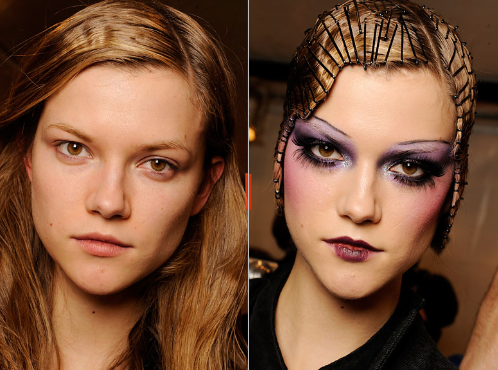 I still wear makeup but I have swapped out my M.A.C studio fix foundation in N15 for Urban Decay tinted moisturizer in Halo. It's much lighter and lets some of my nature imperfections show, which I now appreciate. It also doesn't cling as badly to my dry spots when the day starts to wear away at my make-up. Natural makeup just seems to suit who I have become. I think that there is a common misconception in women (and especially teenage girls, I know… I was recently one) who consider themselves stylish that a full face of make up is high fashion or sexy. Let me clarify full face. It's smokey eye, foundation, blush, bronzer, and lipstick. Every inch of the face is covered. Yes, it can be perfect on the right occasion, but it shouldn't be an everyday look.
And you know what a lot of make up can do to a girl? … age her. Since I have decided to not wear as much makeup as I used to (some days I don't wear any at all and I still feel confident!) I have been told that I look "innocent" and "sweet". I will gladly take these adjectives because I have a feeling that for the rest of my life I will be trying to regain that youthful look that I "covered up" for most of my young life.
This entry was posted by Style Bust on August 12, 2010 at 6:47 pm, and is filed under Latest Beauty Products. Follow any responses to this post through RSS 2.0.Both comments and pings are currently closed.