HIGHLIGHT action…
Convertible products can be fun just as in the case of driving a convertible; a girl loves having options…right? Since were talking "options" Mario Dedivanovic (Makeup Guru to Kimmie K.) created this highlighter that can be worn on the eye, on the brow bone or bridge of the nose – "3 uses in 1″…what more can a girl ask for?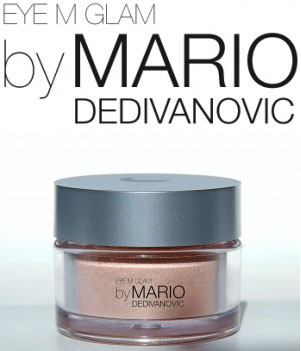 When I dusted this product EYE M GLAM ($35), I found it to be light, airy, glossy – easy to pick up using my flat shadow brush but I didn't stop there, next…I pulled out my NARS Botan brush and dabbed a little on my shoulders, decolletage…I always look to this brush because its dense and it buffs right into the skin. Its' one of those silent giants (known for its softness yet burley-ness). Honestly, this EYE M GLAM mineral highlighter is definitely one of my favorite buys of the year, it is ahhhh-mazzzing for all skin complexions it doesn't go ash nor does it have big chunks of kid-like glitter, is glamour in a jar. The color pay off, the glossy glow it gives had me hooked…I have Giella Cosmetics to thank!
My skin illuminated with this product, not only did my eyes sparkle…I was ready to take on the world if not the world then definitely my date, no doubt I was getting some "action".
This entry was posted by Style Bust on December 30, 2010 at 2:00 am, and is filed under Latest Beauty Products. Follow any responses to this post through RSS 2.0.Both comments and pings are currently closed.