If Video Killed The Radio Star… What's Killing Live Music?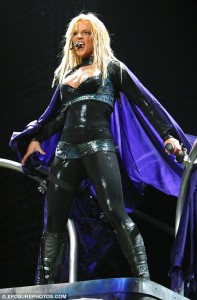 Recently I had lunch with one of my old colleagues from Live Nation. Her and I fell into a deep discussion about how the music business has always been evolving and changing, but currently there is a sudden widespread fear and uncertainty about what moves to make next. Live Nation is a powerhouse when it comes to live music; it's one of the top 3 concert promotion companies in the world. Now after their merge with Ticketmaster they practically dominate (some might say monopolize) the industry. Live Nation however, doesn't seem to be calling the shots. LN canceled 200+ shows this summer. Chairman of Live Nation Entertainment, Irving Azoff's plan is to pull the shows so demand can build up again.
Today, we have so much music at our fingertips. Hearing Katy Perry's song, California Gurls for the first time a few months ago, I thought to myself, this is going to be the song of the summer. Radio has played the crap out of this song. It's now the all-time Mediabase Top 40 Airplay Record holder with more than 13,000 spins in one week. Talk about killing demand. Why would I need to buy this song on iTunes if I can turn on the radio and hear it 9+ times a day? Or watch the video on Youtube? How about making myself a play list on Grooveshark?
CEO of Live Nation, Michael Rapino has said, the average concert-goer attends one show a year. It shouldn't be this way. In a society where we expect instant gratification, something needs to be done so I can see every band that I want to see live, within the same year. Some blame it on the economy, with high priced tickets and extra fees no one has the money to spend on going to a live show. Hell, I don't even like to spend 30 bucks to see my favorite band perform each year. So LN introduces deals like "no fee Wednesday" or half off tickets day of show. They want to fill the venue – LN collects some money through concessions and merch. But ultimately LN takes a hit for acts to not play to an empty room and then the artist collects their guarantee. But in order for ticket prices to truly lower the artist has to be the one to take a hit. Some of these high priced acts simply need a reality check.
I'm over the days where I want to give Britney Spears (pictured above) my hard earned money (no offense to my bff who was once on her payroll). My favorite concerts to go see are not in the large amphitheaters, I'm not interested in the overall production. I don't want to see the same show by Phish or Journey anymore. I want to see the small independent artists. They are playing to a crowd of true music lovers, and the curious passerby that doesn't mind paying 10 bucks to see some live music. I want to know that when I buy the ticket every dime spent is going towards the band in order for them to continue living out their dream.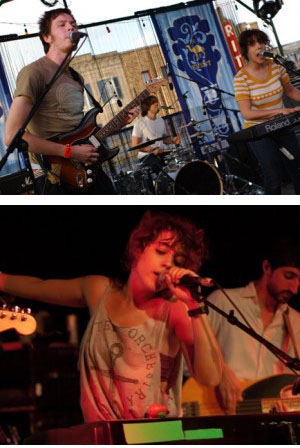 To be truly successful a band needs to have longevity and it starts by establishing a dedicated fan base. In my opinion one of the best groups to target is the 16 – 25 year olds, the people that are searching for something to believe in and inspire them. This group can evolve and change over the years with their favorite band. But this group especially can't afford 40-dollar tickets. I think the wake up call is finally here and change is about to come. In the meantime Via Audio (pictured left) is one of the amazing bands out of Brooklyn that you can see live for 10 dollars in August. They have dates in New York, Brooklyn & Boston. East-Coasters you MUST check them out and tell me what you think!
*images from rslblog.com, leftovercheese.com, totallytheo.blogspot.com, and dailymail.co.uk*
This entry was posted by Style Bust on August 1, 2010 at 3:39 pm, and is filed under Trending Music. Follow any responses to this post through RSS 2.0.Both comments and pings are currently closed.