Invading spaces: Pancake Stacker's charming home with a view
We couldn't have asked for a better day.  Gorgeous San Francisco weather, a prime parking spot in the heart of the Marina District, and an afternoon with Chandamheer Stacker – the down to earth gal behind the fashion and food blog Pancake Stacker.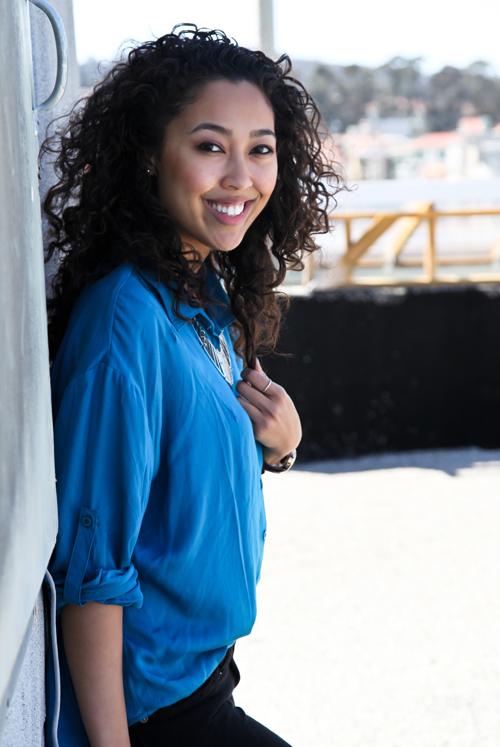 I absolutely loved the vintage charm of her apartment, complete with a wall-mounted ironing board, french doors and a pair of vintage Hermes shoes (that actually fit her).  Chanda's apartment is a reflection of her personal style – feminine and comfortable with just the right amount of sophistication.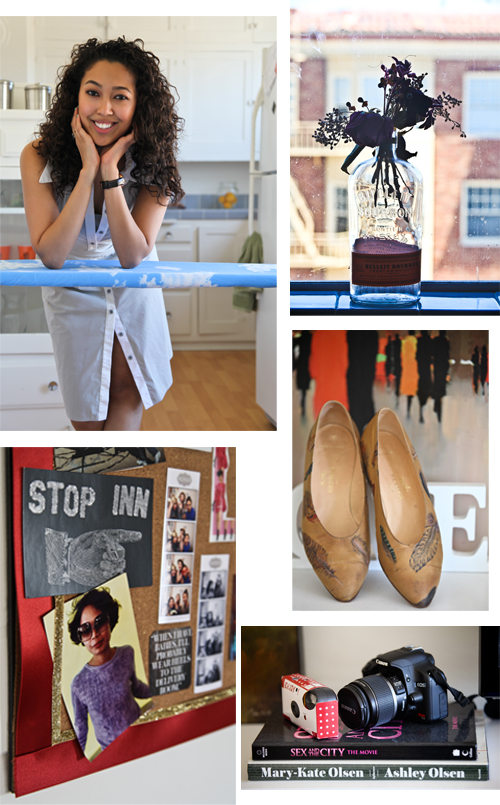 StyleBust: When and why did you decide to start Pancake Stacker?  What's behind the name?
Chandamheer Stacker:  I started my blog in August of 2010, the summer after I graduated from college. I majored in English so I wanted to continue writing. I had been toying with the idea of starting my own blog for the longest time, so one day I just did it and haven't looked back since.
When I first started thinking about blog names, I originally thought that I would just use my first name and leave it at that. Then I realized no one would be able to find my blog if I named it Chandamheer, and people would wonder what a "Chandamheer" even was. Still, I wanted to make it something personal that would tie in a bit of me with a bit of my passions. Then I realized that an infinite amount of things go with Stacker, which happens to be my last name. After a minute or two of thinking about all the things that can be stacked, I realized pancakes were the best. So that's when my blog came about. Pancakes tie in my love of food and Stacker ties in the personal style.
SB: What do you love about blogging?  What are some challenges that you face?
CS: I love how blogging has allowed me to meet so many different and wonderful people. I have made such great friendships through blogging and it's just such a tight-knit and supportive community. It's really great to be able to share something you are passionate about with other people who are just as passionate about it. I think one of the biggest challenges that come with blogging is just being consistent. Sometimes life gets in the way and it's hard to find the time to sit down and work on a post. I always feel guilty when I'm not updating on a regular basis, but at the same time, sometimes it's good to just put the online life on a pause and enjoy the real thing.
SB: How do you come up with new content for you blog?
CS: I primarily focus on food and personal style, so a lot of my posts consist of where I go out to eat or what I'm wearing on any given day. I love documenting everything and feel naked if I don't have a camera with me, so being able to take photos everyday helps foster the content on my blog. I'd like to think it's a personal, but public diary.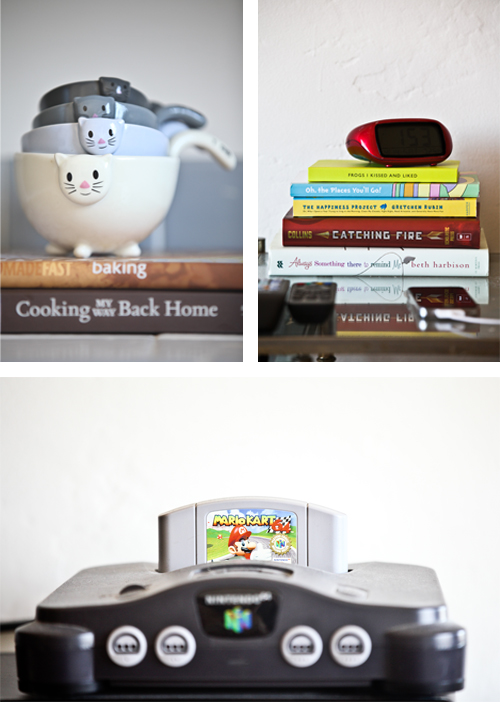 SB: Describe your personal style.
CS: This one is a tough question because I have never really put myself into any one category. I think if I had to describe my style it'd be something close to feminine (I love dresses and skirts) and urban. I like to play around with different items, but I always keep it simple and refined.
SB: What are some of your favorite local shops?
CS: I really like to experiment with lots of different styles, so I shop just about everywhere. Thrifting and vintage are really fun for me, because I love to get unique pieces in my closet. For those times, I like to shop on Haight Street, more specifically Wasteland and Held Over. Most of the time, however, I stick with my regular go to's. I am a Forever 21 junkie, but I also really love to shop at Nordstrom and Urban Outfitters.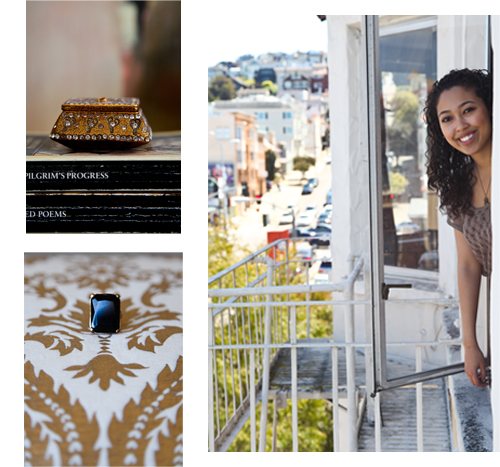 SB: We know you like to cook, what are some of your favorite things to make?
CS: At the moment, I'm really into cooking dinner items. I can make you basic chicken, steak, or salmon dish quite well, so now I'm trying to experiment more in the kitchen. I think dinner dishes are my favorite to make because there are just so many components to the meal. I'm half Filipino, so the next thing on my cooking to-do list is to learn how to make traditional Filipino meals as delicious as my mom makes them.
SB: What are your favorite local restaurants?
CS: My absolute favorite restaurant (and recent discovery) is The House on the border of North Beach and Chinatown. It's Asian Fusion and the most delicious food I've ever had! Other than that, I enjoy Mamacita in the Marina for delicious tacos and Red Door Café for brunch.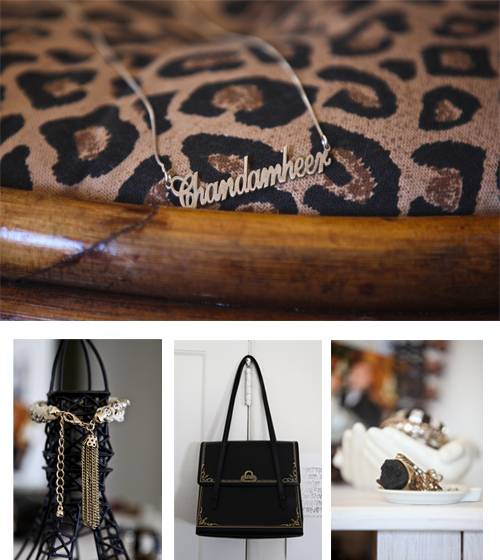 SB: When you're not blogging, what can we find you doing?
CS: When I'm not blogging, I work full time doing Digital Media for a PR firm here in the city (so, most of my time is spent online!), but when I'm not online, I love to explore the city. I grew up in the bay area, but San Francisco is always a great city to constantly rediscover. I love trying new restaurants, walking around different neighborhoods, and just experiencing the culture all around.
SB: What blogs do you follow?
CS: I follow so many amazing blogs that it's sometimes hard to keep up! Aside from all my fellow San Franciscan bloggers, a few of my favorites at the moment are Atlantic-Pacific, Vintage Mavens, and Rouge Fox. But, truth be told, my favorites are constantly rotating!
SB: For anyone starting a blog, what advice could you give them.
CS: I think the best advice I can give is to just be ready for it. There's a lot of work that goes into blogging and sometimes people don't realize it. Have fun with it and don't take anything too seriously. You learn a lot about yourself when you start blogging and it's fun just to be a part of the journey.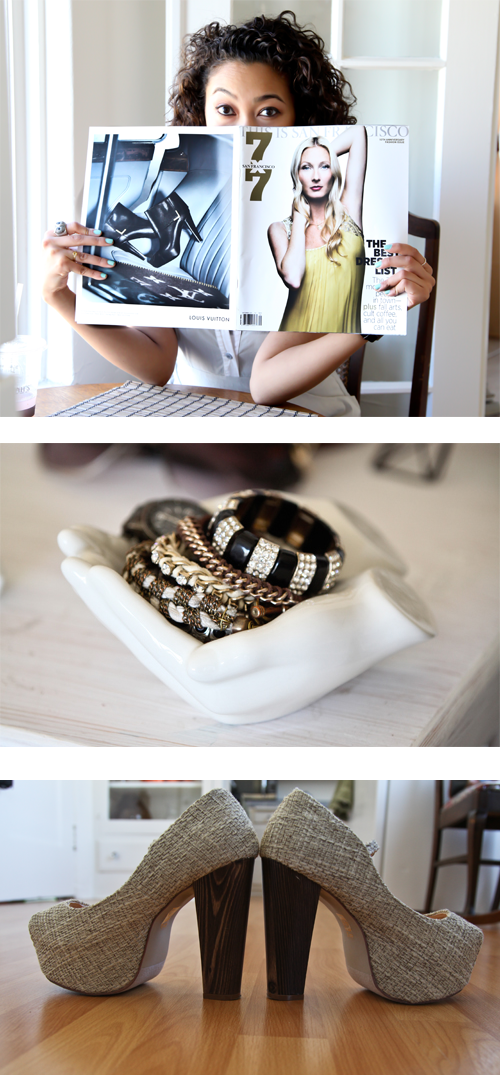 Chanda effortlessly mixes classic everyday pieces with unique thrift store finds and adds one very contagious smile – making her one of SF's best dressed and most personable bloggers!
Special thanks to Chandamheer for letting StyleBust into her home and onto her rooftop (AMAZING views of the city).  And also to our fabulous photographer, Yekaterina Bowyer of Y Bowyer Photography.
*All photos take by Yekaterina Bowyer