Bay Area Fashion Bloggers Exposed
I know a couple gals that are over 6 feet tall – as beautiful and tall as they are, it seems as though they are a little shy about their height. I was recently introduced to Alicia, the 6 foot plus beauty behind the blog, TallSWAG, who exudes nothing but confidence, absolutely loves life, and is hands down the tallest female I have met!
Photographer Yekaterina and I were invited into Alicia's Oakland home to check out her closet which is full of bold accessories, colored denim (with inseams that I didn't even know existed), maxi dresses, and heels (yes, she even rocks a 4 inch heel)!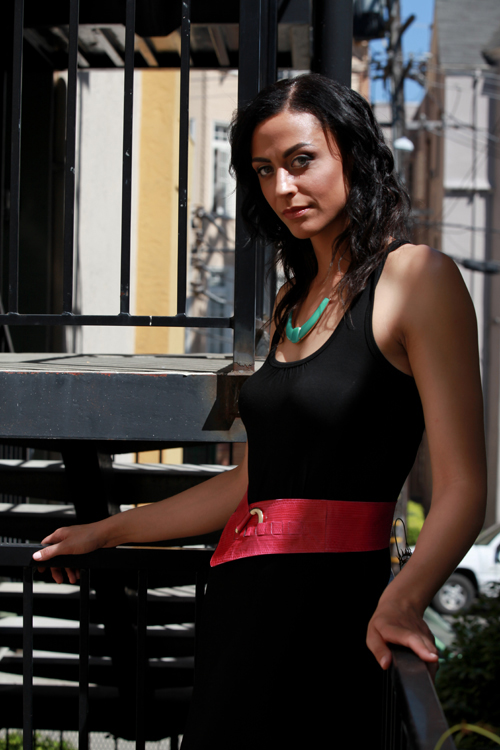 Her apartment is cozy and comfortable. Drawings from her niece cover her refrigerator, walls are decked with family photos, and there is a rolling rack with her latest TALL t shirts. Alicia's place is homey, girlie, and full of fashion.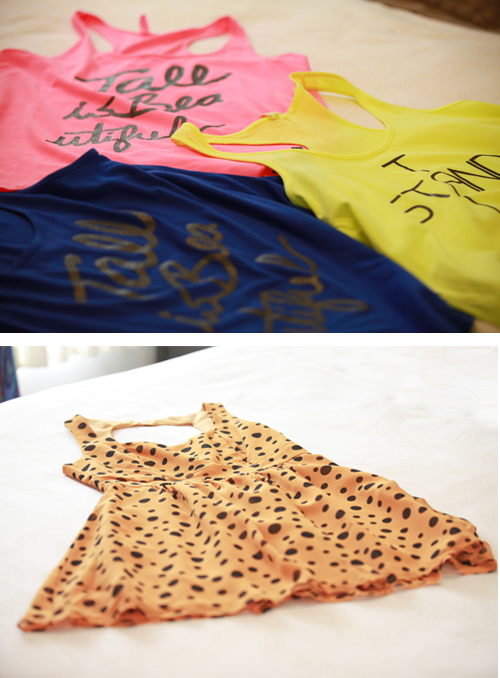 StyleBust: When and how did you decide to start your blog?
Alicia Jay: I got the idea in 2007. I was searching for a pair of distressed jeans and just couldn't find them in my length. I was so tired of being frustrated by fashion and for some reason this particular search sent me over the edge. I was sitting there fuming at the fact that it was so hard to find tall clothing and I thought we needed a place where we could go that was a one-stop-shop for tall. BAM. TallSWAG.com
At first it was just links to tall clothing sites but quickly TallSWAG became a place to not only find fashion, but talk about our fabulous tall lives. My blog is now a place where tall and really ALL people can laugh, cry, share, grow and look ridiculously fierce together.
SB: I've gotta ask (I'm sure you get asked this all the time), how tall are you?
AJ: I do get it all the time but I don't mind answering it because I love my height! I'm 6'6" and super proud of it. I do mind answering it when people ask rudely. You would be surprised how many do and they get an answer like "taller than you will ever be."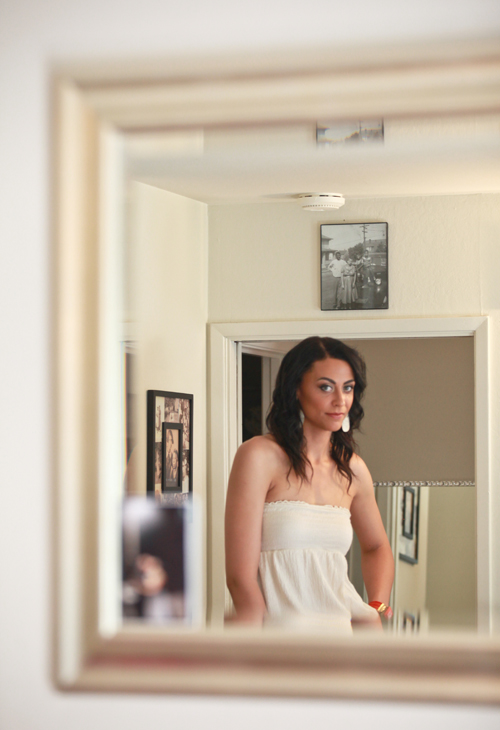 SB: When I met you I learned that being tall and finding clothes that have the right inseam can be challenging – what are some of your favorite stores to shop at?
AJ: It is very challenging. Depending on the cut and type of pant, I have a 37" to 40" inseam. It's almost impossible to walk into a store and find an inseam like that. I do a ton of online shopping. One of my favorite places is Height Goddess. All of the pants, jeans and maxi dresses are specifically cut for a tall woman. I have never met a piece of Height Goddess clothing that I didn't like. I also like Long Tall Sally because they have a huge selection. If you are looking for a trend, more than likely they will have it.
There is nothing more annoying than working out in clothing that doesn't fit so if I want to work out without a wedgie I go to places like Elle Mayers (who has yoga pants up to a 38" inseam and long tanks), lululemon and Athleta.
Jeans. Oh how hard it was to find them when I was growing up. I always had to wear men's jeans and looked a mess however now there are so many online options. Height Goddess goes up to a 40" inseam and have colored denim that is great. Alloy has a big selection of jeans and pants up to 37" at great price points. Also, for a tall women with curves PZI Jeans go up to 38" inch inseams and they have colored denim as well. Last but certainly not least is a place that gave me one of my tall fashion "aha moments" and that was Indi. You can create your very own pair of jeans at a great price and if for some reason they don't fit exactly the way you want them, you can send them back and create another pair. Ah-ma-zing.
Another hard thing to find in stores are shoes. Most tall women have longer feet (Can you imagine if we had shorter feet? We would be falling over all over the place!). I wear a size 12. The day I found Barefoot Tess it changed my life. They have shoes up to a size 15 in pretty much any style you could imagine. BFT is truly changing the shoe game for tall women.
The Nordstrom Rack is also great because they have sizes up to 14 right in the store at amazing prices. They also have these large size shoe sales. They get pretty competitive (an old lady hit me in the shin with a cane once trying to get a pair I had my hand on. I got a bruise but I also got a fierce pair of heels so it was worth it). If you have a game plan, you will come out with some amazing footwear. The actual Nordstrom stores have shoes in larger sizes too but at the regular retail price.
Other online shoes stores that I love are; Payless, Nine West, Endless, Zappos, Exceptional Footwear, Takera Shoes, Gwyneth Shoes, Piperlime and Target and Macy's are starting to get a better selection as well.
Locally, I love the Collage Clothing Lounge. The buyer and owner of the shop, Amanda Rae, really gets that women come in all shapes and sizes. She has a little something for everyone and her accessory selection is amazing. I find that her tops are cut a little longer and she even
has pants long enough for me sometimes. I got a pair of tie-dye, super long, palazzo pants that almost made me cry when I found them. Tall women know what I am talking about. It's the "I never find anything in the store and when I do I get emotional" moment.
Wow. That was a long answer. Can you tell how much I love tall fashion?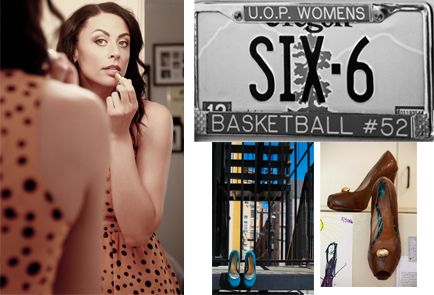 SB: Describe your personal style.
AJ: I don't like to describe my style. I feel that when you put a description on something, you limit it
and I don't like limits. For so long, I couldn't find anything to wear and now that I can find pretty
much anything, I want to wear whatever I feel like wearing when I want to wear it.
SB: Who are some of your style icons?
AJ: My mother. She is 5'9" and grew up on a farm in Montana. No offense to Montana but fashion generally isn't something that Montana really focuses on, let alone tall fashion. When I look through pictures of her growing up, she pulled off amazing styles that fit her with absolutely
no choices around her. She is definitely my style icon (among the other endless things she is to me).
I also love the style of Michelle Obama, Queen Latifah, NeNe Leakes, L'Wren Scott, Jordin Sparks, Tracee Ellis Ross, Gisele Bundche, Khloe Kardashian, Gabi Fresh and Ru Paul. As you can see, I don't like to put parameters on my style crushes either.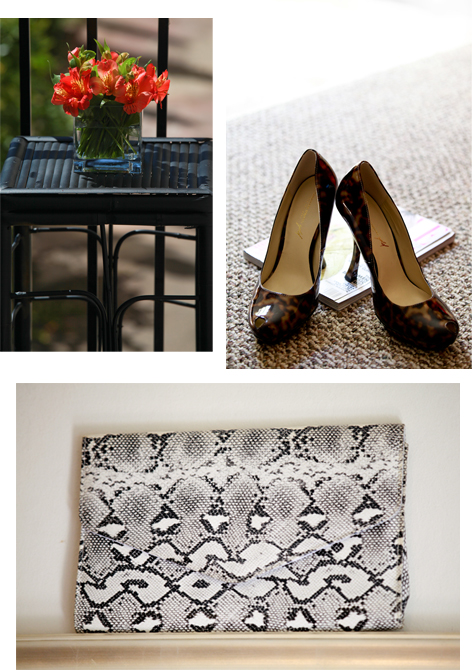 SB: What are some of your favorite trends of the season?
AJ: I LOVE neon. I think it is the best thing since sliced bread. Personally, I don't like to walk around looking like a neon sign, but a pop of it here and a pow of it there, is fabulous.
I also enjoy the laid back bohemian trend. Lately I have been into simple and chic and will probably run with it all summer. Being polished and beautiful with minimal effort is a winning combination for me right now.
SB: You have a line of TALL t-shirts, do you plan on expanding into a TALL clothing line in the future?
AJ: My t-shirt line is my baby! It's an expression of confidence, beauty, and loving YOU. Yes. Eventually I want to take all of the things the t-shirt line stands for and pour that in to an amazing clothing and shoe line for tall men and women that is also affordable and IN STORES!
My dream is to have a line that enables every tall person to have the same shopping experience as someone who has a "mainstream" size.
I have the vision and the drive; I just need a partner with a like vision and deep pockets lol. If you are interested email me. I'm kidding but I'm really not kidding.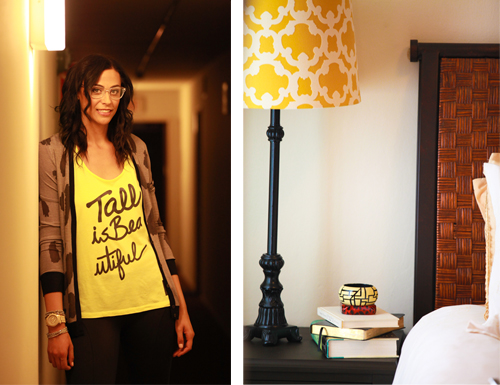 SB: When you're not blogging, what else can we find you doing?
AJ: I work for the Golden State Warriors so for at least 8 hours a day you can find me working for them. I am the Game Operations Manager and really enjoy my job. In a nutshell, we execute everything that you see during the game besides the actual play of the players.
I also love broadcasting. When I am not working or blogging I am constantly doing things to enhance my talent in front of the camera. Mark my words. You will see me on TV one day.
I love to spend time with my family, work hard, play hard, travel, volunteer, shop for fabulous shoes and clothes, have fun, live life without apologies and above all praise God in any and every way that I can.
SB: What blogs do you check out on a regular basis?
AJ: I, like hundreds of thousands of people, check out Gabi Fresh. I love the fact that she shows the world on a daily basis that you are the only person that needs to approve of your body and your
fashion. I also frequent IFB (a must for fashion bloggers), Long Leggy Bam, Pretty Tall Style, Tall Snob, Hoops Meets Heels, The Fashion Bomb, Who What Wear, Gal Meets Glam, Motor City Moxie, Loren's World and Baileys Blast. What can I say? I'm a blogger who likes to read blogs.
SB: What do you love about blogging/what are some challenges you face?
AJ: I pretty much love everything about blogging but the greatest love would have to be that you can bring someone a new perspective that they never realized was possible. The best blogging moments for me are when people tell me that they did something they never thought they would from reading my blog. It's life changing for me. I really don't know if people understand how much their comments on TallSWAG keep me going in many areas of my life. Essentially, we are doing the same thing for each other and I love that.
A challenge is time. There are SO MANY things that I want to do on my blog but I also have to eat and pay bills, so right now, a full time job is necessary. I also have my t-shirt line, T SWAG, which I run on my own so time is a little scarce.
TallSWAG is my passion so eventually it will be the center of everything that I do. It's getting there day by day thanks to prayer, Team TallSWAG and a little elbow grease.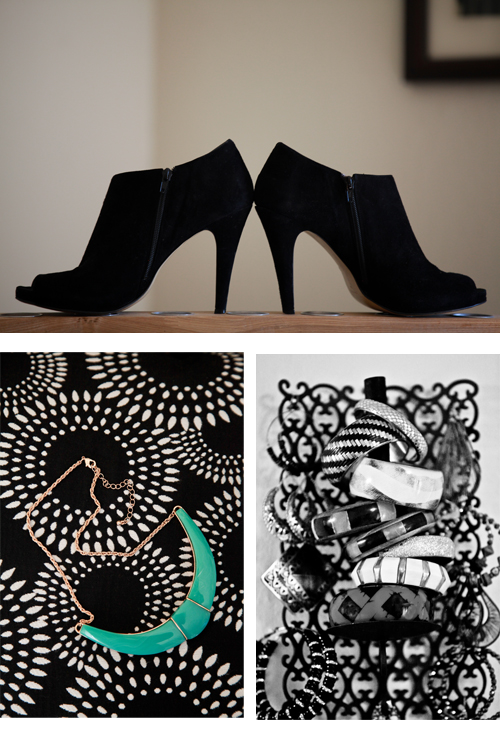 Tall is Beautiful – a motto that TallSWAG and Alicia truly embrace.  A special thanks to Alicia for letting StyleBust check out her home.  And also to our lovely photographer, Yekaterina Bowyer of YBowyer Photography (we couldn't have done it without you)!
*All photos take by Yekaterina Bowyer