My CAN CAN Juice Cleanse Experience

Are you irritable? Feeling sluggish? Bloated? I was.  And I had been reading up on the benefits of juice cleanses, and felt it might make me feel better. So I decided to take the plunge! I did the 3-day CAN CAN cleanse last week.  My only other experience with a cleanse was the Master Cleanse, which I did back in 2007 for 4 days (I was hoping for 10 days, but I got too hungry). The CAN CAN cleanse is SO much better.
The CAN CAN Cleanse was developed by local nutritionist and restaurant industry vet Teresa Piro. The cleanses are designed to help you "check in" with your body and get back on track. Each day, you get eight old-school mason jars of seasonal beverages two fruit juices, two veggie juices, and two herbal teas, nut milk, and soup. Making it all easier to swallow, Piro gives you detailed instructions on prepping your body, and getting back to solid food after the cleanse is complete. I also appreciated Teresa's list of acceptable snacks. She is realistic and knows that beginning cleansers may feel the urge to have something to chew so she provides a short list of healthy acceptable snacks should one absolutely need to have a bite.
Insights by day:
On day one I woke up and had the first of 8 daily 12 oz. mixes. This was the Lemon Ginger Juice. This was my least favorite of all drinks, mainly because it includes lots of cayenne which reminds me of the Master Cleanse (the worst cleanse in history). By lunchtime I was about to start my fourth drink of the day. This drink is actually a soup, which came at the perfect time because I was longing for something with more substance. This soup kept me feeling full for hours. In the evening I got a headache. I'm used to them though because I'm very inconsistent with my coffee intake, so the headache wasn't anything out of the ordinary for me. Later that night I got to drink the nut milk, which tastes better than dessert. I wish the nut milk came in a 24 oz. jar; it was THAT amazing.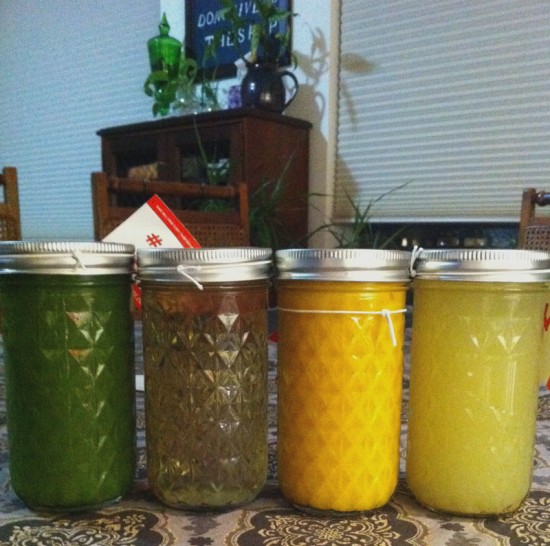 Image of four daytime drinks. The Winter Orange Soup is the third item shown.
Day two was a breeze. I was so busy at work, I didn't have a chance to realize I was on a juice cleanse. By evening I fell very behind the cleanse schedule due to meetings. That sucked big time! I got so hungry I felt like I could vomit (of course this was my own fault, not the cleanses). But as soon as I gulped down my next juice I was as good as new.
Day three was the most challenging for me. I got really hungry around lunchtime and even after having the soup I wanted more food. I drank lots of water (both hot and cold) to get me through the afternoon. By the time I had my dinner drink I felt fantastic again. And of course I savored every sip of my last nut milk drink since it was by far my favorite drink.
Summary:
Overall, I thought this cleanse was fairly easy for someone like me who hasn't cleansed in years. The juices, teas and soup are delicious and fresh. During the cleanse I did feel better and sleep better. Oh, and I did lose 5 lbs! I think ridding my body of bad foods for three days and starting new is a great way to kick start healthy eating habits. I think each time I fall of the horse I'll turn to CAN CAN to help me get back on!
Do your body a favor and CAN CAN — it'll thank you.