Posts tagged
food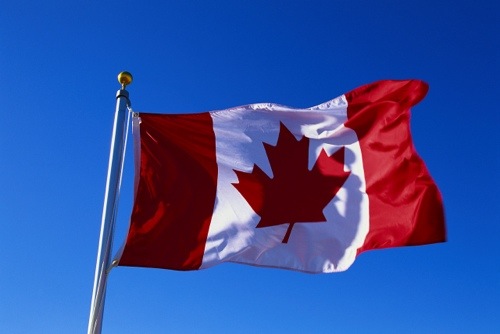 A city much like our San Francisco. Sure, it is a bit cleaner and spacious with less of nightlife than we are used to here in the city, but it sure is a melting pot of tourists, locals, and chefs who are very passionate about food. The people in Vancouver, just like in our magnificent city know just how to eat and drink, and just like us they hate to see a first time tourist like me, wander off into the menus of a potentially disappointing tourist trap. They yearn to share their secret places with us. This was made very clear to me on my food trip there, and this is why I love Vancouver, British Columbia.
Like any time that I can get out of the city and go vacation for a few days my main goal is to understand the life style and culture of my destination through it's food. This is precisely why I set out to Vancouver with my cousin last month. Vancouver is a city known for its luscious production of local products, culinary adventures, and nearby wineries. Only having three days there, we set out on our mission to try everything we could fit in. Just like anytime I travel, I refrain from desperately searching the Internet for places to eat, for I tend to be somewhat on the skeptical side of these sites. I have always found it much more valuable and to my advantage to just go straight to the source by asking the locals, and trust me, Vancouver welcomed us with open arms. Never have I been to a place where I got to meet so many chefs in such little time, and in which I become overwhelmed with endless amounts of coasters, napkins, and business cards directing me to all of the places locals told me "I just had to try before leaving!" Of course, being there only for three days, I had to make some serious choices. So here I am! Ready to share my Vancouver foodie secrets with you in a Style Bust miniseries! Each article will feature a different venue.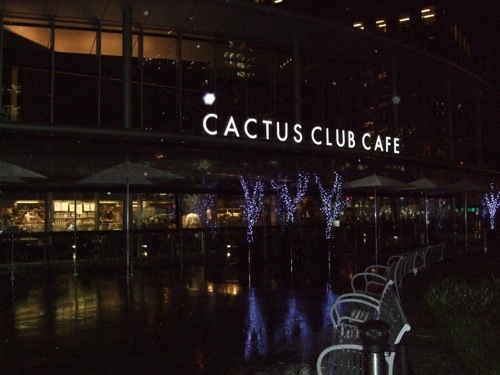 Cactus Club Café
Run by first Canadian Iron Chef Rob Feenie, Cactus Club Café is the NOPA of down town Vancouver. While its architecture and dishes are both modern and elegant, its atmosphere is very inviting as the restaurant's atmosphere is casual, fun, and loud. It is a place where industry people go for a bite and a few drinks. Being that this was a block away from my hotel it was our first stop upon arrival. I asked the bartender to order my cousin and I two of Feenie's signature dishes that we enjoyed with two glasses of wine from local wineries. Boy was I utterly in awe with such a tasty welcome!
The Beef Carpaccio
Tenderloin with a thin peppercorn curst, a hint of grainy organic Dijon mustard, pickled shallots, fresh Parmesan all over homemade crostini, topped of with deep fried capers!
The Ravioli Prawn Trio
Cooked to perfection al dente style, this dish was covered lightly in a rich and savory butternut squash with local sautéed jumbo prawns. It was to die for! This dish was just the right combination of sweet and salty with a bold and pronounced richness, it is no wonder they only serve three of them per order.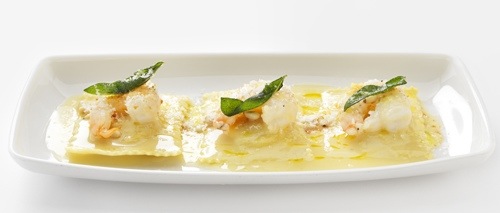 Prospect Winery, British Columbia Sauvignon Blanc 2010- this delicate wine was dry and refreshing with a clean finish. It had hints of grassiness and tropical fruits, which paired well with the Ravioli Prawn Trio.
Cedarcreek Cabernet Merlot-2007-this oaky wine has a lingering texture with hints of vanilla and concentrated fruits. It was smooth with light hints of tannin, which went well with the Beef Carpaccio
After really enjoying our time there, we came back to The Cactus Club Cafe the next afternoon (as we had promised the bar tender) to have a few of their signature cocktails. While they where fantastic in terms of concept, they where certainly shy on the amount of liquor that we are used to here in the city. However, I was here to try one specific drink, which I was told over and over again I could not leave without trying. So what is the drink of BC that everyone is talking about? It's called a Caesar. What I soon found to be in my opinion a much tastier version of our bloody Marry. What is the secret ingredient? Clamato Juice, a little less shyness on the horseradish, topped with the eccentric combination of fresh mozzarella cheese, borettane onion, bocconcini, and a Peruvian pepper. WOW!!! No wonder Canada has an annual festival devoted to this drink, naming it the drink of the nation. After a few of those signature drinks, we set out not only to eat more, but I made it my goal to find my favorite Caesar in Vancouver, being that they all claim to make the best.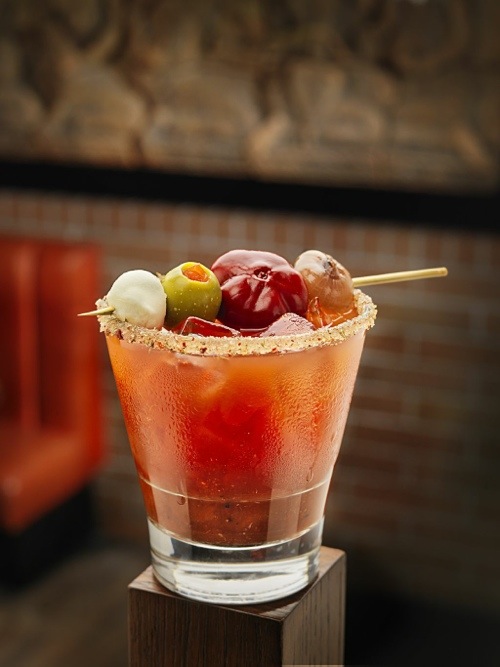 If you liked this article please checkout my review of The Keg Steakhouse and Bar in Vancouver!

image sources: ariellafong.com, Drink-twylah.com, Ravioli-Cactusclubcafe.com, view-beautynotbull.com