Naturia Dry Shampoo Product Review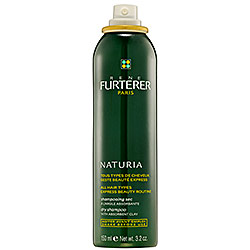 Elizabeth and I tried Rene Furterer's Naturia Dry Shampoo last night.
The Good: Within minutes of using Naturia Dry Shampoo we noticed oils in our hair and scalp had been absorbed. Our hair felt light and looked pretty healthy. This product does not contain: Parabens, Sulfates, Petro Chemicals, Phthalates or Triclosan.
The Bad: it's an aresol can, and aresol cans are known for clogging to a point that the products are no longer useable.
At $24 for 3.2oz this product is worth buying. The product seems perfect for eliminating oils while avoiding frequent shampooing, and maintaining your hairstyle, and thats really all we need Dry Shampoo to do.
This entry was posted by Style Bust on August 29, 2009 at 4:38 pm, and is filed under Latest Beauty Products. Follow any responses to this post through RSS 2.0.Both comments and pings are currently closed.