Oliveology Shave Gel review
I've been using a shave gel that I just love, it's called Oliveology and for now you can only get it online. Among the gel's ingredients are primarily Olive Oil, as well as aloe vera, sap from the sangre de grado tree, and antioxidant Vitamins A, D and E.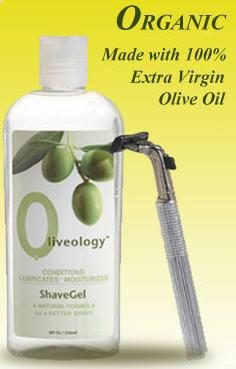 These ingredients are meant to condition, lubricate and moisturize the skin. It helps the razor so slide on smoothly and truly gives a close shave. It has a very slight soapy like smell, so it can be used by men without them feeling like their using a "girl's product".


My personal experience with it has been a good one, I have very fine body hair and can be up to a week without shaving my legs and not only is it not noticeable but the hairs don't threathen to shred my sheets. So in my arms and legs I didn't notice a big difference.
So here comes the time of a little TMI. I'm the biggest chicken when it comes to getting a wax, I've never done it and unless I'm sedated I never will. So instead of getting a bikini wax, I shave, even though I know the result is not the same. Now here comes Oliveology and this shaving gel really does the trick, I love how smooth my skin "there" feels and it works just as well on my arm pits. It's awesome!
I was lucky to get a 2 fl oz as a sample (I paid for the shipping), so far it's lasted me several months and at their website this size costs $5 and the 8 oz bottle costs $12. This is a great deal for a very good product.
Another thing about the company is that Oliveology Gives Back, 30% from every purchase goes to the foundation of your choice. The programs you can support are The Brent Shapiro Foundation which helps people in the fight against drug and alcohol dependence and A Chance for Children which works with homeless and disadvantaged youth. As I mentioned, you can only purchase Oliveology online and I wish them the best of luck for their product to eventually be offered in stores as well.
This entry was posted by Style Bust on August 25, 2011 at 12:28 pm, and is filed under Latest Beauty Products. Follow any responses to this post through RSS 2.0.Both comments and pings are currently closed.