Posts tagged
skin
In the eternal fight against aging StriVectin is at the cutting edge with skin treatments formulated to dimishing deep wrinkles and stretch marks or give certain areas a little lift as it is in the case of StriVectin-TL Tightening Neck Cream.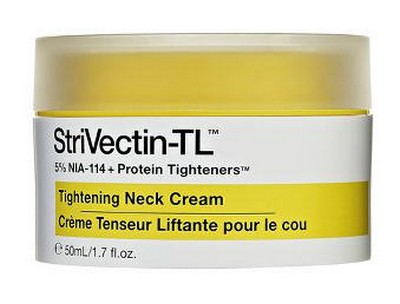 A rich, luxuriously nourishing cream that delivers potent firming and moisturizing ingredients to the neck and jawline. StriVectin's new three-tiered technology tightens on skin's surface upon application. It provides immediate and long-term benefits, including hydrating, lifting, and firming properites. It also improves skin's overall tone and elasticity.
According to the instructions StriVectin-TL should be used twice a day and after two weeks you will feel a noticeable improvement. In my case, I did notice a small improvement, but nothing that would amaze me, then again my neck does not sag too much….at least not yet.
The cream is thick but glides on very nicely with a slight and pleasant scent. From what I've seen in other people's reviews some women absolutely loved it and I'm glad for them since the 1.7 fl. oz. jar costs $89.
StriVectin-TL has very high end ingredients such as Patented NIA-114 discovered in skin cancer prevention research which helps rebuild skin layers and is clinically proven to reduce visible signs of aging, wrinkles and stretch marks. Other ingredients include collagen, shea butter, cumingii leaf and others.
Because of the cost I suggest you ask for a sample first and then decide for yourself. This might be what the Doctor ordered, without having to go to one. Also check out their product line of anti-wrinkle and stretch marks creams.