Online Store Of The Month: UnitedStyles
Each month, we're going to take a look at a different online retail business that stands out from the rest of the pack (we found this idea on The High Low, which features an Online Retailer each week).  We're kicking off this new feature with UnitedStyles.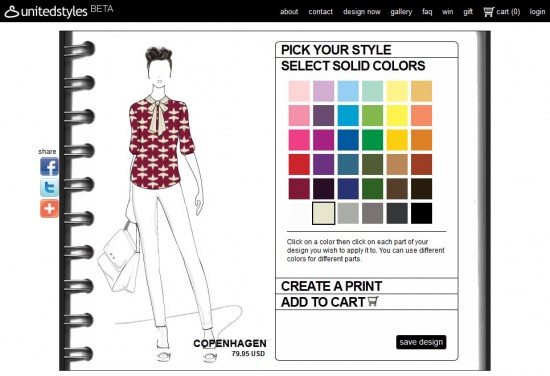 Shanghai based UnitedStyles is an awesome site for entertaining your inner fashion designer dreams.  UnitedStyles founders believe that you should be designing your own clothes online, and buying online for the custom experience, as outlined in this Techcrunch post by Alexa Tsotsis. The retailer provides an easy-to-use platform, enabling you to design clothing to purchase. Still in beta – the retailer so far offers four dress styles and one top. For each style, customers get to decide trim, sleeve length and necklines from the preset options. Once the silhouette is finalized, customers are given an assortment of colors and prints to choose from. Each print can be shrunk or expanded to be the perfect scale!  The custom made clothes are priced from $50 to $100.  Shipping is a flat $20 and can be delivered anywhere in the world.  Sizing runs from XS to XL, based on measurements at global chains like H&M and Zara, so figuring out the correct size to order shouldn't be hard.
The site is truly making the self-design process accessible, and easy enough for non-tech moms to use.  The site's design, outfits, and order process flow is very well done.  Their dresses and tops are named for global cities (like "Copenhagen", pictured above).  3D garment previews, which buyers can access at the end of the design process, load smoothly.  If you want to send in your measurements to have a dress cut to order, you can do that, too, for an extra $30.  And whether you choose pre-fab sizing or the made-to-measure option, if the garment doesn't fit, it can be returned and re-made, for free.

UnitedStyles, and other sites like it could represent a great start to the end of wasteful clothing production, since the company creates one item for every item ordered, which means no excess inventory.  Though that won't make the flash sale sites happy, less leftover stock and more customized clothing are ultimately good things!
This entry was posted by Style Bust on February 1, 2012 at 2:15 am, and is filed under New Styles in Fashion. Follow any responses to this post through RSS 2.0.Both comments and pings are currently closed.