Origins No Puffery
A few weeks ago I reviewed Origins Age-Erasing Skin Care, during my research I came across Origins No Puffery -Cooling Mask for Puffy Eyes. Without a doubt best product ever!!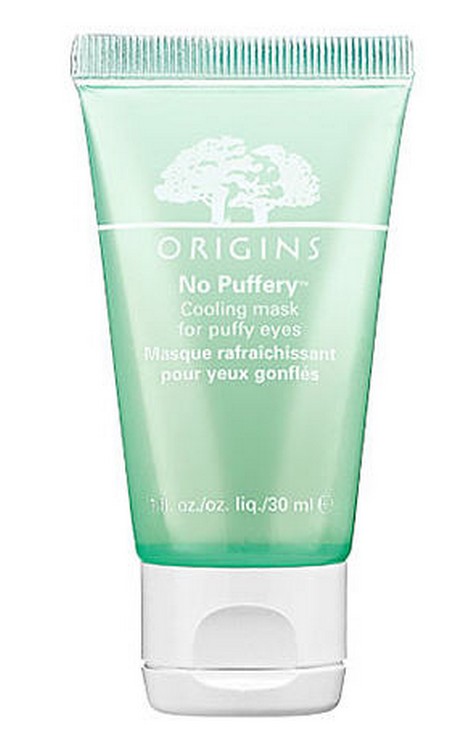 The very first time I used it was about a week ago, I had my sis and her hubby in town for the weekend. Friday night I went to sleep at 3 AM and woke up on Saturday at 7:30 AM, after that it was non-stop all day with my sis, it was fun but I was beyond tired by 2 PM, I desperately needed a nap.
Fortunately, we went to a shopping mall with a Sephora store in it, and I bought Origins No Puffery. As soon as I got out of the store I put on half a drop on each eye and within five minutes my eyes felt so refreshed, my sister said the change in my eyes was very noticeable and I actually felt more energy and we continued with our shopping that day!
There are two ways to use this product, which is a lightweight fresh gel with no perfumes added. Before applying your make-up apply a drop under each eye, lie down and relax for 10 minutes, then take the excess off with a tissue. The other way is by applying it several times a day, only a very small amount, about half a drop under each eye will do. And for an added kick, you can chill it!
I have all the bad habits that result in puffy eyes and I've tried almost all the rollers out there, frozen spoons and chamomile tea bags….nothing has worked as well as this product. I love it!!
This entry was posted by Style Bust on July 4, 2012 at 11:33 pm, and is filed under Latest Beauty Products. Follow any responses to this post through RSS 2.0.Both comments and pings are currently closed.