Summer sandals: a perfect pair for every foot
We all know that women come in all shapes and sizes – and so do our feet (something not many of us think about when shopping for shoes).  I mean, we wear clothing that flatters our figures – so why not wear a sandal this summer that flatters our perfectly polished piggies?
As the days get warmer, we're seeing some of this seasons best sandals.  But just because the sandal is cute – it doesn't mean that they will look good on every foot.  Here's a little guide to help you find the perfect summer sandal that will draw some attention (the good kind) to your feet.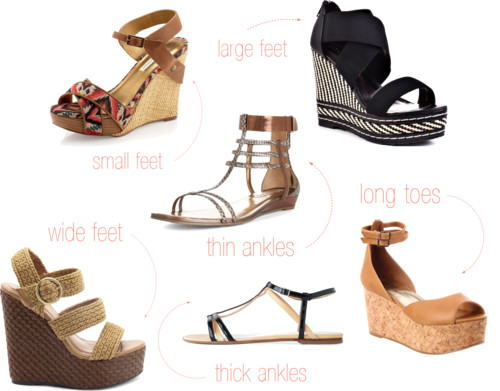 Large feet (above size 10): Black and other dark colors have the same effect below the ankles as above.  Find a sandal with maximum coverage (i.e. thick straps), your feet will appear daintier.
Thick ankles: Avoid sandals that draw attention to the ankle – they will make your legs appear very short.  Instead, opt for a pair of sling backs or a sandal that shows off the arch of your foot.
Wide feet: Try a sandal with thick straps that fit comfortably across the foot.  A wedge sandal is perfect for "elongating" the foot.
Small ankles: Show off those thin ankles with Grecian style sandals.  Look for a sandal with multiple ankle straps in metallics or bold hues.
Long toes: Stay away from "thong" type sandals – long toes will usually end up hanging over the edge.  Instead, try a peep toe sandal or a sandal with multiple straps near the toe area.
Small feet (size 6 or smaller): Draw some attention to those tiny feet.  Opt for gemstone encrusted sandals or a sandal with a graphic print.  Loud shoes are made for you.
Check out websites like Zappos or DSW for a huge selection of sandals – you can search by width or size to narrow down your search.
This entry was posted by Style Bust on July 3, 2012 at 6:00 am, and is filed under New Styles in Fashion. Follow any responses to this post through RSS 2.0.Both comments and pings are currently closed.