Ready to wear
It's not that often that you'll find me shopping online at Forever 21 (or online anywhere for that matter).  I'm the type of person that needs to see and touch items in order to buy them.  But recently I saw this girl wearing the perfect gray pumps and asked where she got them…she said, "Forever21.com!"  From where I was standing…these shoes looked expensive (I actually thought they were YSL) and I was shocked that I can actually afford them!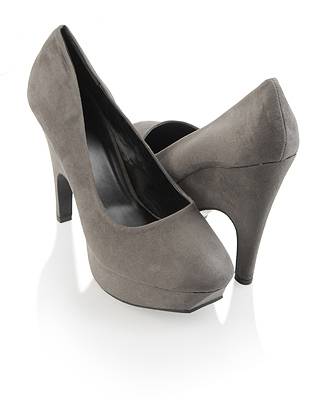 Forever 21 Suede Pump $24.80
Forever 21 (online) has a pretty amazing collection of shoes…but the photos don't really do them justice.  Their photos makes the shoes look cheap (which they are), but if you wear these inexpensive shoes with something a little more "high end," you can create the perfect look without spending a fortune!
Here are a few examples of shoes from Forever 21 that resemble some of my favorite Spring and Fall 2010 runway looks.
Look #1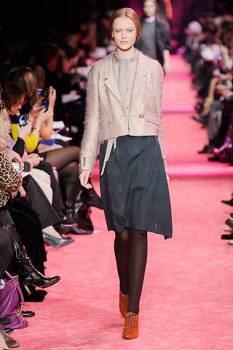 To achieve this look from Jason Wu's Fall 2010 runway show, pair a boxy blazer with cigarette pants or a full skirt and wear lace up booties.
Look #2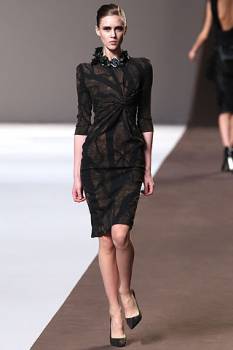 To get a look similar to Elie Saab's Fall 2010 runway look, pair lace booties with an all black cocktail dress…the lace boots makes this a fun/flirty look!
Look #3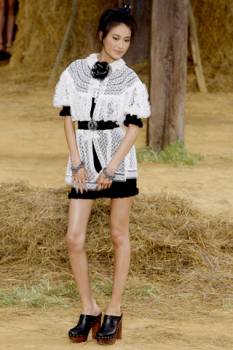 Since Chanel's Spring 2010 runway show, we've been seeing clogs everywhere.  I'm not sure how long this "clog" trend will stick around, but I think it's worth buying a pair of inexpensive clogs to wear with a girlie summer dress or flare-legged denim for a casual Fall look.
Look#4
To get this Baroque 'n' Roll look  from Balmain's Fall 2010 runway, pair skinny denim with a t-shirt and sequin jacket and don't forget the Patchwork Bootie!
I love pairing high-end with low-end items.  I think buying inexpensive shoes and splurging on jackets and accessories is the way to go.  Shoes go out of style more often, so why spend hundreds of dollars on a pair that you might only wear for 6 months?
As far as online shopping goes, I'm still hesitant…but I'll definitely be back to check out Forever 21's selection of shoes!  Does anyone know if their shoes run true to size?
This entry was posted by Style Bust on July 13, 2010 at 1:27 pm, and is filed under New Styles in Fashion. Follow any responses to this post through RSS 2.0.Both comments and pings are currently closed.