Review: So Low Sports Bra
The other week I bought the So Low Eclon Sports Bra with Mesh Inset from Swirl.com. I was very excited to get this cute sports bra at 80% off it's typical $51.00 retail price. I wore it on a 4 mile run with Jessi yesterday and was a little disappointed. The seams in the front that separate the grey and black color blocks irritated my skin, causing slight chaffing (I know, ew). The bra is 90% nylon and 10% lycra, yet it wasn't very breathable. In fact, on a cold SF day, like yesterday, the bra was soaked when I got home. There's more, the most disappointing aspect of this So Low sports bra was the arm holes, they are too small, so the fabric was cutting into my armpits constantly. I run 20 miles a week, and have a drawer filled with sports bras of many different brands and I can safely say this one is my least favorite, as least for running. I wouldn't recommend buying this bra (or this brand…I'll get into other So Low products in future product reviews). This sports bra should work well (enough) for spinning, yoga or weightlifting where your arms aren't in constant and repetitive motion while working out.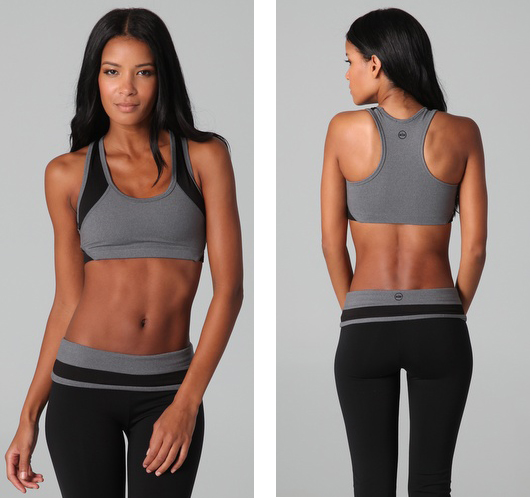 *Image source: Shopbop.com.