Spring is in the hair
I'm in the process of growing my hair out, I've been working on it for about 4 years now (I have a tendency to get extremely bored with my hair and chop it off).  But since my sister is getting married, I've decided to grow it out for her wedding and to see what I actually look like with long-ish hair!
I've found a few hair trends for this Spring that I'll definitely be trying while growing my hair out (anything to keep me from cutting my hair like Arizona Muse…I absolutely love her hair)!
Blunt Bangs
This season we'll be seeing 70's inspired clothing, so it only seems right to see some 70's inspired hair.  Since I already have bangs, this look will be easy to pull off (I just wish my hair was thicker, any thickening products you know of?).  Lou Doillon and Florence Welch are just a couple "bang" ladies that I'll be stealing looks from.
The Swoop
I love this swoop bang look.  Especially in the first photo (Rodarte Spring 2011).  This is a great option if you're trying to grow your bangs out…just swoop them over and secure with a bobby pin.  Just be careful of "over swooping!"  You don't want this to look like a comb-over!
Extreme Side Part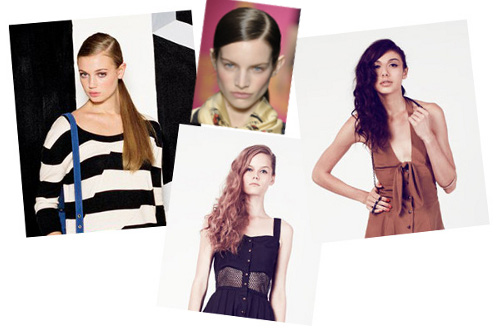 The side part is very versatile.  It works on long, short, straight or curly hair.  This is another great hair option when you're growing your bangs out (especially if you're hair is a little wavy).
The Low Bun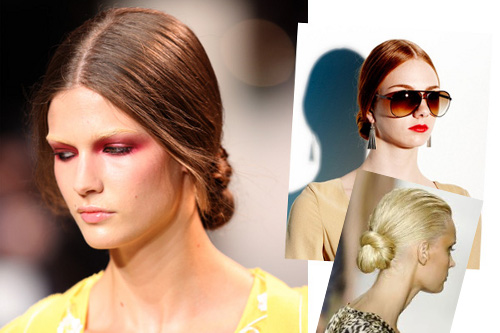 Last season we saw a lot of top knot hair styles, but this season we'll be seeing a much more elegant, yet relaxed look.  And again, this look is pretty versatile (hair can be both curly or straight and can be worn slicked back or a little loose for a bohemian flair).  Learn how to do any easy knotted bun here.
This entry was posted by Style Bust on February 1, 2011 at 9:00 am, and is filed under New Styles in Fashion. Follow any responses to this post through RSS 2.0.Both comments and pings are currently closed.