Posts tagged
jewelry designer interview
I discovered Wink Artisans while I was browsing through
Etsy.com
some years ago and since then I've been a fan. Their pieces are not only beautiful, but they call to me. The pieces are a combination of Feminine Latina Bad-Ass.
This is my first interview and I'm very glad Wink agreed to talk to me.
Who are Wink Artisans?
Originally it was 3 of us; we started at the end of 2007. Eventually one of the artisans had a baby and couldn't do this anymore; then the other artisan stopped working on this, so now it's only me. Some of my customers know me as Wink.
The pieces are very unique and can't be easily replicated by an amateur crafter. How do you make them?
I'm a metalsmith, all my pieces are hand-made; I use hammers, saws, punches and torches in order to forge the metal. It's a very manual process but I love it. My jewelry helps me combine my photography and graphic design backgrounds.
What type of metals do you use?
I use mainly sterling silver and copper; sometimes brass and gold, but very rarely. The metals will tell you what they want to become. For example as I was working on the
Diabla Heart,
it just told me it wanted to be saturated with color.
Where do you get your inspiration?
From many different places, I often take walks in order to see the colors of nature. I look at the leaves, branches and flowers around me. Sometimes I'm stuck trying to figure out color combinations and all I have to do is look at what nature has already done.  I tend to gravitate towards sacred hearts, Frida Kahlo, religious icons and skulls.
I have a core group of clients who also give me ideas and whom I can use for feedback on certain pieces. Sometimes I'm reading a book, magazine or article and picture what would the woman be wearing. But overall most of my inspiration comes from trying to fill a need for beauty.
Who are the types of women who normally buy your jewelry?
Funny enough, guys love my jewelry. They love buying it for their friends, girlfriends and wives.  It takes a special kind of strong and bold woman to wear my jewelry; my pieces will draw attention and will be conversation starters. I would proudly wear every piece I make.
When I first met you, I remember you mentioned how much it takes to make a name for yourself at Etsy. Can you tell me more about that?
My Etsy store has prospered thanks to all the work I do promoting it. Some of it is by word of mouth thanks to the work I do reaching out to my customers. Social media is a must; I spend at least two hours a day on Facebook and Twitter. I also buy online ads, printed material that I pass around in stores. I go to seasonal craft shows and am currently selling some of my jewelry on consignment in
two San Diego stores
.
What type of craft shows do you do?
After some trial and error on the craft shows I now only focus on the ones around the Day of the Dead as well as Holidays. You have to experiment and see what works and what doesn't.
I want to thank Wink Artisans for taking her time to answer my questions and making me an even bigger fan.  You can my personal experience from using her jewelry at Date & Tell. Here are some examples of the amazing pieces you can find in their Etsy Store.
Connect with Wink Artisans at:
There are so many independent jewelry designers out there, it can be hard to keep track of all of your favorites.  But here at Style Bust, we're trying to make life a little easier by introducing you to some extremely talented designers that we know you'll love!
Recently a fellow designer sent me a link to a Bay area jewelry designer, aiprllloveshenry.  I instantly went to her Etsy store and fell in love with Aiprll's delicate and beautifully designed works of art!
I had the chance to ask Aiprll a few questions to find out more about her design process and inspiration for creating such gorgeous jewelry.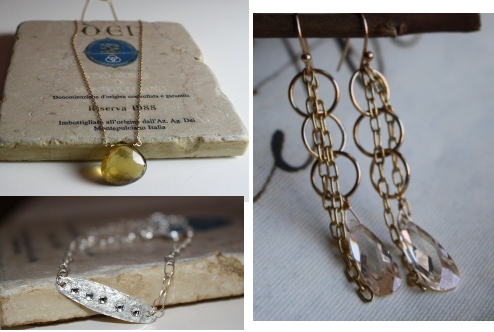 Style Bust: When and how did you get started in jewelry making?
I was working at the MAC counter at Nordstrom, it was my last day (I was newly married and tired of retail) and I was helping a woman with lipstick. I asked what she did and she said "I make jewelry."
Flashing lights and sirens went off in my head. I had been wanting to learn how but wasn't sure where to start. She gave me her number and I started going to her house and she showed me the ropes. Her name is Pamela and her line is Juicy Jewelry. To this day she is my jewelry icon. I'll always look up to her.
SB: Where can readers find your jewelry?
You can find my jewelry on Etsy at www.etsy.com/shop/aiprllloveshenry and you can be my fan on Facebook at www.facebook.com/aiprllloveshenry or follow me on Twitter: twitter.com/aiprll You can also host a jewelry party. This is a great way to get the girls together, have some wine, and be able to try on my jewelry in the comfort of your home. Plus you'll get some freebies.
SB: How would you describe and think of your style, what kind of jewelry do you make and what type of materials do you prefer?
I would describe my style as somewhat minimalist. I love a delicate chain with just a few things dangling from it, or a single stone gently hanging from the center. I like this look because you can layer it with other things, or you can wear it alone, not as a statement, but as an "understatement." I just made that up. I think.
I also like necklaces long enough that they go into the cleavage. Sometimes when you can't see the whole thing it's sexier. The chain becomes like a beautiful trail that converges down and goes where no one else can! Like a sexy secret.
I work mainly in sterling silver and 14k gold vermeil. Once in a while I'll use plated chain if I'm experimenting with something that requires a lot of chain, or something costume-jewelryish, which has its own merits because it has a feel that is funner (is that a word) and not so serious.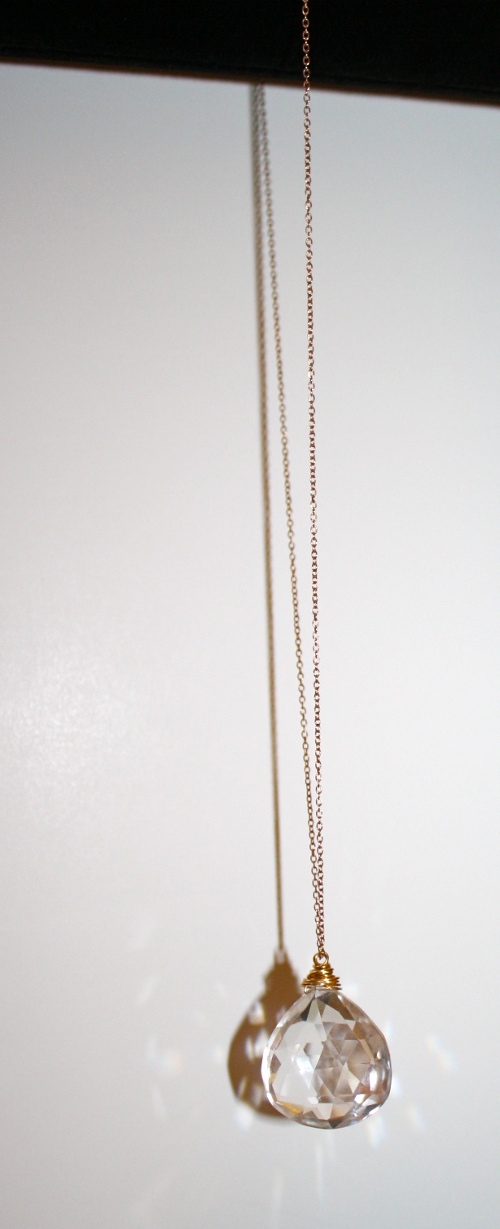 SB: Who is the aiprllloveshenry client?
The aiprllloveshenry client ranges. It's everyone from the teenager who wants the lucite necklace, to the 30-something administrative assistant who goes for cocktails after work and wants to wear something that dangles and sparkles, to the 55-year old woman who has accomplished a lot and wants more of an accent piece.
SB: I love taking a look into creative work spaces…what is your studio or workspace like, and how do you work in your studio?
Well…you'll find my cat Enzo in the corner on his cat bed, silently keeping me company. If I happen to be working with chain that hits the floor, he'll abandon his bed (amazingly) to bat at it or bite it. The latter which i don't allow. I have a very messy table with all kind of tools, instruments, and gems. I *try* to keep it clean, but appreciate the mess as an extension of my artistic endeavors and unyielding creativity. Which basically means 'it may look like a mess but I know where everything is.' I also have an inspiration board hanging on the wall. It has everything from pictures to ribbons to things I want to use for my next designs.
SB: What is your typical day like?  What keeps you inspired and motivated?
My typical day is not typical. But the one constant is I get up around 7am and have coffee with my husband. I then jokingly hear about how my coffee is always inconsistent and how is it possible for someone who has been making coffee for 6 years to make it so different every day? I silently attribute this to my artistic temperament. Measure things? No thanks.
What keeps me inspired and motivated? It can be seeing something in a magazine or on TV that spurns me to action and and I'll put my own twist on it. I try to avoid perusing other websites. I like knowing that my ideas were not born from someone else. But if it's in a magazine I feel less guilt for being inspired.
SB: What do you love most about designing and creating your own jewelry?
I love the ego boost of knowing that that's your creation. You made it with your own hands and someone liked it enough to hang it around their neck or stick it in their ears. Seeing your work on someone gives you a new perspective. Just like an artist sees his painting differently when it's exhibited in a gallery versus leaning against the wall in his studio. It takes on the other person's life and becomes like a collaboration.
I also love being creative. That's why I'm not sitting behind a computer for 8 hours a day anymore. I needed to create. And not just Word documents. I needed to satisfy the longing of my hands.
SB: What is the most difficult aspect of running your own design business?
The technical stuff. The taxes, the receipts, the records, the mileage, the this, the that.
SB: From your current collection, are there any pieces you think every woman should own?
I have my favorites, but those would probably be different from yours. What do you think?
SB: I have a couple favorites!  The velvet meets chain necklace and I love the delicate heart necklace (shown below).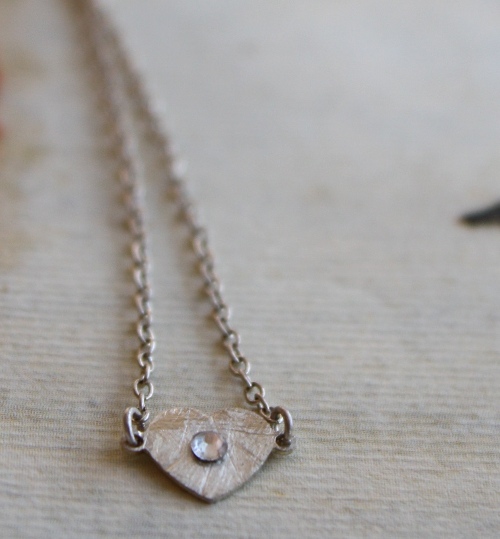 SB: Do you have big plans for aiprllloveshenry, new ideas or designs you will be exploring soon?
I'm working on reworking vintage pieces and incorporating that into my collection. I'm excited about that because you're capitalizing on someone's great idea and making it even greater. You're working with what was someone's energy and thought process and you're adding your breath of life to it.
SB: And last of all – who is Henry?
He was my big brother who died when he was just 27. He was an inspiration to me in life, so I've done my best to immortalize him in death. His body was never found, which means he was never buried or cremated. That is why it is important for me to honor him in some small way. You can find out more details on my Etsy or Facebook page. I don't know what became of any of his friends, but I hope one day I can be connected with them because I would love to hear their memories of him, and get to know a side of my brother that I never knew. His name was Henry Miranda, Jr. and he was from Santa Barbara.
A huge thank you to Aiprll for taking the time out of her hectic schedule and for creating such beautiful and inspirational jewelry.  Here at Style Bust, we're looking forward to seeing more from aiprllloveshenry!