Posts tagged
vintage
{jumper:vintage nicole miller blazer:elizabeth & james shoes:jeffrey campbell bag:vintage chanel necklace:marc jacobs}
I have the same relationship with stripes as I do with polka dots (mentioned here). Stripes, like polka dots, are a classic pattern that when worn right, can never get old or go out of style. I recently bought this vintage Nicole Miller jumper (yes, there are bike shorts built in), from a friend of mine and I've been dying to wear it. The weather lately hasn't been cooperating so in return I decided to brave the windy wet outdoors with my playful yet sophisticated look; you can always make a jumper more mature if you pair it with a structured blazer. It's not like I was trying to be professional while shopping at the vintage clothing expo, I just couldn't bare putting a raincoat on that would cover my outfit.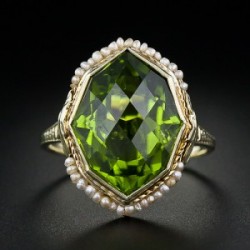 Used and vintage is a great way to quickly add more statement pieces to a jewelry collection. Retailers today are capable of making many great (and mass-produced) statement pieces of jewelry, which I am guilty of buying, but in my opinion it's easier to find statement pieces in the used and vintage jewelry space. Mainly because this way you know the girl next to you at the bar has a slim chance of wearing the exact same jewelry. Pre-owned pieces have also been test driven, if the piece has withstood wear and tear by previous owners and still looks good as new you're paying for quality (quality is often missing in new jewelry).
Here are a couple of my personal tips for buying used and vintage jewelry.
1. Swing by your local thrift or used clothing store and try on a couple different used pieces. Like clothing, jewelry has its own 'hanger appeal' and see if there is a certain style or era that speaks to you. It's good to check out the pricing and have a live person there to ask questions. I urge you to ask questions, this will make you online hunt for pre-owned jewelry much easier. If you find a piece worth buying, congrats! Mission accomplished.
2. Visit ebay, free classifieds on olx, etsy, and Lang Antiques. I've just mentioned my favorite sites here, I realize that there are many more for used and auction type sales that have been left out. If I'm not exactly sure what I'm looking for I enjoy browsing the results for 'used jewelry', 'vintage jewelry' as well as 'costume jewelry'.
3. I find more often than not that what I'm looking for falls within the category 'costume jewelry' so be sure to check these pieces out before ordering.
4. Lastly, if you decide to order or bid on items online, remember images can be slightly deceiving, so my rule of thumb is to be realistic about prices and expectations. I've definitely done my fair share of overpaying for vintage jewelry, and it doesn't feel good.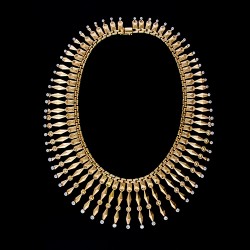 Why I buy used jewelry:
Personally, I love the history that previously owned jewelry has as opposed to "new", although I do buy and wear new jewelry as well as my older stuff. New jewelry has sentiment to the purchaser, the person who handed over some hard-earned money for something new to wear. Reused jewelry has generations of sentiment, history and stories (I'm sure). Used and vintage pieces often times come from an era long gone. I find great pleasure in owning and wearing jewelry when I know that few to none own the exact same piece as me because it's a rare, less trendy piece from a earlier time period.
Some can also argue it's environmentally friendly since the piece is already produced. And remember….even the Queen of England wears "used jewelry".