The Difference Detween Sexy and Slutty
Let's face it girl, we all want to look sensual and wear clothes that absolutely catch the eye. There always seem to be people in your life that just know how to put things together and come off in a classic seductive way. But in our search for the eternally sexy, there are those that sometimes forget the rules and instead of attractively seductive, they give off the slut look. So how do you circumvent that fine line? It's easy with a few simple rules.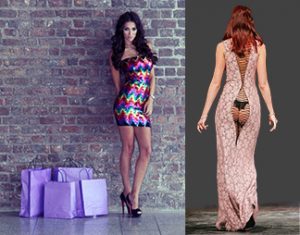 First rule is that terribly tight is not right. Really look at your shape and make sure that the outfit dress, top or skirt is body hugging, but not too much. The difference between slutty and sexy are very obvious in something that is just too tight.
The next rule of thumb is to choose the right color and cut. Follow the guidelines for your skin and hair tone for the best colors for you. Black may be a fall back color, but black is not always the best color for everyone. Just because it's a designer favorite, also doesn't mean that the cut of an outfit is good for your body shape. Too many cut outs or choppiness stops the eyes in too many places. Short and cut everything loses the effect. However, a gentle cut that accents the curves can be sexy, even if it's in a long look.

Your body shape is very important. Don't wear something that is going to accent the fact that your very shapely hips become the focus of the outfit. The cut must match your body shape to highlight your beautiful parts and downplay others. Patterns in the wrong place can change your look from siren to hippo. A shapely and curvaceous body in all the right places can be an absolute hit or the wrong choice, that didn't match your personal vision, can be a miss
Don't overdo the outfit by selecting something that looked good on the rack but when you put it on makes you look like you are waiting on the street corner. Focus on what you want to highlight and use the rules of simplicity to convey that look.
Having a sexy look can be what you pair together and that includes accessories, hair and color combinations. Choosing the right bag and shoes are also important. Just because you fell in love with that special hot style of shoes, doesn't mean they should be the focal point of what could have been a great look. But when you pick the right look and accent the right places with the right jewelry, you can be sizzling hot in just the right way.
Wearing and being sensual doesn't have to be complex or confusing. It can be as simple as an outfit the highlights the length of your legs or the playful beach comber tomboy girl side.
This entry was posted by Style Bust on July 17, 2013 at 11:52 am, and is filed under New Styles in Fashion. Follow any responses to this post through RSS 2.0.Both comments and pings are currently closed.