Unplugged at the Park
A couple weeks ago I jumped in the car and headed down south for a vacation and to check out the music scene in a couple cities along the way. I have to say that I was really impressed with the music happenings in Atlanta.  What comes to mind to most when talking about music down in the ATL is hip hop.  Well the city hasn't limited itself to one genre of music any longer.  There is an expanding indie scene and many outlets for musicians to get their music heard, one of them being Unplugged at the Park.
Piedmont Park is beautiful on it's own. Located in midtown overlooking the downtown Atlanta skyline.  The park is a buzz with many people, often with frisbees and dogs.  It's a very relaxing, peaceful, and fun environment.  On the corner of the park sits a bar and restaurant called, Park Tavern.  There's plenty of seating and a small brewery inside the restaurant.  Outside they have a large tent with a stage and many tables for seating. The menu features a variety of sushi and claims to have the best burgers in midtown.  Every Sunday Park Tavern hosts a free concert with national touring acts and local bands. The event is in it's 9th consecutive season and is sponsored by Miller, Bacardi and 99X.  It's a beyond brilliant idea and I have to wonder why every major city isn't doing something similar.  Chicago offers free concerts at Millennium Park but it largely features classical musicians. I think it would be a great idea for mid-size cities to embrace the Park Music series to support singer-songwriters.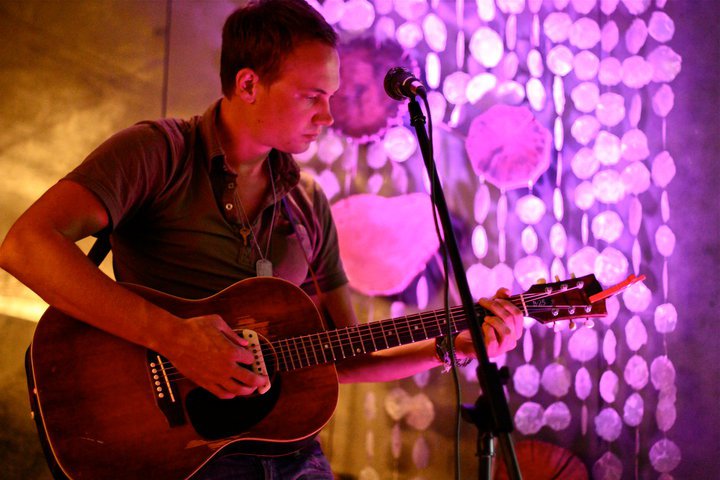 The event runs through to the beginning of October. The calendar of artists is worth checking out, I am familiar with quite a few bands on the roster this year. I happened to catch Joshua Fletcher & the Six Shot Romance and was very pleased to discover this band.  I knew upon arrival that I would like their music.  One of the members was running through the parking lot while slipping a pair of toms shoes on his feet.  A couple members had longer hair and the lead singer was super clean cut.  They are an eclectic group that sparked my curiosity about how they all could have came together.  Each of them were so unique and I think thats part of the reason I feel like this band is so special.   I want to see them again because it wasn't an easy task to take in all that they have to offer.  The drummer was super cool and smooth, someone I would have loved to just sit in on a jam session with.  Joshua Fletcher had skinny jeans on that were rolled and combined with cowboy boots.  He played his guitar and harmonica with so much emotion, and pretty flawlessly I might add.  The bass player was quirky and seemed content in his own world, but still connected.  I couldn't help but appreciate their style.  I did a quick listen of their ep after the show and it doesn't quite do the band justice.  The beauty of their sound is perfectly captured through their live performance, with each instrument blending and layering extremely naturally.
Honestly, one of the best events I've been to in awhile.  Great food and music while being in a beautiful park, it's the perfect combination.  You can't go wrong, there is something to offer everyone. I recommend that if you are in the Atlanta area check it out at least once.  And if you know of any events going on in your city similar to Unplugged at the Park, comment or tweet me the info (@MusicITZLife).
This entry was posted by Style Bust on July 29, 2011 at 7:59 pm, and is filed under Trending Music. Follow any responses to this post through RSS 2.0.Both comments and pings are currently closed.