Work hard, play hard: Q & A with the designers behind Revelation by ME
Gotta hot date after work on Friday and have no time to go home and change.  Ladies, we totally understand.  Instead of ducking into the nearest restroom and pulling out a wrinkled "date night" outfit out of your bag (yes, we're all guilty of this), check out Revelation by ME (which stands for the designers' names, Mydra and Eloisa).  These Bay Area designers, have created a collection of transitional clothing for all of you busy fashionistas out there.  The looks are fun and flirty.  With dresses that are not only reversible, but dresses that can be converted into 6 different styles – what's not to love – you get multiple pieces for the price of one!
I had the opportunity to ask the founders/designers behind Revelation by ME some questions about their inventive line of clothing.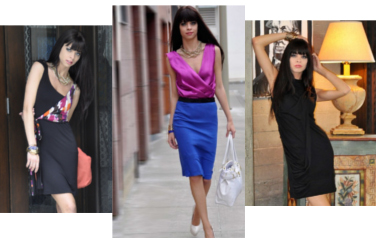 Ann Marie day dress, Jennifer reversible skirt, Heather cut out dress
StyleBust: How did Revelation by ME get started?
Eloisa and Mydra: One evening after work Myrda and I were invited to go out for dinner, we had a second set of clothing to dress into because we did not have enough time to run back home and change. We changed in a bathroom stall and as we were fumbling around Myrda knocked on my stall and said, "Wouldn't it be great if we had one outfit that can easily reverse from a day to night look!" I thought it was a great idea and from there Revelation by ME was born.
Who is the Revelation by ME customer?
Revelation by ME specializes in transitional clothing for busy women on the go! She is a city dweller and lives a very busy lifestyle and does not have time to go home and change between her day and night events.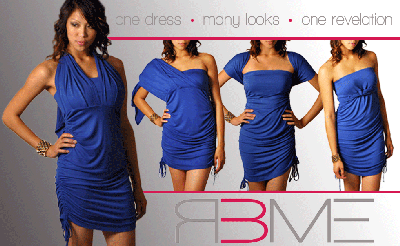 Revelation by ME Linda dress $88
Where do you find inspiration?
I find inspiration in many things but I really pay attention to women's lifestyles and needs. Myrda loves watching the couture runway shows, bring ideas from the high fashion styles to Revelation by ME's design table.
Since there are two of you behind the label, are each of your roles similar or do you have specific jobs/duties?
Both Myrda and I share similar duties and also have specific duties that we are each responsible for. We wear many hats throughout our work week from accounting to order fulfillment to marketing. We place our previous work and educational experience to all aspects of our small business.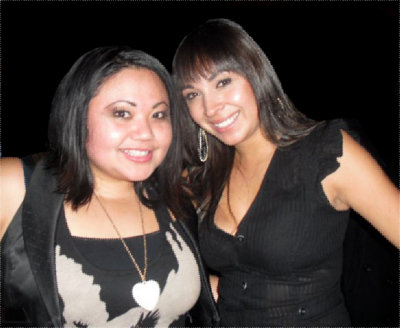 Revelation by ME founders/designers Mydra Monastrial & Eloisa Serrano
How would you describe San Francisco fashion?  And how does Revelation by ME fit in with the aesthetics of the city?
San Francisco is very unique when it comes to fashion. Each part of the city has its own style. You step into the Mission or Haight neighborhoods and you see grassroots, street fashion vs walking through the Marina and finding contemporary fashion which looks like its right off the runways. This is the beauty of having a fashion company in San Francisco, there is a customer for every style and Revelation by ME  fits right in the closets of the Marina Girls, the Hayes Valley shoppers love us and the downtown stylist or gallery associate cant get enough of our reversible dresses and transitional separates.
What Revelation by ME piece do you think every girl should own (any signature pieces)?
Every fashionista needs to get their hands on our reversible wrap dresses like the Karri Ann or the Lorrie. You get two looks for the price of one and they are very practical and easy to wear, a must have for your summer getaways!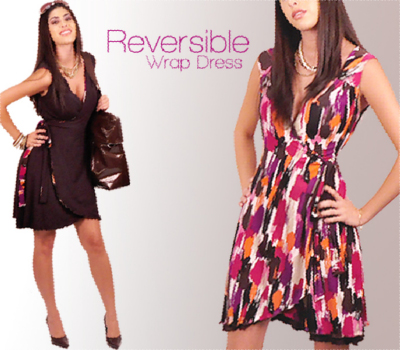 Revelation by ME Karri Ann dress $102
What are some of your favorite current trends/colors?
The color blocked trend has grown on us and we even used it as inspiration for some of our summer looks like the Lorrie reversible dress.  I am also excited that hemlines got longer and I have to mention the bright colors like orange, electric blues and fuchsias.
Who are your favorite fashion designers or fashion icons?
Myrda and I have many style icons but we love the Kardashian sisters, Victoria Beckham and  we follow the styles of the Gossip Girl cast. We are very inspired by Donna Karen, Rachel Roy, BCBG and Dior, the list can go on and on! We take inspiration from Donna Karens classic looks to Rachel Roy's flirty looks but every season is different for us and as we design each collection we may take interest in other designers.
What are some of your favorite local stores or websites?
Some of our favorite local stores are Ooma, RAG, Union B and Mingle. Local websites Bobbepin.com, redhautejewelry.com and Kiudesigns
Where can readers purchase Revelation by ME clothing?
www.revelationbyme.com
A huge thank you to Eloisa and Mydra for taking the time to answer a few questions for our lovely readers.  We can't wait to see what these two come up with next!
This entry was posted by Style Bust on June 1, 2011 at 6:00 am, and is filed under New Styles in Fashion. Follow any responses to this post through RSS 2.0.Both comments and pings are currently closed.