Posts tagged
SF based fashion designers
A dear friend of mine, Justyna Wilson, has been raving about her talented friend and old co-worker's fashion line for months. Now that the holidays are over I finally made an interview happen. I hope you enjoy!!
THE FRIEND / old co-worker: Lindsay Regan   |   THE LINE: le larc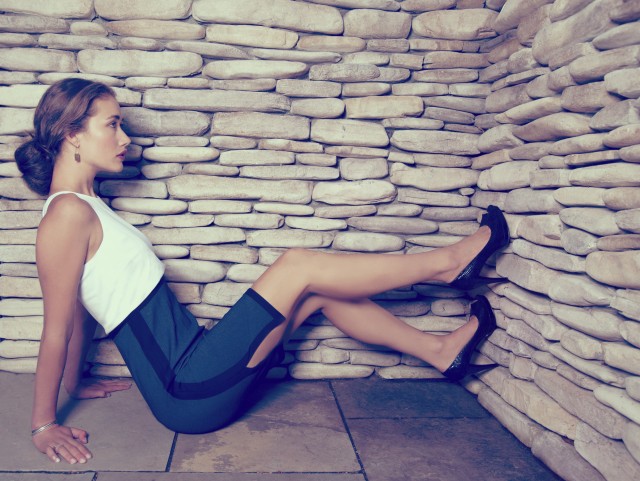 SB: How did you get into fashion design?
LR: I had sort of a circuitous route into fashion design. Even though it was something I've always wanted to do, like many high schoolers in America, creative fields of study weren't necessarily presented as options when I was thinking about college. I ended up studying International Relations in San Diego, which led me to work in sourcing and production for a couple Bay Area apparel manufacturers. After about 5 years in production, I finally gave into the design bug and attended FIDM in San Francisco to study Fashion Design. It was one of the best decisions I've ever made.
SB: What is your philosophy on fashion?
LR: My philosophy on fashion has always centered on wearing what works for you and your body. The fashion world is constantly reworking and reinventing itself with trends and aesthetic movements. In this atmosphere, I think it's best to know who you are and what brings out the best and most confident you. Fashion is one of the easiest ways to convey what you're about to another, and having confidence behind what you're wearing makes your presence all the more impactful.
SB: What's your favorite part of designing?
LR: So many parts! But my absolute favorite is the initial sketching and concept work. There's nothing like completely letting go and seeing what comes out creatively.
SB: Describe the inspiration behind your debut le larc collection.
LR: The inspiration behind my debut collection was to create a line of foundation pieces that could live in every woman's closet. I wanted to design supremely high quality pieces that had longevity in a field that's filled with sometimes temporary trends. The silhouettes have a timeless, clean aesthetic that will work when paired with other, more trend-driven items for years to come.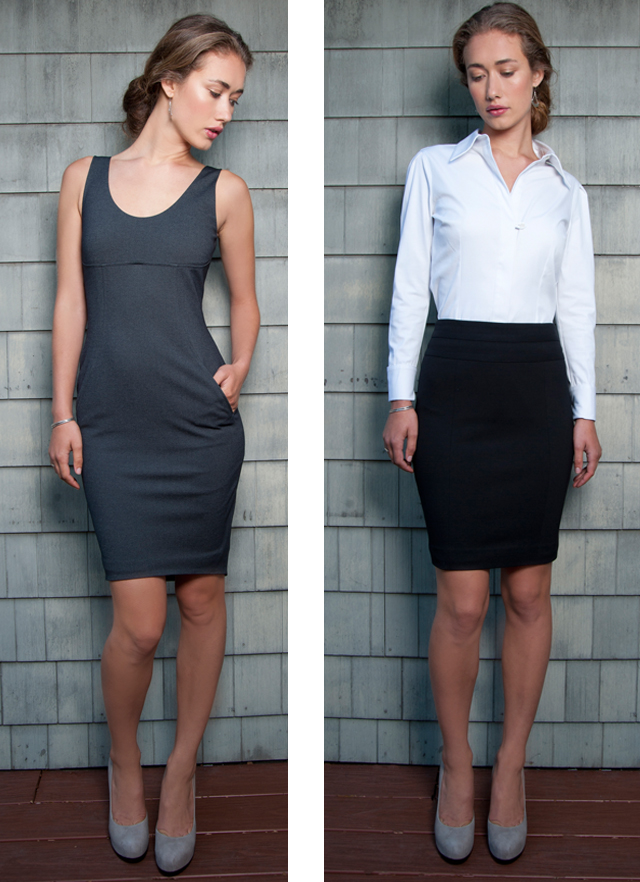 SB: What have you learned so far about being an entrepreneur in the fashion industry?
LR: There's a surprising amount of support out there for entrepreneurs. People want you to succeed, and that's been such a cool discovery.
SB: Name on thing about your business that you think no one else does.
LR: Le larc was founded on the idea of timeless fashion and the idea that it's pieces will last you years to come. Our focus is on impeccable fit and construction, such that the garments feel great when you put them on. Surprisingly, I think that's hugely rare in apparel these days.
SB: Where can we buy your pieces?
LR:  Le larc will be available in two Bay Area stores this February: White Label SF on Union Street in San Francisco, and The Store on Throckmorton in Mill Valley. More stores will be added soon and you can find the most up to date listings at www.lelarc.com/stockists. You can also email [email protected] to buy directly from us.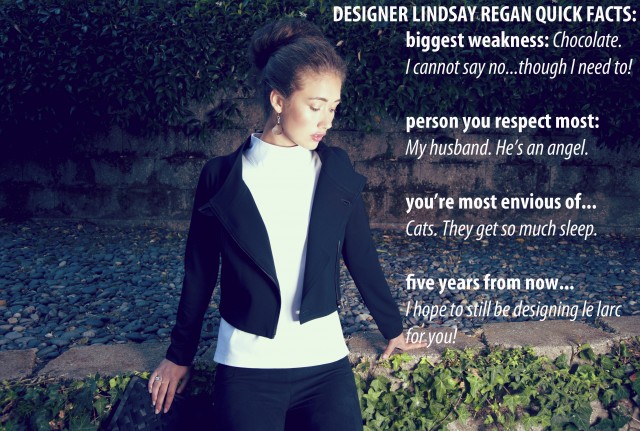 Groundwork Opportunities (GO) is a nonprofit organization that funds income generating projects in the developing world. GO hosts a handful of philanthropic events each year, and last month I had the pleasure of attending their event: Define: Beauty at Madrone Studios in San Francisco. The show featured Bay Area up-and-coming designers Dallas Parke and Sarah Liller along with established fashion names: Retrofit Republic, Cari Borja, Ken Chen, MENK, Kajan Padraig and Daniel Sudar. The collections were gorgeous, and the show (produced by Clarissa Nicosia) was entertaining, but the evening's goal was much more serious: to raise enough money to fund a sustainable clean water well for over 4,000 people in Tanzania.
The runway show began promptly at 7:30 after cocktail hour with wines from Rock Wall Wine Company, and hors d'oeuvres by Beast and the Hare. The collections looked stunning against the venue's white interiors. Trendy dresses by Kajan Padraig, chic and girly silhouettes by Sarah Liller, urprisingly interesting gender-bending ensembles from Retrofit Republic and menswear from Daniel Sudar were stand-outs of the evening.
Here are some of our favorite looks from the show. Photography by Jayson Carpenter.
Kajan Padraig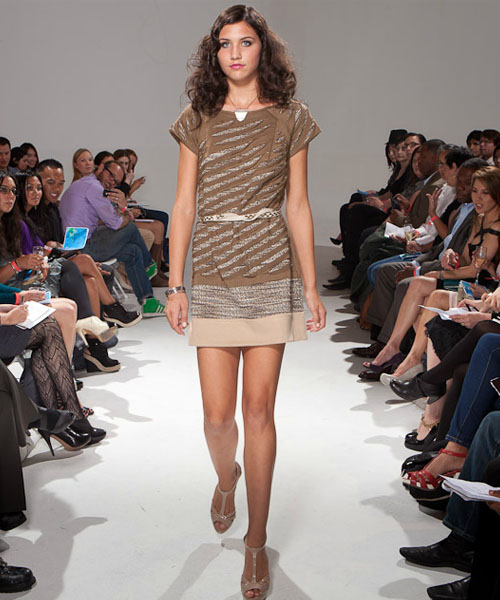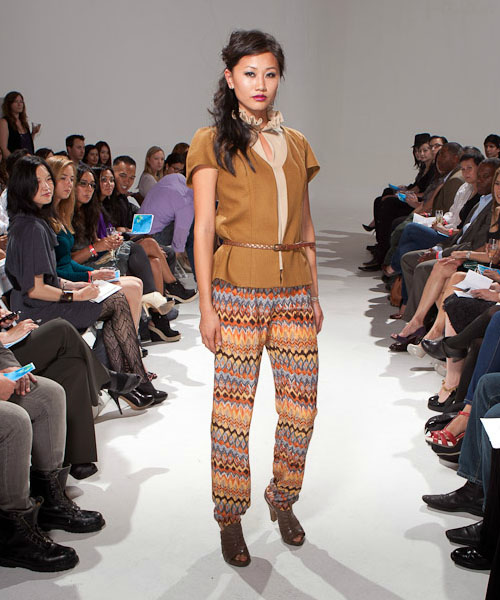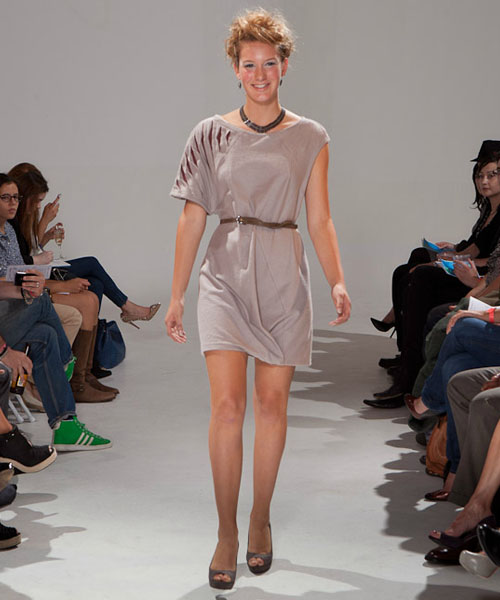 MENK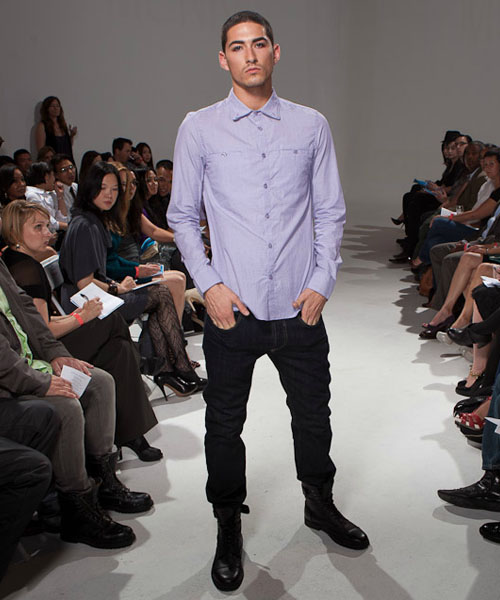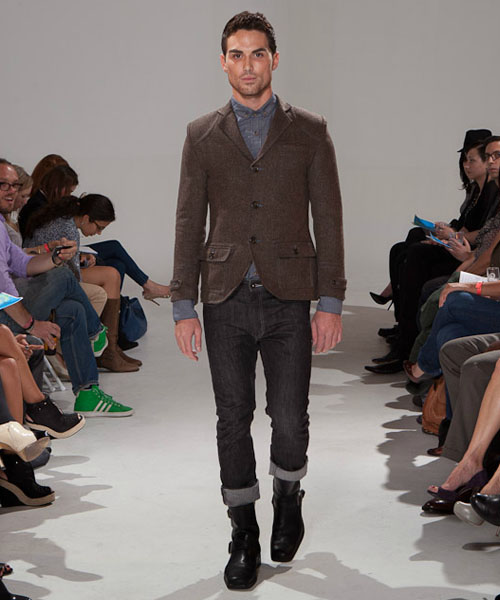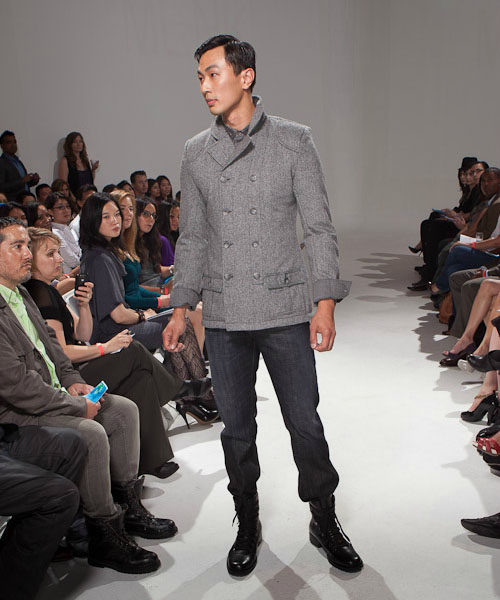 Retrofit Republic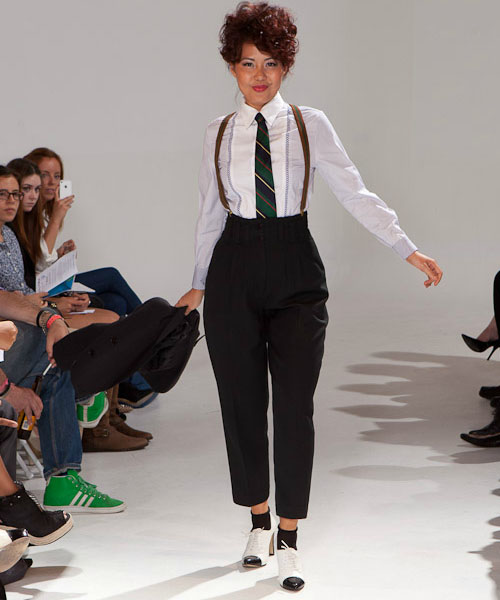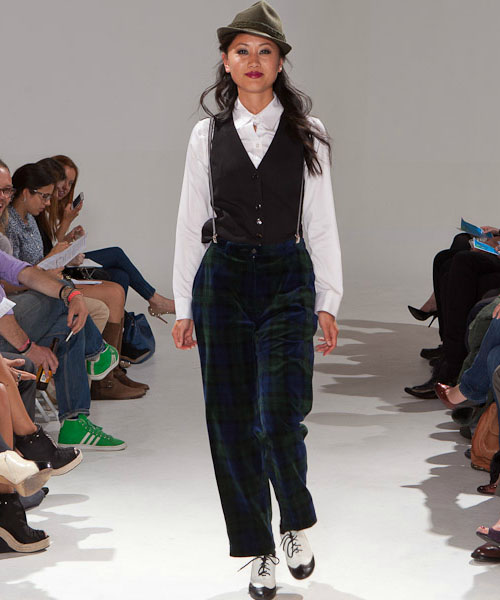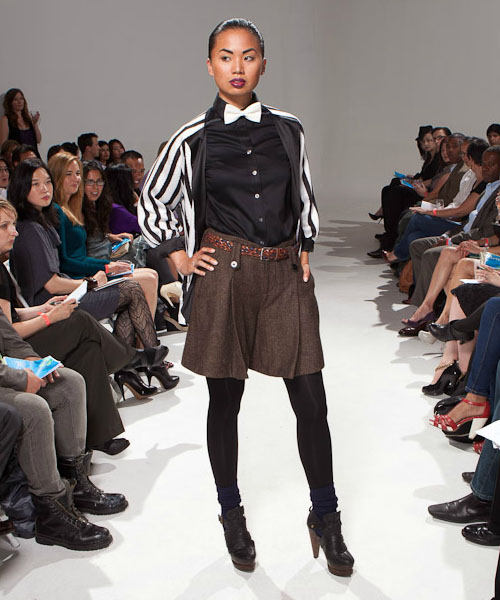 Sarah Liller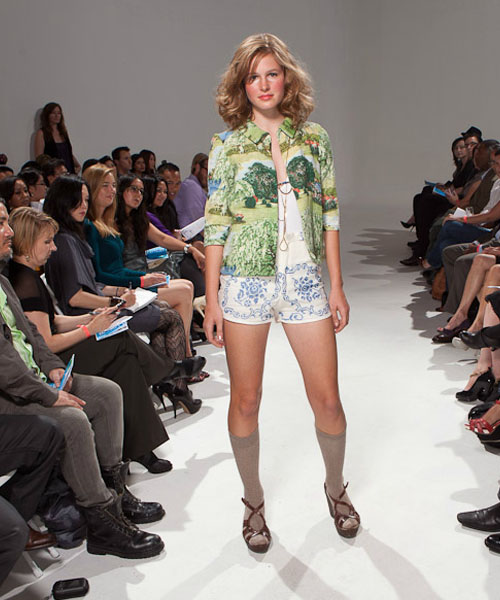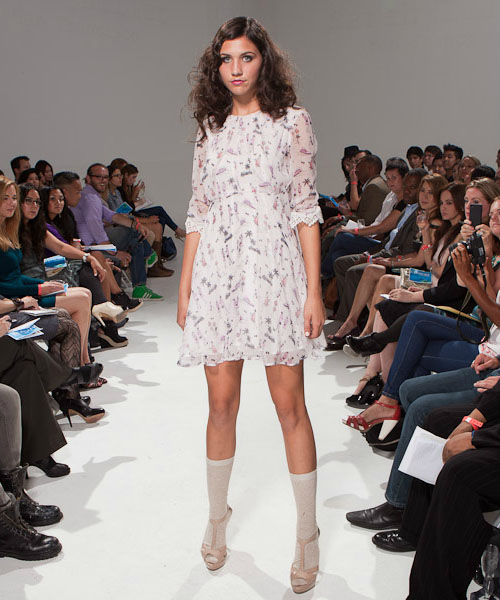 Ken Chen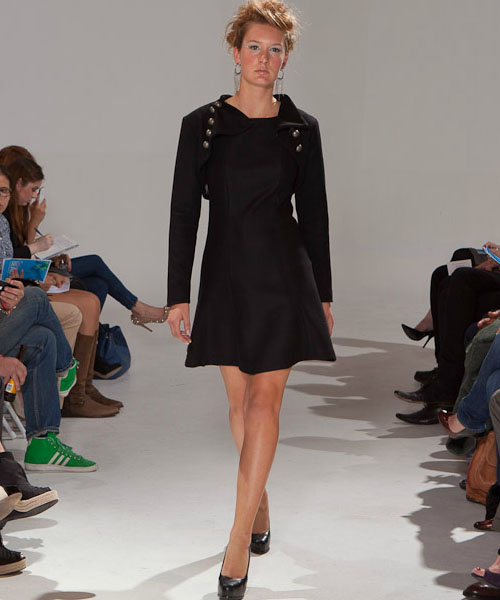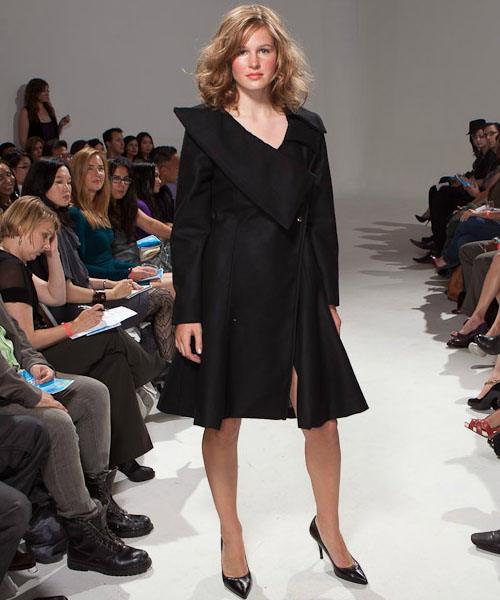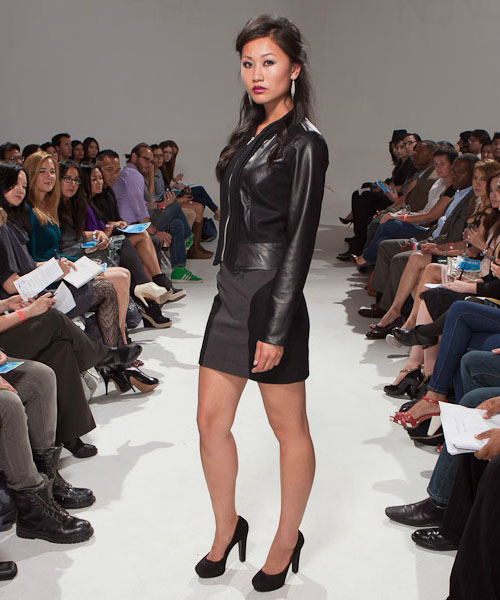 Daniel Sudar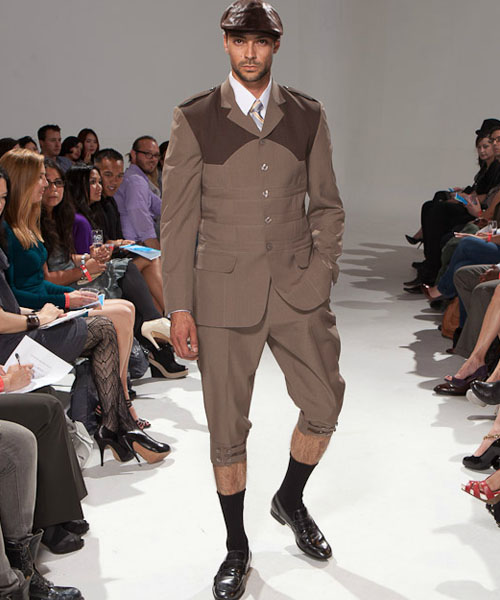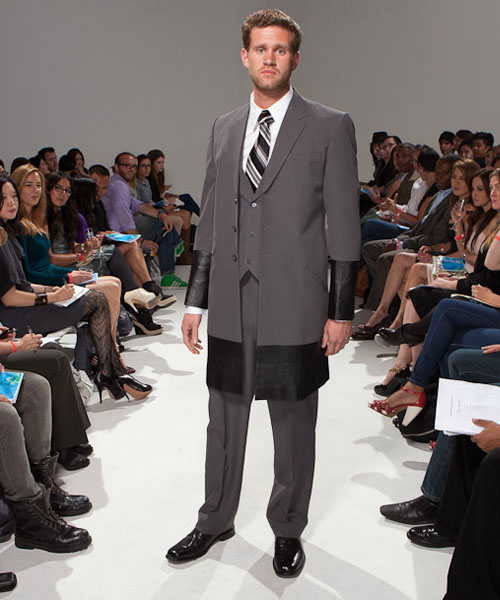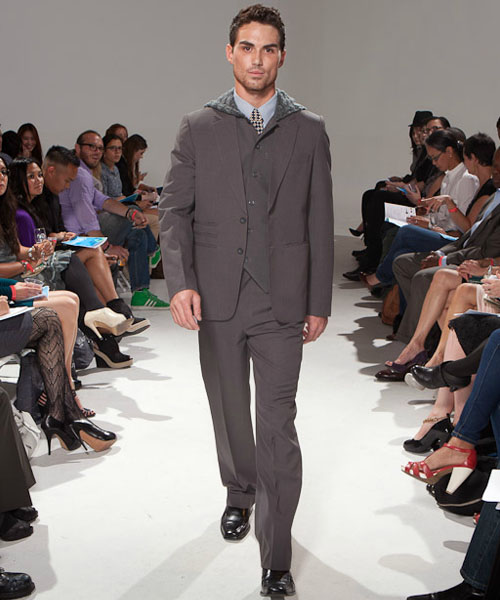 Cari Borja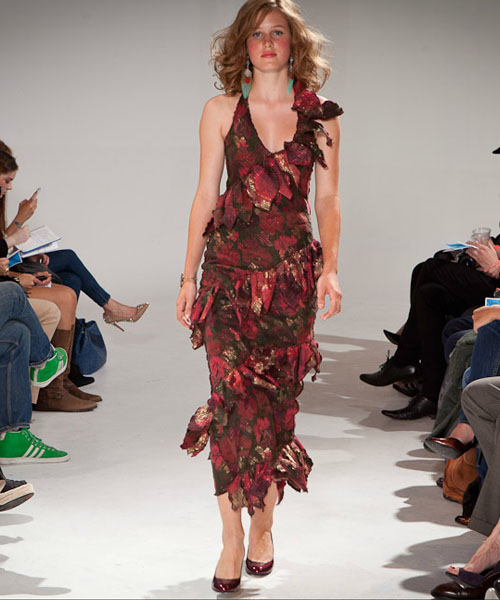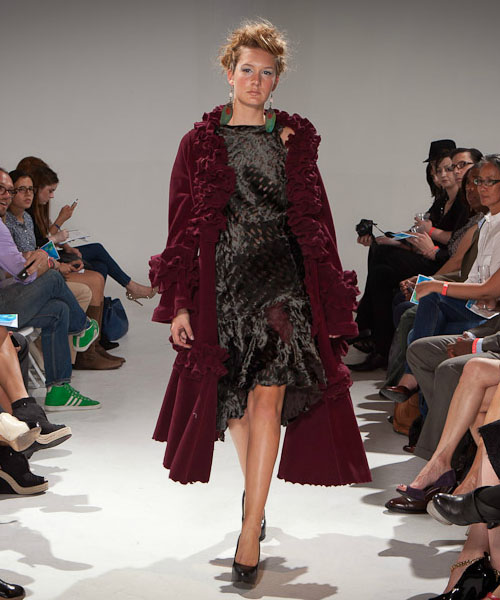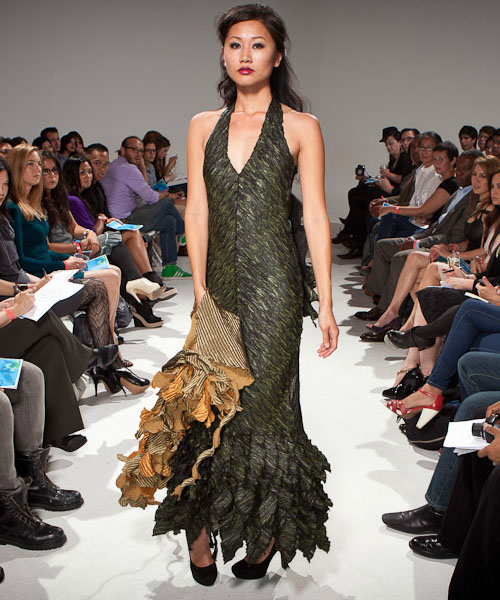 Dallas Parke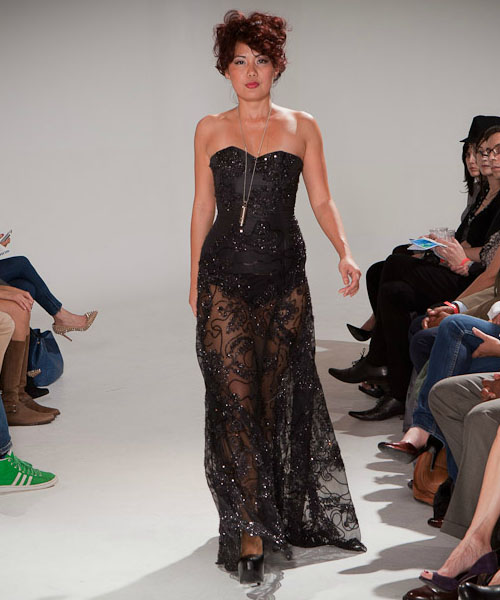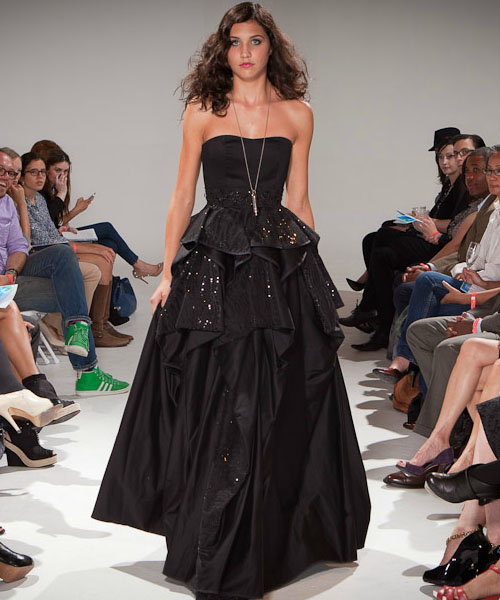 Inspiration for Define: Beauty came to the GO team while working with residents in Moshi, Tanzania to build a sustainable source of clean drinking water. While there, the team was met with unparalleled levels of hospitality and selflessness from a community that existed without everyday resources like clean water. The women of Moshi did not attribute beauty to the latest styles but rather inner strength and contributions to better the community. This experience lead to the concept and creation of first annual event to help impact an insurmountable global water crisis.
Not only was the fashion show itself amazing, Define: Beauty partnered with local sponsors and entrepreneurs that are actively engaged in generating awareness and solutions to environmental issues around the world. Some companies at the event were: Falling Whistles, which fuels awareness for violence in the Congo, and Hydros Bottles, who reduce the amount of plastic in landfills by producing reusable BPA-free water bottles that can filter on the go.  Hydros Bottles also shares Groundwork Opportunities' mission to combat the global water crisis in developing nations and has partnered with Engineers Without Borders to create Operation Hydros, where purchase proceeds go towards providing clean drinking water abroad. Fashion partner, Gilt City San Francisco, has an exclusive e-commerce site where members can access trendy local deals and services. The goodie bags for Press were stocked with all sorts of goodies including a bottle of California white wine from Rock Wall Wine Company, $100 work for hair treatment at CODE Salon!
Gotta hot date after work on Friday and have no time to go home and change.  Ladies, we totally understand.  Instead of ducking into the nearest restroom and pulling out a wrinkled "date night" outfit out of your bag (yes, we're all guilty of this), check out Revelation by ME (which stands for the designers' names, Mydra and Eloisa).  These Bay Area designers, have created a collection of transitional clothing for all of you busy fashionistas out there.  The looks are fun and flirty.  With dresses that are not only reversible, but dresses that can be converted into 6 different styles – what's not to love – you get multiple pieces for the price of one!
I had the opportunity to ask the founders/designers behind Revelation by ME some questions about their inventive line of clothing.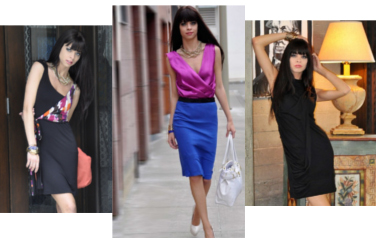 Ann Marie day dress, Jennifer reversible skirt, Heather cut out dress
StyleBust: How did Revelation by ME get started?
Eloisa and Mydra: One evening after work Myrda and I were invited to go out for dinner, we had a second set of clothing to dress into because we did not have enough time to run back home and change. We changed in a bathroom stall and as we were fumbling around Myrda knocked on my stall and said, "Wouldn't it be great if we had one outfit that can easily reverse from a day to night look!" I thought it was a great idea and from there Revelation by ME was born.
Who is the Revelation by ME customer?
Revelation by ME specializes in transitional clothing for busy women on the go! She is a city dweller and lives a very busy lifestyle and does not have time to go home and change between her day and night events.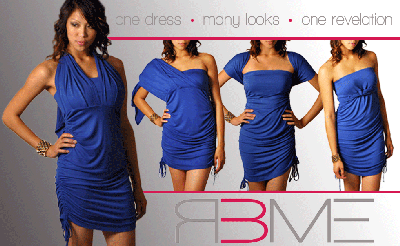 Revelation by ME Linda dress $88
Where do you find inspiration?
I find inspiration in many things but I really pay attention to women's lifestyles and needs. Myrda loves watching the couture runway shows, bring ideas from the high fashion styles to Revelation by ME's design table.
Since there are two of you behind the label, are each of your roles similar or do you have specific jobs/duties?
Both Myrda and I share similar duties and also have specific duties that we are each responsible for. We wear many hats throughout our work week from accounting to order fulfillment to marketing. We place our previous work and educational experience to all aspects of our small business.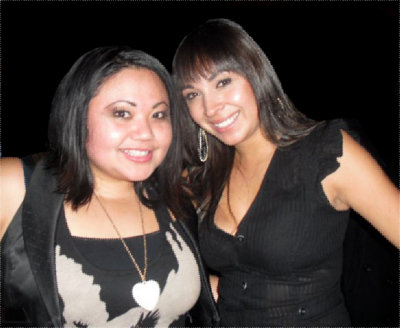 Revelation by ME founders/designers Mydra Monastrial & Eloisa Serrano
How would you describe San Francisco fashion?  And how does Revelation by ME fit in with the aesthetics of the city?
San Francisco is very unique when it comes to fashion. Each part of the city has its own style. You step into the Mission or Haight neighborhoods and you see grassroots, street fashion vs walking through the Marina and finding contemporary fashion which looks like its right off the runways. This is the beauty of having a fashion company in San Francisco, there is a customer for every style and Revelation by ME  fits right in the closets of the Marina Girls, the Hayes Valley shoppers love us and the downtown stylist or gallery associate cant get enough of our reversible dresses and transitional separates.
What Revelation by ME piece do you think every girl should own (any signature pieces)?
Every fashionista needs to get their hands on our reversible wrap dresses like the Karri Ann or the Lorrie. You get two looks for the price of one and they are very practical and easy to wear, a must have for your summer getaways!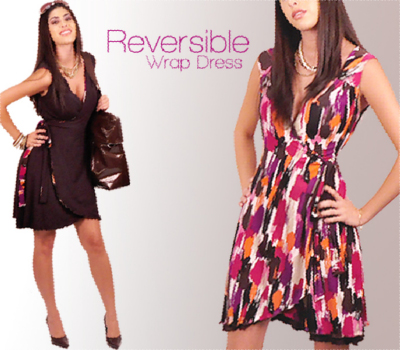 Revelation by ME Karri Ann dress $102
What are some of your favorite current trends/colors?
The color blocked trend has grown on us and we even used it as inspiration for some of our summer looks like the Lorrie reversible dress.  I am also excited that hemlines got longer and I have to mention the bright colors like orange, electric blues and fuchsias.
Who are your favorite fashion designers or fashion icons?
Myrda and I have many style icons but we love the Kardashian sisters, Victoria Beckham and  we follow the styles of the Gossip Girl cast. We are very inspired by Donna Karen, Rachel Roy, BCBG and Dior, the list can go on and on! We take inspiration from Donna Karens classic looks to Rachel Roy's flirty looks but every season is different for us and as we design each collection we may take interest in other designers.
What are some of your favorite local stores or websites?
Some of our favorite local stores are Ooma, RAG, Union B and Mingle. Local websites Bobbepin.com, redhautejewelry.com and Kiudesigns
Where can readers purchase Revelation by ME clothing?
www.revelationbyme.com
A huge thank you to Eloisa and Mydra for taking the time to answer a few questions for our lovely readers.  We can't wait to see what these two come up with next!