5/29 Black V Fashion Event by Halo Republic
This Press Releases just hit the wires today! I'm thrilled to be contributing to the event.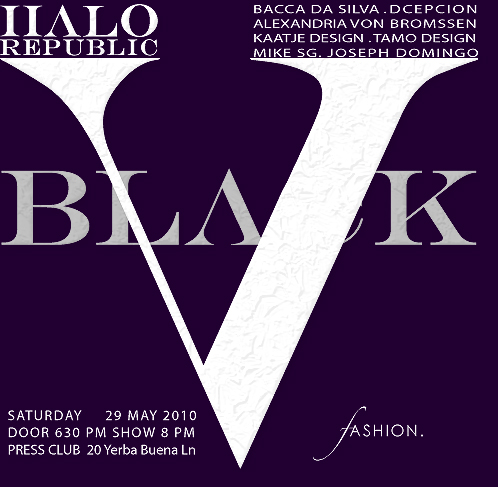 BLACK V- Dark Fashion's Night Out at Press Club May 29th 2010.
PR Contact:
Virginie Suos
Halo Republic
[email protected]
415.218.3754
www.halorepublic.com
BLACK V
A social event celebrating Halo Republic's official launch with San Francisco Bay Area's fashion mavens
(San Francisco, CA): Halo Republic is pleased to announce its official launch, to be held on Saturday, May 29th 2010 from 6-9pm at one of San Francisco's most elegant new venues: Press Club (20 Yerba Buena Lane). Under the direction of Owen Buenaventura, Del Geronimo, Ivan Yartsev, and Virginie Suos, Black V is the premier fashion event for fine style connoisseurs looking to toast an evening of beautiful fashion, with photo shoot and special guest appearances. The fashion show starts at 8pm and features designs by Bacca Da Silva, Dcepcion, Alexandria Von Bromssen, Tamo Design, and Joseph Domingo as well as jewelry designers Kaatje and Mike Sg.
In addition to being a unique showcase of impressive couture and finely tailored garments, the event promises to attract the participation of some of the most creative makeup artists, trend setting hair stylists and stunning runway models including San Francisco Institute of Esthetics and Cosmetology and SF modeling agencies. Black V also features SF-based indie rock band The Family Crest to infuse live orchestral sound to the DJ's music.
According to creative director Owen Buenaventura,
"Black V stands for dark and voluptuous- Valentine, Vamp, Vendetta or Victory." He adds, "The concept of this exciting event is to create a relaxed environment that is yet edgy, vampy, sexy, cultish and mysterious for fashionistas. Style code will be fashionably black!"
Fashion representatives (stylists, photographers, retailers, editors and bloggers), selected VIP's, and corporate sponsors are sure to enjoy this event. Black V is open to the public with a suggested donation of $20 to benefit Stellar | San Francisco Fashion Awards, a non-profit organization that recognizes outstanding and creative talents in SF bay area.
As the sexiest underground fashion production in San Francisco with a reputation of attracting some of the city's most influential industry leaders, it is no surprise that Halo Republic has turned to the Press Club. In downtown San Francisco, Press club is a wine bar offering an exclusive array of wines direct from six Northern California's most acclaimed wineries. The luxuriously modern interior features dedicated tasting bars, and social sipping lounges that will make the social experience even more stylish, and seductive.
For more information on Black V, please contact Virginie Suos at [email protected] or 415-218-3754.
###
ABOUT ALEXANDRIA VON BROMSSEN:
Alexandria Von Bromssen has a Master of Fine Arts degree from the San Francisco Academy of Art University. Inspired by music, emotion, art and the most innovative and brilliant designers of Europe and Asia, the Swedish American designer is also imbued with a European sense of quality and craftsmanship.
ABOUT BACCA DA SILVA:
Originally from Brazil, Bacca Da Silva is an up-and-coming designer who has gained international recognition since the launch of his fashion label in 2004 in San Francisco. Based on his principle of global luxury, Bacca focuses on incorporating international style and elements of luxury into everyday life.
ABOUT DCEPCION:
Born in San Francisco Bay Area, the local designer twins Daniel and David Concepcion started pursuing a creative interest in painting, illustration, photography and web design. In 2007, the artistic duo launched their own clothing label after attending San Francisco State Fashion Design and Merchandising program.
ABOUT JOSEPH DOMINGO:
With a background in architecture, Joseph Domingo used his knowledge of construction, and symmetry in aesthetics to conquer fashion. After a successful debut at Los Angeles Mercedes Benz Fashion Week in the Fall of 2006, Joseph continues to work on his ready-to-wear line at his own atelier on Post Street in San Francisco.
ABOUT TAMO DESIGN:
Based in San Francisco, Tamo Design uses high-quality faux fur to produce women's, men's, and babies' clothing and accessories. All products are locally made from sustainable, environmentally-friendly production methods and materials.
Full list of designers include:
Bacca Da Silva (www.baccadasilva.com)
Joseph Domingo (www.josephdomingo.com)
Alexandria Von Bromssen (www.vonbromssen.com)
Dcepcion (www.dcepcion.com)
Tamo Design (www.tamodesign.com)
Kaatje Design
Mike Sg
Special thanks to our sponsors:
Press Club
San Francisco Institute of Esthetics and Cosmetology
Nikki Lindgren and FIDM Alumni Association
Cherry On Top Presents
Kevin Hollingshead
San Francisco Fashion And Merchants Alliance, Inc.
Go Green Consultants