American Idol Top 12 Recap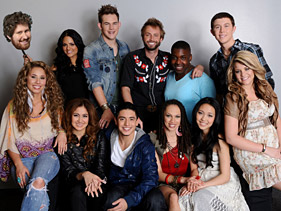 Last night's show made me really regret adamantly insisting that my friend's watch this season.   I was so thrilled with last week's episodes that I was anxiously waiting to see the performances of the Top 12, but overall, what a disappointment.
I will say that Stefano really stood out to me this week.  I think he went slightly overboard with the 'Christina Aguileraesque' runs. However you felt his passion and he sounded beautiful.   Perfect song choice for him (heck, I bought it on iTunes).   Pia chose a more up-tempo song and that was enjoyable.   Casey, personally I'm confused by the Nirvana song choice for him.  I like Casey, I like Nirvana… not sure if I liked them mixed.  But it doesn't matter what I think, the judges praised him, my roommate loved it, and he's hanging around much longer.  I was surprised that I enjoyed Haley's rendition of Whitney Houston's, "I'm Your Baby Tonight." I was really concerned for her to do this song but it turned out better than expected. It may not be her style but I thought it was a strong performance.
Overall everyone was extremely pitchy; there were notes where I just cringed. Naima, Naima, Naima.  All I can say is that I can appreciate that she is true to herself and she is certainly unique. Her style is great, for her… but really the girl belongs on a cruise ship, not American Idol.  It's pretty early in the competition and I can hardly even watch a Paul McDonald performance objectively because he practically melts my heart. I even pondered the idea of sending fan mail. Disgusting.  I need to pull myself together.  Anyway, he didn't sound great.  I guess I should throw in the fact that he was sick but that won't really give him a pass in my book.   From a PR perspective the music industry is big about branding.  This show is certainly creating a brand and path for Paul McDonald.  I just hope the viewers keep him around longer.  Since this week was rough, I think its absolutely necessary that he brings his guitar within the next couple weeks.  He needs to show that side of him.  Otherwise people are just going to get tired of his sound.
In a way I'm slightly satisfied that most of the performances were sub par. I was really getting tired of the constant love and mushy comments from the judges. It was about time we heard some real criticism and feedback.   And just another side note, anyone notice how many times the camera cut to Jennifer Lopez only to see her singing along?  Maybe she's embarrassed about not knowing who Ryan Adams is, but no need to make up for it with the constant lip-synching this week. Clearly I'm bitter about how things went down last night. But I'm tuning in tonight and the rest of the season regardless.
Happy St. Patricks Day everyone!
This entry was posted by Style Bust on March 17, 2011 at 2:32 pm, and is filed under Trending Music. Follow any responses to this post through RSS 2.0.Both comments and pings are currently closed.