Posts tagged
Stefano Langone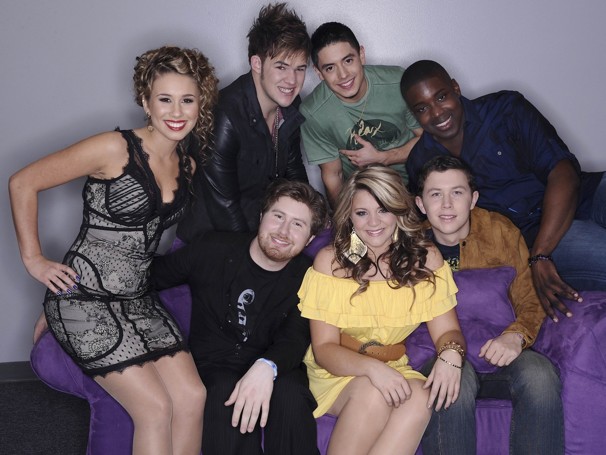 The night started out with the eliminated contestants singing Pink's "So What."  Which at first I thought was a pathetic song choice.  I mean I understood that they were trying to convey the message of not caring about elimination but most of them can't honestly be saying 'so what' to their departure.  At times I find myself to be some what of a harsh critic so I watched it back this morning and I ended up actually finding it to be sort of cute and charming.  The girls kicked butt on the song but Paul just seemed awkward on the stage singing that song with a group of girls.  Anyway back to whats important… the performances.
The judges were in the mood to critique last night.  They started off being a little harsh on Scotty.  Just a couple weeks ago Randy proclaimed that he "wasn't just a one trick pony."  Clearly country is his lane and to think that he is capable of succeeding in any other genre is just stupid.  I don't always understand the judges comments when it comes to him, they are always all about him.  I was really surprised to see their response to him last night because I kind of liked it.  Either way Scotty is going to just fine when he gets eliminated.  His voice is so smooth and perfect for country.  While the performance last night of Leann Rimes, "Swingin" could have been slightly corny, I thought it was cute.  I was smiling and I ultimately decided that I probably would go see a Scotty McCreery concert.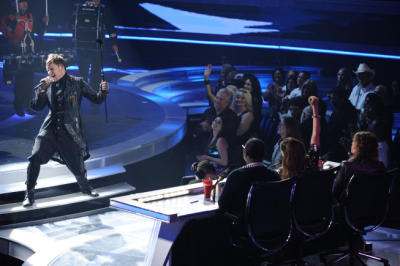 Gosh, and James.  Sometimes I just don't know what to say about him because I just don't get it.  And if someone wants to enlighten me on the attraction to him I'm truly interested.  Usually I blame my problem with him on my general taste of music.  But I love Muse & I love that song… but coming from James, I just wasn't buying it.  He has talent, I'm not denying that whatsoever.  Maybe his run on American Idol is too soon following Adam Lambert.   I'm waiting for him to grow on me, but time is running out.
Casey received another standing ovation, another thing I don't understand.  It's not that I thought his performance was bad, but I have to wonder what's happening in the studio audience because I am always finding their reaction to be slightly excessive.  I'm not sure that I loved him turning that pop/rock song all the way over to rock.  It's good in the sense that he made it his own.  He seems to always show a little aggression while on stage.  Personally I would like to see him loosen up and show his goofy side a little more.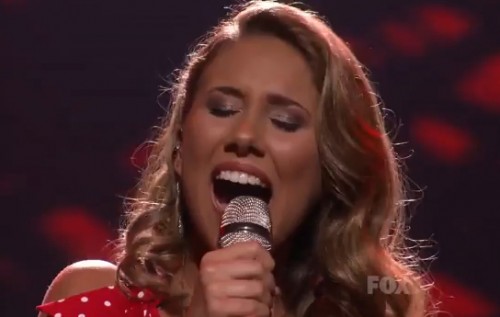 Let's switch gears over to what I really enjoyed.  Haley's performance may have been lacking in stage presence quality.  Visually I didn't find it appealing with her mark on the stage behind the judges table.  However vocally by far the best of the night.  She picked a really tough Adele song but did a great job.  I'm really pulling for her to make it through to at least top 3.  Personally I want her to win it.
I want to see Lauren get a little more confidence.  It's getting down to the tough part of the competition and I think her lack of confidence has played in her favor for awhile.  But people aren't going to sympathize with her much longer.  She's great and she needs to believe it.  The audience doesn't want to always feel like they are reassuring someone.  We need someone that knows they can be a star and be great.  I think if Lauren won she would probably be the most excited and appreciative.  So I'm pulling for the ladies.
So who is going home?
Stefano showed a different side last night but I think it might finally be the end of the road for him (no pun intended, really!).  Or Jacob, he may get some sympathy votes but I'm guessing not enough.  I do feel a little cold hearted to say that I wasn't feeling his performance last night.  A huge part of me does not want to down play his emotions but I feel like the past couple weeks he's been making excuses for his subpar performances.  I also really am not a fan of divas.  It's hard to tell if his emotion is sincere or for the sympathy votes.  So maybe I'm being crude, but I think I have a pretty honest reaction.  It's time for him to go.  If I had to guess a bottom three I would say Stefano, Jacob, and Scotty.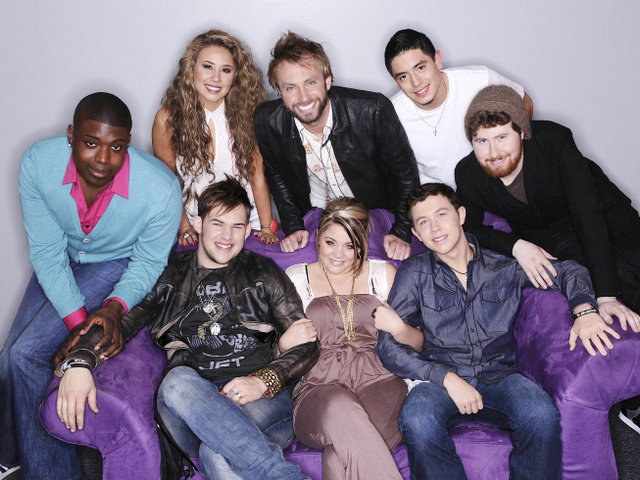 Hello friends! Excuse my late post on American Idol, I was traveling yesterday and once I saw the results show I needed a little time to pout about Paul going home.
Seems like many people have a love hate relationship with this show. I know I certainly do. I'm not going to make empty threats and say that I won't watch it because my guy went home. Besides, that would only end up disappointing my readers! All I know is that if voting was solely up to me Pia would have made it to top 3 and Paul would have made it to top 5.
Anyway, my plan of attack for next week's blog is going to be "American Idol: Crap the judges should of said." Because I'm just so tired of them not critiquing anyone. The most entertaining part of the show is Jimmy Iovine & Will.I.Am. And all the buzz this week was how the contestants bucked the system, stood up for what they believed in, chose the songs they wanted to sing… which obviously translates to the viewers at home that they are seasoned artists, smarter than management, are so creative and yada yada yada. I mean truly I didn't feel like even writing a blog Wednesday night, as I usually do, because the show frustrated me so much.
It's not the weekly outcome that irritates me. The votes come in, someone has to go home and really winning the competition doesn't mean much. The show is good exposure whether you make it to the end or not.
This is what gets me. I think many people watch the show and think they are getting some sort of inside look into the industry. And while I certainly enjoy the clips from the studio, it's not even close to showing the process of making an album. And once the contestants are locked into a record deal, sure, they will be able to express their opinion but ultimately the label is going to be calling the shots. The people with the money have control and the artist is going to do what they say. It's a constant struggle in this industry as an artist trying to keep your identity and create the music you believe in as opposed to the music that the label thinks will sell. It's hard for even the seasoned talent on labels to get their voices heard when it comes to making a record. I don't for a second believe that the winner of this glorified karaoke contest is going to have a say in the studio. And it's not like I'm the biggest Jimmy Iovine fan in the world but I just find what they are doing to be a little disrespectful. They are making a big deal out of the contestants choosing their own songs, the judges praise them, and it's like "good job, you showed Jimmy who's boss." News flash: Jimmy Iovine is a successful man in the industry and has been around a lot longer than you, he knows what's up.
Anyway thats my rant. Well actually I have a few other complaints, such as, the hate mail getting sent to Stefano. I don't get how that makes someone feel better, it's like bullying. Stefano doesn't control the votes, I feel bad for him. I actually don't like when anyone has ignorant things to say about any of the contestants. I like that people have opinions. Music is so personal though, and all the contestants are talented in their own way. I'm not asking anyone to love Paul. But I don't understand the people that think he is a complete joke. I guess they are probably the same people that say Bob Dylan or Rod Stewart can't sing. I like unique voices. And I think I have finally decided who I want to take the "top prize." Haley Reinhart. Did you catch her performance with Casey last night? So major! Check it out below.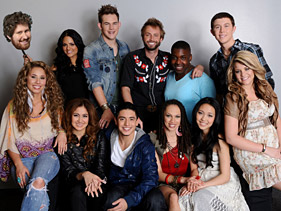 Last night's show made me really regret adamantly insisting that my friend's watch this season.   I was so thrilled with last week's episodes that I was anxiously waiting to see the performances of the Top 12, but overall, what a disappointment.
I will say that Stefano really stood out to me this week.  I think he went slightly overboard with the 'Christina Aguileraesque' runs. However you felt his passion and he sounded beautiful.   Perfect song choice for him (heck, I bought it on iTunes).   Pia chose a more up-tempo song and that was enjoyable.   Casey, personally I'm confused by the Nirvana song choice for him.  I like Casey, I like Nirvana… not sure if I liked them mixed.  But it doesn't matter what I think, the judges praised him, my roommate loved it, and he's hanging around much longer.  I was surprised that I enjoyed Haley's rendition of Whitney Houston's, "I'm Your Baby Tonight." I was really concerned for her to do this song but it turned out better than expected. It may not be her style but I thought it was a strong performance.
Overall everyone was extremely pitchy; there were notes where I just cringed. Naima, Naima, Naima.  All I can say is that I can appreciate that she is true to herself and she is certainly unique. Her style is great, for her… but really the girl belongs on a cruise ship, not American Idol.  It's pretty early in the competition and I can hardly even watch a Paul McDonald performance objectively because he practically melts my heart. I even pondered the idea of sending fan mail. Disgusting.  I need to pull myself together.  Anyway, he didn't sound great.  I guess I should throw in the fact that he was sick but that won't really give him a pass in my book.   From a PR perspective the music industry is big about branding.  This show is certainly creating a brand and path for Paul McDonald.  I just hope the viewers keep him around longer.  Since this week was rough, I think its absolutely necessary that he brings his guitar within the next couple weeks.  He needs to show that side of him.  Otherwise people are just going to get tired of his sound.
In a way I'm slightly satisfied that most of the performances were sub par. I was really getting tired of the constant love and mushy comments from the judges. It was about time we heard some real criticism and feedback.   And just another side note, anyone notice how many times the camera cut to Jennifer Lopez only to see her singing along?  Maybe she's embarrassed about not knowing who Ryan Adams is, but no need to make up for it with the constant lip-synching this week. Clearly I'm bitter about how things went down last night. But I'm tuning in tonight and the rest of the season regardless.
Happy St. Patricks Day everyone!