Posts tagged
Paul McDonald
Every week I have Tuesdays & Wednesdays off of work and it is always my intention to come up with blog ideas and write something for my favorite Style Bust readers.  It is now Thursday afternoon, I go into work in a couple hours and I am just opening up my computer now to share some thoughts, talk about procrastination.  I need to post something so I can feel as though my days off were used productively.  The American Idol alums have been busy lately, so I thought I would appease my AI blog followers who are having withdrawals from the competition.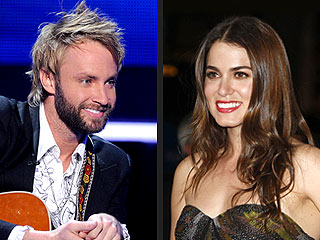 Unless you have been living under a rock you are aware that Breaking Dawn (Part 1), the latest of the Twilight series premieres tonight at midnight.  In light of that I'm going to somewhat reluctantly share this track with you.  The newlyweds Paul McDonald and Nikki Reed recorded this song, "Now That I've Found You" together.  Its no secret how much I loved Paul on American Idol and his band The Grand Magnolias, however I'm not the least bit impressed with this release.  I wanted to love it but I just don't.  On the other side of things, who knew Nikki Reed could sing?  I knew she had a background in writing, when she acted in and co-wrote the screen play for the movie 'Thirteen' back in 2003.  So she penned the lyrics to "Now That I've Found You," and her vocals on this track far exceeded my expectations.  I don't think I'm being a harsh critic when I say, the song overall is not impressive… but you should check it out for yourself:
It's probably just me, but does it remind you at all of this?
Ok onto the legitimately good stuff.
The amount of new Christmas music being released has overwhelmed me.  I think my next blog post is going to have a list of my favorites.  But right now I need to share this gem with you.  November 21st is the release date on iTunes for this nothing short of amazing track by Haley Reinhart & Casey Abrams.  If this doesn't get you in the holiday spirit I don't know what will.  Haley's voice will never disappoint me.  Check out the video for "Baby It's Cold Outside," its charming, captivating, and beautiful.