American Idol: Top 5 Recap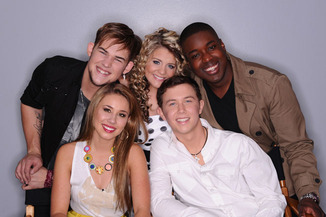 This week we had Sheryl Crow as the Idol mentor.  Ironic because not too long ago she bashed the show in an interview with MSNBC saying, "Let's face it, it undermines art in every way and promotes commercialism, I am sad people love it so." I wonder what made her change her mind.  I enjoyed her nonetheless and I thought she gave some decent advice.  The contestants sang two songs each this week and overall I thought it was a good night for everyone, with the exception of Jacob.  Who ended up being the one voted off.  So now we are left with James, Scotty, Haley and Lauren.  Here's what I thought about the performances Wednesday night:
James did, "Closer to the Edge," a 30 Second to Mars song.  It gave him some relevancy in my mind of where he would fit in post Idol.  When he sang "Without You," it took me right back to the first time I heard Kelly Clarkson sing it.  Her vocal performance on that song in particular has been cemented in my head since the day I heard it.  Obviously his sound is very different than Clarkson so the two didn't compare. I sort of liked the vibe he brought to the song.  It wasn't even close to being his best vocal performance but the crying kind of pulled me into the performance.  Even with his rocker swagger he finds ways to make himself vulnerable and relate to the audience.  Not easy to do.  Despite the fact that he sounded probably his worst the judges ate the performance up, per usual.  The audience is practically brainwashed into voting for him with the constant praise from the judges.  It would be so shocking if he went home anytime soon.
I do worry that he is going to struggle after Idol.  Whether he wins it or not, I see him going for a genre that is not the easiest to break into.  There are so many barriers and the audience is a tough crowd to please.  I think the general population is going to have a hard time accepting him because of his Idol background.  Adam Lambert was able to find his niche but James won't be able to follow that path.  He seems to be getting a lot of support and praise from the bands he's been covering.  That will help him.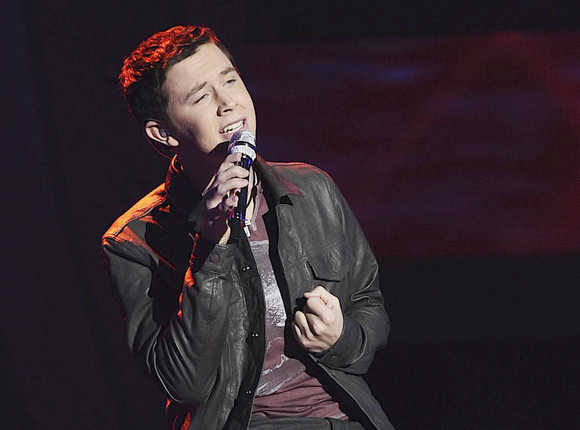 Two weeks ago I would have said there is no way for Scotty to win the whole thing.  But man he's had some strong performances when it has really counted.  I'm thinking Scotty might be here to stay.  His Montgomery Gentry performance was so good. Then he followed up with "Always on my Mind."  Both performances showed how well rounded he is as a country artist.  He had a great night.  They haven't crowned a male, country singer for the top prize.  I mean he's going to thrive post Idol in the country scene, so then AI can take credit for launching both Carrie Underwood and Scotty McCreery.  It would give the show more credibility.  How can they not have him win?
I loved Lauren.  I think its incredible the turn around shes made in the last 3 weeks.  She has taken all the important steps to move forward in this competition.  You can absolutely tell that she's putting in the work to try and win this thing.  I think she would be one of the most exciting people to watch win it.  You can tell that it's her dream.  She broke down tonight when she found out she was one of the bottom two.  It will be interesting to see if she can bounce back from that or if she will play it safe next week out of fear of elimination.  I was disappointed to see her in the bottom two after she had just pushed herself with her two songs this week.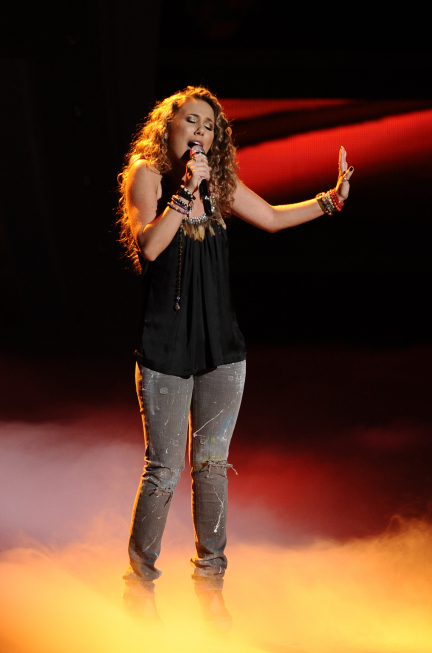 Ah, Haley… what a breath of fresh air.  I completely disagree with what Randy and JLo said about her needing to find a song that the audience already knows. It was completely risky, but it paid off.  I always refer to Idol as a glorified karaoke contest.  Here Haley comes in and just kills this unreleased Gaga song, that for the most part no one has heard.  Haley did such a phenomenal job that it could easily be her first single.  It didn't sound like anyones song but her own, which has got to be one of the most important things to me.  All the contestants sound great and record the tracks week after week, but the ones that I choose to buy and download are ones that are unique.  I don't want just another decent cover of a song.  I want one that makes people forget that it's a cover, that they really have to sit for a second and think about what the original sounds like.  Season 8 contestant, Allison Iraheta did "I Can't Make You Love Me" and whenever someone I'm with hears it play they think its killer.  Haley closed the show with "House of the Rising Sun."  People are saying that it's the best performance on the Idol stage of all time.  It's right up there for me.  At the moment I can't think of another performance in all the other seasons that I like better.  It was just beautiful.
On to the results show.  I was concerned about Jennifer performing on the show.  She's using Idol to her personal advantage and some seem to have mixed feelings about that.  I think they chose the perfect time to let her perform.  Had she of done it too early I don't believe the audience would be as accepting.  On the flip side you don't want her performing too close to the finale.  So I guess if she was going to have to make her appearance they chose the best time for it.  I didn't find it too entertaining.  It's difficult because she needed to sing live since it is "American Idol" and she would have received an insane amount of criticism if she didn't.  However, Jennifer is an incredible performer mostly because of her dancing.  We didn't get to see all that.  She did what she could with it, but for me it just wasn't enough.
Wednesday, Jacob finally received the criticism that he needed to hear.  He says that he can relate to all kinds of music.  I disagree.  He oversold himself.  One minute he's telling us he can't sing a Marvin Gaye song… the next he's trying to tell us his direction is Jordin Sparks/Chris Brown.  The kid belongs on Broadway, in Gospel music, that's his niche and because he didn't tap in to that completely thats why he went home.  I'm very surprised he made it as far as he did.  So yeah, goodbye Jacob.  I'm sorry to say that I have been awaiting your departure for some time now.  Not sad at all to see you go.
This entry was posted by Style Bust on May 5, 2011 at 8:58 pm, and is filed under Trending Music. Follow any responses to this post through RSS 2.0.Both comments and pings are currently closed.