Bohemian+Glam = Sexy!~
We hear Bohemian-chic thrown around a lot but what is Bohemian Glamour?
Think Solange Knowles,
Think Nicole Richie,
"When anything meets Glam I'm all about it, and so should you!!"
If 30's are the new 20's then Boho Hippies are the new Gypsies…If you love earthy mystical hues you're one of the pack. You're a gypsy with flair…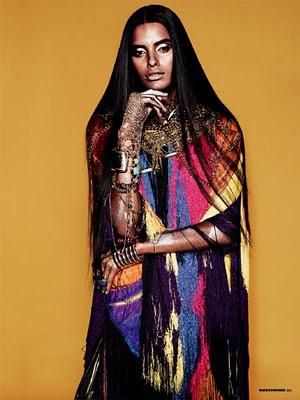 When I paint with lots of pinks, blues, golds, & bronze I think of this makeup style. It just oooooooooozes lots of colour yet brings a care-free spirit & attitude.
LORAC offers a little black palette that will help you achieve this look.
These mineralized shadows are baked AND just like Lays Potato Chips leave you wanting more…this little patent book flips up and holds metallic goodness along with a mini eye primer to keep those shadows on lock! Caution: "without applying that eye primer even the best of best can cake, vanish or worst crease – Oiy!!"
The Bohemian look is all about layering fabrics & prints, some more picks you can layer on are brands like:
guerlain four-color ombre eclat pallette
nyx cosmetics – the runway collection
Remember there are no rules to makeup, just paint on the goddess goodness…
This entry was posted by Style Bust on May 10, 2011 at 10:01 am, and is filed under Latest Beauty Products. Follow any responses to this post through RSS 2.0.Both comments and pings are currently closed.