Crane and Canopy Launch Party
Bay Area-based Crane & Canopy debuted just last week with a collection of ten San Francisco neighborhood inspired bedding designs. Congratulations to founders Karin Shieh and Christopher Sun, who have pioneered a remarkable new line for the home goods market. With a beautifully simple business concept and a smart, tech savvy, and user friendly interface to boot, the sky is the limit.
See more of the attractive details and photos in Nicole's post from a few days ago.
The launch party hosted some forty or so friends and family, including yours truly, in addition to Crane & Canopy staff at Axis Café to celebrate the company's official online opening for business.
The party, just like their signature product, was simple, elegant, and well-styled. Beds in an understated garden were romantic, not fussy.  It was a typical San Francisco night and the air was brisk, making the bedding all the more tempting. Somehow, I managed to resist wrapping myself up in the dozens of beautiful options around me.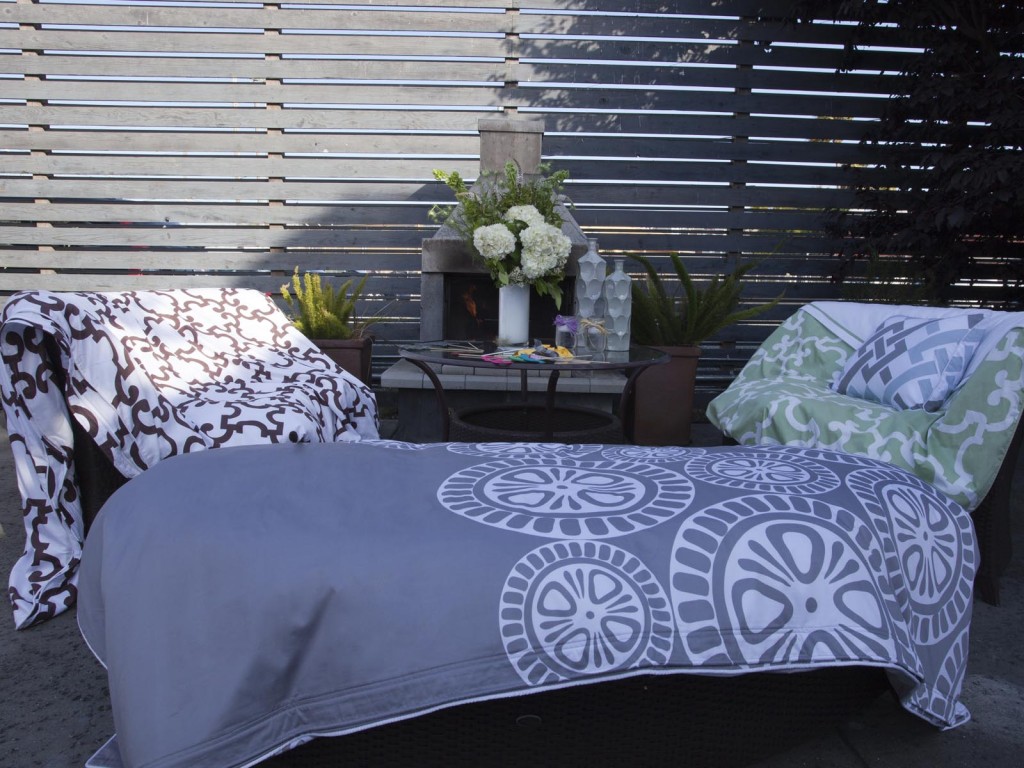 In scoping out the signature designs and stats ahead of the event, I admit I was intrigued and maybe a little incredulous. A new eCommerce store that cuts out the middleman but still manages to produce an excellent high quality product – was there a catch?
Setting my disbelief aside, I met the products in person, and the quality spoke for itself. Being able to see and touch the bedding first hand, I appreciated that the goods fully lived up to their promise — in every style, the textiles are top shelf in quality. Everything looks and feels luxe. All bedding is made of durable long staple cotton in weaves of 300 to 400 Thread Count. In addition to incredible fabrics, the line includes unique and exquisite details such as tailored edge piping and original embroidery.
If you don't believe me, ask Gus, Crane & Canopy's resident pug. Once he gets comfortable he's apparently impossible to move!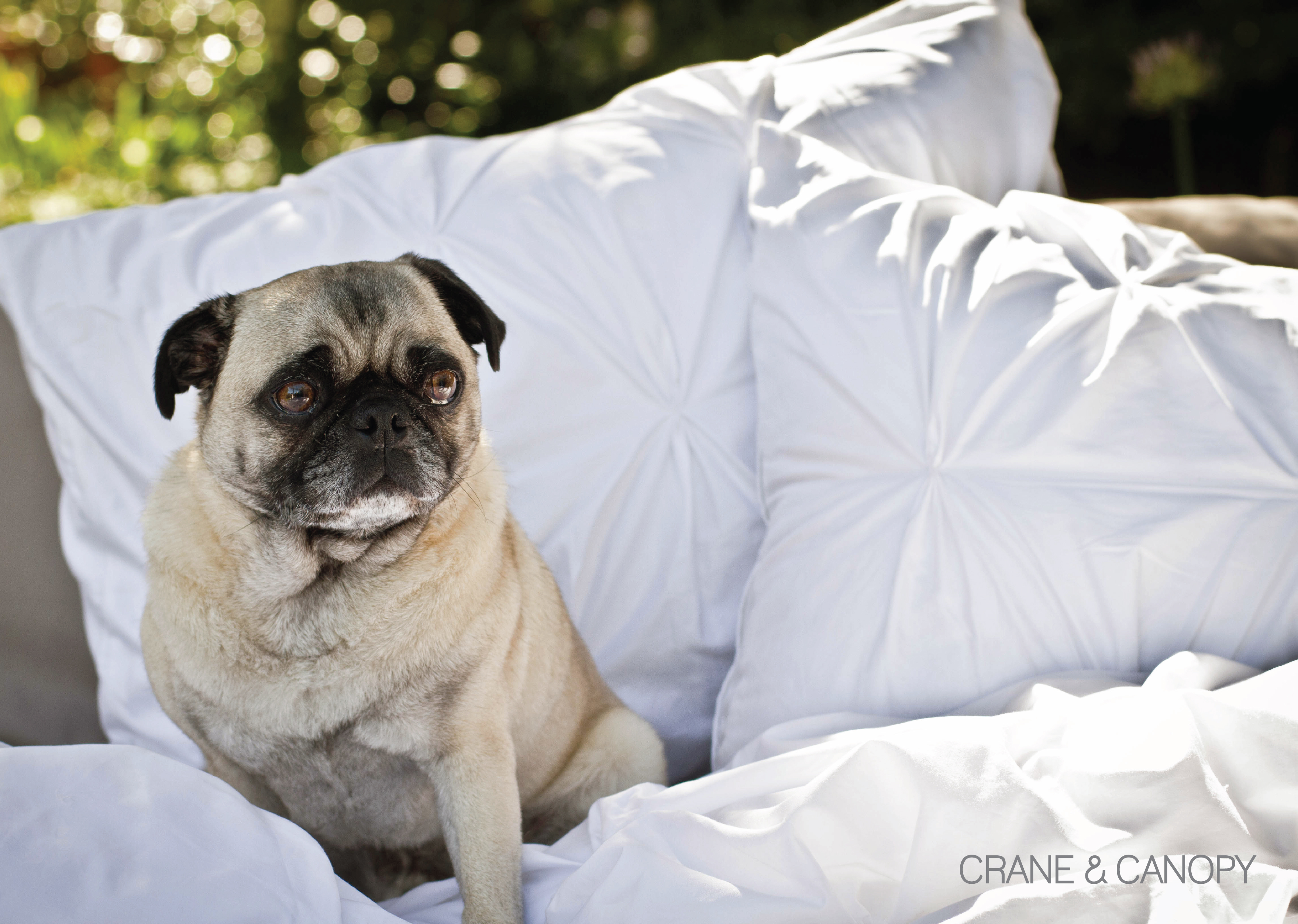 The current ten designs break down into four categories: Geometric Shapes to Classic Solids, Elegant Florals and Delightful Textures. Stay tuned, Crane & Canopy plans to unveil a new design every two months so your bedding always stays fresh whatever the season and on point with changing fashions and trends.
Additionally, form meets function. Their signature duvet cover includes easy ties at the corners to ensure your duvet stays put from the inside. Instead of buttons on the sides, this duvet uses a patented hidden closure positioned on the front of the duvet for better access. What's more, you can have the layered look, where the flat sheet appears to be folded over like you have your own hotel turn down service. Here you get the look with laissez faire effort. Check out the video featuring the handsome Noe Green bedding.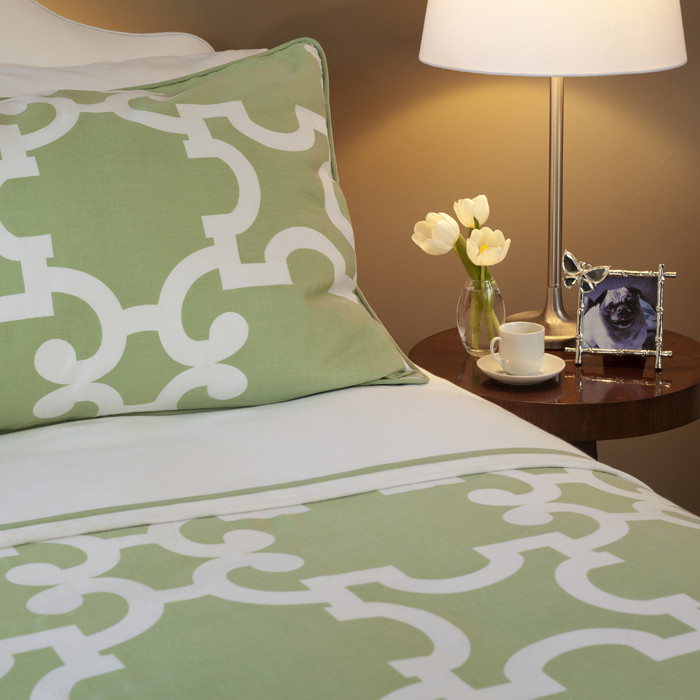 Crane & Canopy's talented designers come from a variety of industries including home goods, textiles, fashion and interior design. Lead Designer Johnny Moallempour, who has roots in fashion and a long-standing interior design background, was among the crowd. What SF neighborhood might inspire the next design? Lucky for us, Crane & Canopy takes suggestions. Indeed, Johnny encourages it! Just ask.