Divine Rights of Denim exclusively at Forever 21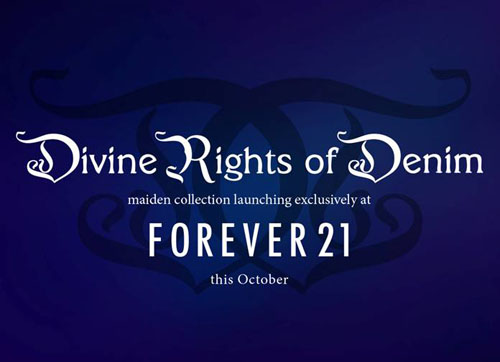 Divine Right of Denim may not be considered a premium denim brand to everyone, their jeans range between $75-$100 (expensive? Meh). I think we all can agree that brand seems a bit expensive and out of place for Forever 21, right?
Wrong, as of October 1, 2010 Divine Rights of Denim is selling a maiden collection exclusively at the thousands of Forever 21's around the globe. The kicker is that this 'maiden' collection at Forever 21 retails for only $30 a pair. The collection is rather limited, only featuring three silhouette; skinny, straight, and (of course) jeggings. Each silhouette is sold in a variety of washes.
The brand claims that the quality of the $30 denim at Forever 21 has not been compromised. If this is so, then I think all of us Divine Right of Denim wearing girls have been ripped off (paying $100 a pop) for years. It's frustrating isn't it. It seems that as soon as brands hit their climax, they get into this crazy vertical segmentation crap and instantly lose their cool factor with the early adopters. Ladies, we can never stay ahead of the masses these days.
So, I guess if you're looking for great denim at a bargain you should run off to your local Forever 21 for Divine Rights of Denim. If you buy anything from the collection, please let me know if the quality is that of 'premium denim'.
This entry was posted by Style Bust on October 13, 2010 at 9:00 am, and is filed under Branding & Ads. Follow any responses to this post through RSS 2.0.Both comments and pings are currently closed.